Improve website performance and deliver user-friendly experiences with automatic image optimization.
Increase page load speed by optimizing images up to 70% size reduction

Save image resolution by compressing only the size of the images 

Provide user-friendly experience with smart page prefetch

Improve SEO thanks to appealing file sizes and image titles
Current extension version: 1.0.0 | Compatibility: Open Source 2.3.X - 2.4.X

60 FREE IMAGES

30 DAYS IMAGE BACKUP

FREE SUPPORT

FREE UPDATES
Minifier Gallery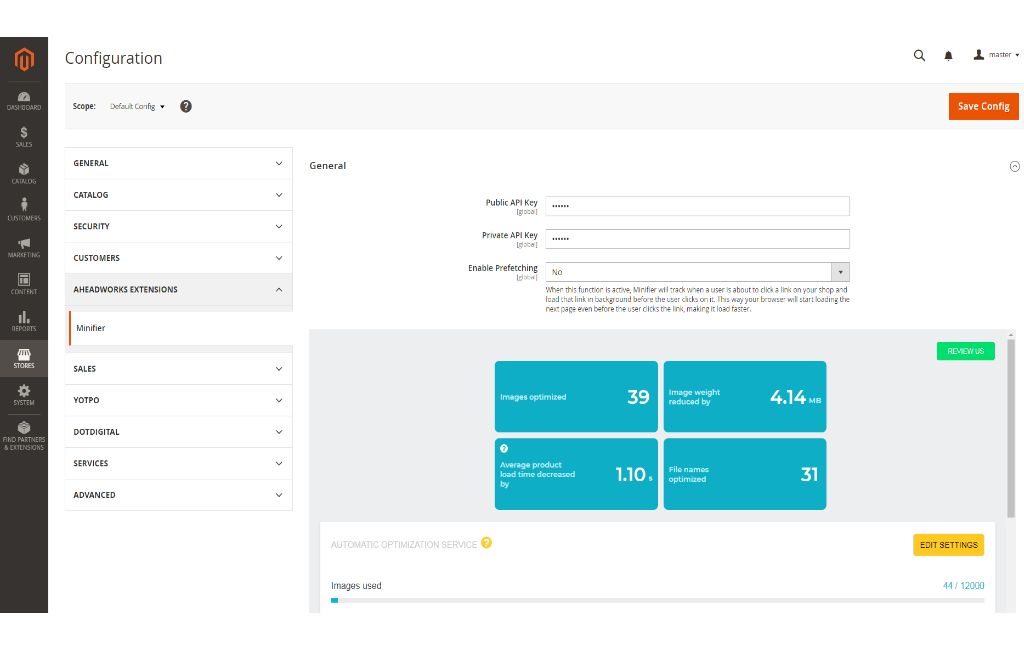 According to recent studies, about 40% of customers abandon a website that takes more than 3 seconds to load. In such a case, sales and conversion rates are affected dramatically. Slow page load not only makes customers impatient but also leads to a decrease in search ranking and site visibility.
Equip your site with an image optimization tool to speed up page load and get more traffic to your store! Fill your website with as many images as you need and do not worry that the site performance will be affected. Allow customers to get faster access to your store, thus decreasing bounce rates and increasing conversions.
Drive more traffic and improve user experience with increased site speeds
Optimize your store in a few clicks without any technical knowledge! Minifier for Magento 2 is designed to compress graphic elements reducing their size (Mb) thereby boosting site speed with no impact on overall image quality. All you have to do is to specify optimization parameters and enjoy the result.
Optimization settings
Types of compression
Optimization statistics
Optimization history
Smart page prefetch
Improved SEO
Optimization settings
The image compression can be performed automatically and manually. Automatic optimization is activated regularly with the support of Cron running. In case Admin wants to control the process and start optimization at some particular time, he/she can perform it manually. While preparing for the compression procedure, Admin should specify several options:
Choose the type of compression - Lossy or Lossless.

Select whether or not to convert files to JPG.

Tick to compress only published products if needed.

Skip previously optimized images, so that Minifier will not touch your compressed images and avoid double charge.

Optimize file names automatically to achieve higher search engine rankings. 
If the event you are not satisfied with optimization results, you can revert changes anytime within the 30 days of optimization - during this time your original files will be saved on the server.
Types of compression
Reduce size and save image quality with two types of compression: 
Lossless compression (up to 30% image size reduction) 

Lossy compression (up to 70% image size reduction)
Choosing Lossless compression, you sacrifice just a small amount of the image quality (usually not noticeable to the human eye). In the case of Lossy compression, the images are optimized to the extreme without changing a single pixel.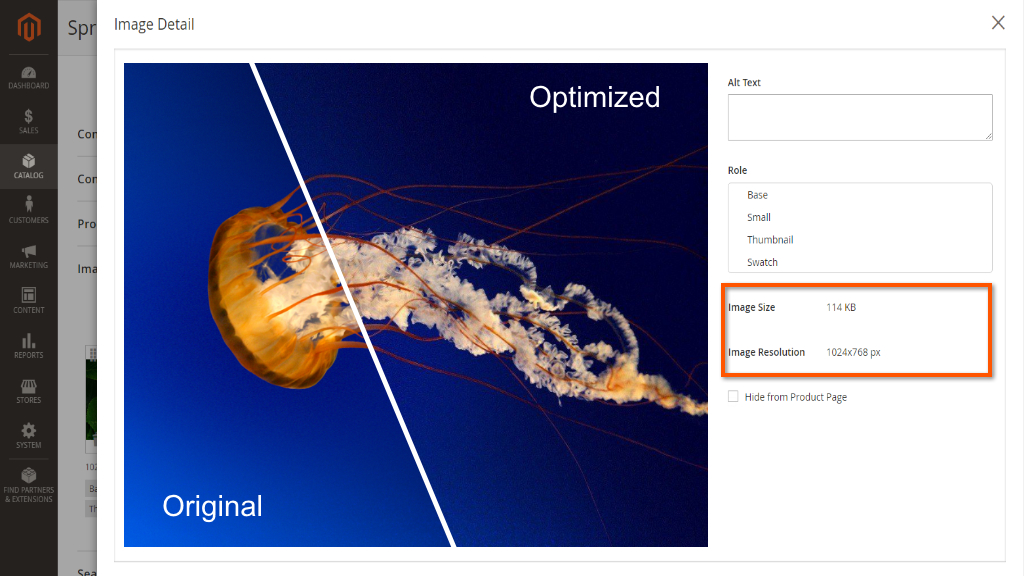 Optimization statistics
Monitor optimization results effortlessly with all necessary metrics displayed on one dashboard. See statistics on the number of images and file names optimized, image weight reduction, and average product load time decrease. Check the progress bar to remain updated on how many images have been used. Look at the diagram and plan future optimizations by analyzing the number of images compressed every month.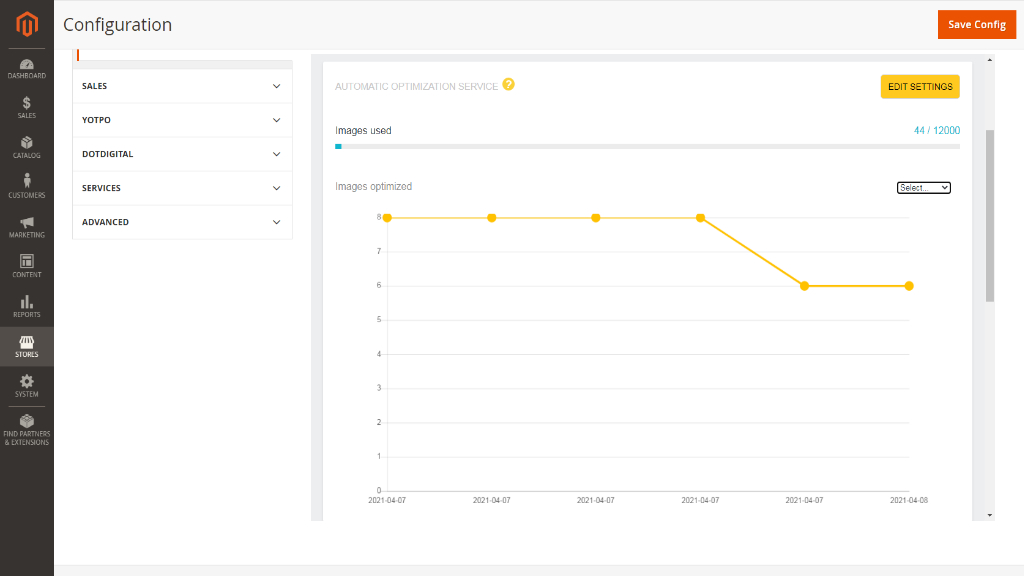 Optimization history
Keep track of all compression procedures in the Optimization History grid where the type of optimization, status, date, number of images, and size-reduced values are displayed. You can find a detailed optimization results report by clicking a particular optimization name in the grid.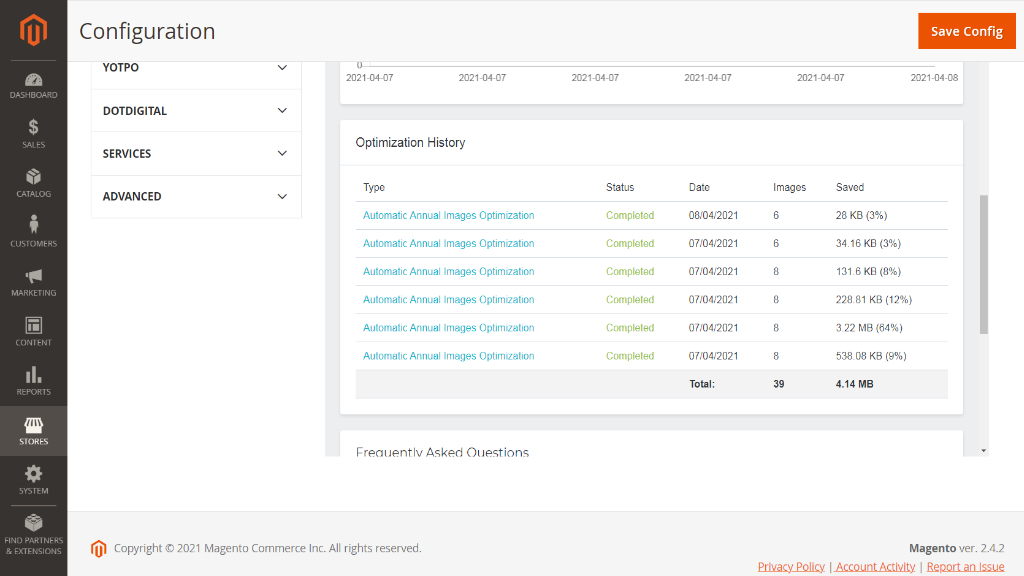 Smart page prefetch
Enhance the shopping experience by enabling page prefetching. Minifier will track when a user is about to click a link on your shop and load that link in the background before the user clicks on it. This way your browser will start loading the next page even before the user clicks the link, making it load faster.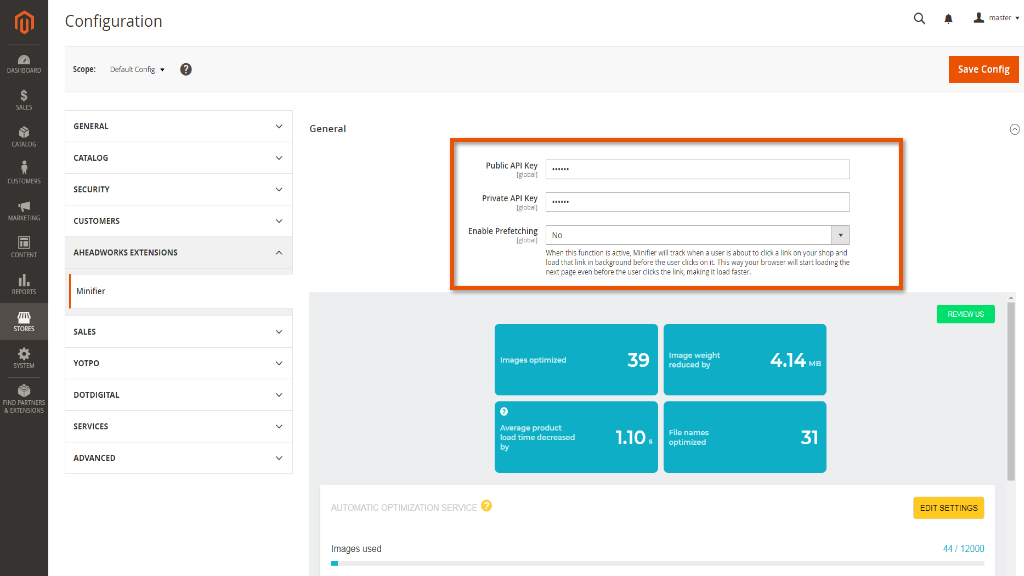 Improved SEO
Performing file name optimization, Minifier for Magento 2 boosts organic traffic and improves your Google Search Result rankings. Image titles and file names are generated according to SEO recommendations to become appealing for search engines. As a result, your site outperforms competitors and attracts wider audiences that use Google Image Search.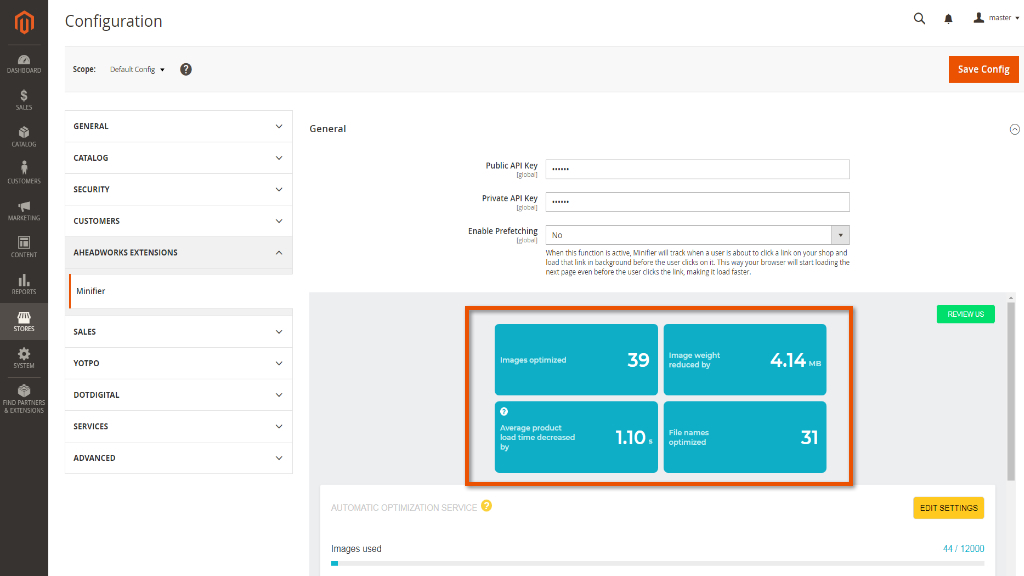 Original images are saved on the server and can be restored within 30 days counting from the start of optimization.
Select month in dropbox to see optimization statistics for this period.
The most popular questions about Minifier functionality are already answered at the bottom of the page.
When converted into JPG images will become of a smaller format and background transparency will not be sustained.
While optimizing file names, Minifier takes product name as a reference, since product title usually contains crucial key-words.
When new settings are saved, and the auto-optimization process is started to store pictures that have not yet been optimized.
Minifier supports all the widely used image types used for website content.
All images compressed with Minifier belong to you and will not revert in case of uninstallation of the app. 
Improve responsiveness on any device after image optimization. 
1.0.0

Initial release: 12.04.2021
Will this extension only work for catalog/product page images (ie/pub/media/catalog/product/) or all images it can find?
Question by: Frank Ligthart on May 15, 2021, 11:46 AM
This module can optimize all images that can be find, but in the settings area you can choose to optimize only published products and skip previously optimized images.
Answer by: Julia Gorobets (Admin) on Apr 21, 2022, 8:03 AM