Faster search, less server load, trustworthy output.
Sphinx engine used to power store search
Extension setup requires just a few admin settings
Output options allow to define a search principle
Current extension version: 1.4.10 | Compatibility: Open Source 1.4.1.1 - 1.9.3.10; Commerce 1.12.0.0 - 1.14.3.10

30-DAY MONEY BACK

FREE INSTALLATION

30-DAY FREE SUPPORT

LIFETIME RIGHT TO USE
Advanced Search Gallery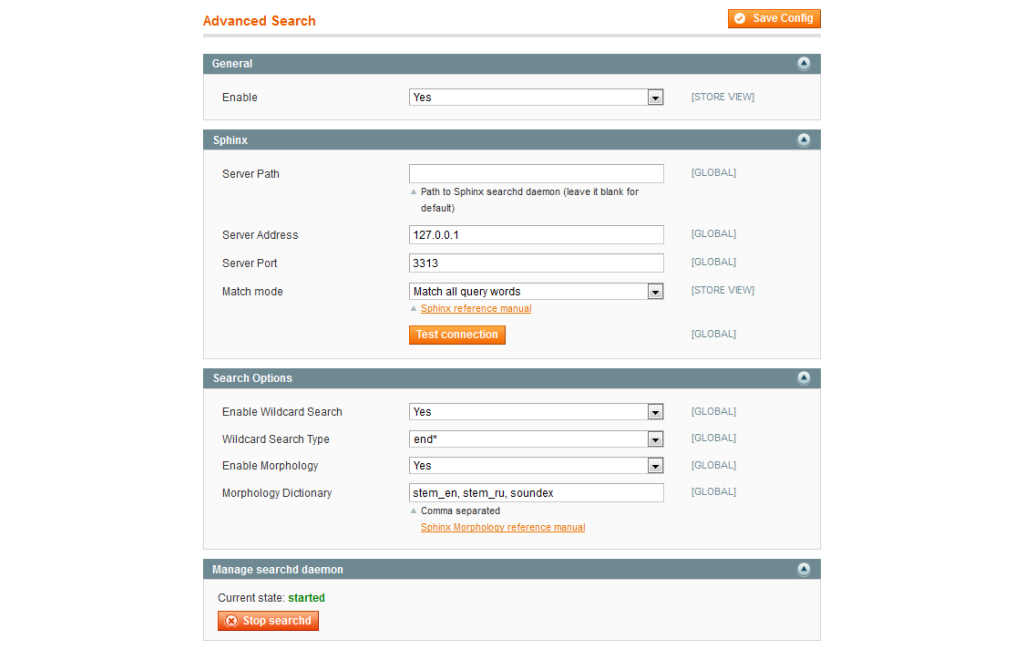 100 000 inventory items and 10 000 blog posts search is not a problem now!
If you run a really large Magento store, you definitely know how difficult it is for your customers to find something they require very fast. Magento Advanced Search is a perfect solution for search through Magento-based stores. This extension uses an external search engine Sphinx. If you have 10000 products in your store, Advanced Search will help your customers to find those which are required. If you have 1000 posts in your blog, it's not a problem for Advanced Search as well.
|   | Magento Search | Search Autocomplete | Advanced Search |
| --- | --- | --- | --- |
| | | | |
| --- | --- | --- | --- |
| Search type | Catalog only | Catalog only | Catalog, Blog, CMS, Knowledge Base |
| Search engine | Built-in PHP+MySQL | Built-in PHP+MySQL | Sphinx |
| Customize options |   |   |   |
| Built-in lexical analyzer |   |   |   |
|   |   |   | |
How it works
Magento Advanced Search uses Sphinx. Sphinx is an open source full text search server. This powerful search engine is used by different popular websites, such as Craigslist.org, mysql.com, joomla.org, tumblr.com, Dailymotion.com. etc.
Who uses Sphinx?
Easy setup
Just install Sphinx on your server, configure Advanced Search and enjoy. You won't have to deal with complicated Sphinx configuration - Advanced Search will do everything for you.
Please note that installation service does not cover cronjob setup and/or Sphinx installation. You may need to contact your system administrator or hosting provider regarding the matter.
Easy search settings
Magento Advanced Search extension configures Sphinx for you in accordance with your settings.
Sphinx supports many different API's, PHP, Python, Java, etc. So you can easily integrate an external application to perform search over Sphinx indexes.
With Sphinx installed on dedicated server, your search becomes even faster.
Sphinx has several different ways of matching the given search keywords, which can be set in the Match Mode field. It is possible to define whether the search results will match all query words, any of the query words, a phrase with perfect match, etc.
With the help of the module, you can enhance your store search functionality with one of the following options:
Wildcard Search - lets your visitors find the required product by part of the word, e.g. they can find "sony" by "son".
Morphology processing - corrects all misspelled words according to Sphinx morphology dictionary.
Configure search and index in the most appropriate way for your store
Different products are sold in different stores and they all need different attribute priority for search.
If search by manufacturer is primary in your store, just define the higher weight for corresponding attribute.
How Advanced Search differs from Search Autocomplete & Suggest
Search Autocomplete & Suggest provides customers with a dropdown of destination suggestions once they are past typing the third symbol in the search field, allowing to jump to the relevant product without going through the search results page.
Advanced Search replaces standard Magento search and brings a power of external search engine to your store.
Both these extensions can easily work together - when installed on the same website, Search Autocomplete & Suggest can use Magento Advanced Search as its search engine.
Now with Layered Navigation by aheadWorks integration.
1.4.10

* Fix for magento connect verification

1.4.9

* Fix for magento connect verification

1.4.8

* SUPEE-6788 compatibility issue

1.4.7

* If Sphinx is inaccessible via short path, partial reindex doesn't work
* If Sphinx is inaccessible via short path, it can't be started
* Magento search history was not updated correctly
* Search results were incorrect
* Advanced Search broke Search Terms functionality

1.4.6

* Minor bugfixes

1.4.5

* Incorrect search results when products were not visible individually
* Problem when MySQL replication was configured
* Search results didn't consider product store visibility and status properly

1.4.4

* Problem with Sphinx v.2.2.4

1.4.3

* Reindexing was made for all stores instead of the required ones
* Minor bugfix

1.4.2

* Minor bugfixes

1.4.1

* Problem with Sphinx extended query syntax
* Incorrect indexing of text attributes

1.4.0

+ Correct misspells automatically
+ Wildcard Search Type

1.3.3

* Problem with iPhone Theme

1.3.2

+ Native "Catalog -> Search Terms" support
+ Stability and speed improvements



1.3.1

* Minor bugfixes

1.3.0

+ "Test connection" button
+ Automatic Sphinx restart after reindexing and crashing
+ Full reindex is launched by cron every day at fixed time
* Incorrect full reindex
* EscapeString function was not implemented
* '#' symbol was not acceptable in MySQL password
* Search was very slow on Magento CE 1.4.1.1



1.2.3

* Incorrect sorting of index attributes
* Indexer issue


1.2.2

* Magento 1.4.x compatibility issue

1.2.1

+ Bundle products compatibility
* Layered navigation issue
* Values of some attributes
* Minor bugfixes



1.2.0

+ Knowledge Base support
+ Ability to specify path to Sphinx searched daemon
+ Stripping tags in search request
* Disabled indexes are shown in grid as Ready
* Minor bugfixes



1.1.0

+ CMS pages index
+ Support of customer search terms
+ Sphinx 2.0.3 compatibility
* Incorrect attributes source

1.0.0

Initial release