Increase your AOV and encourage repeat purchases with an easy-to-use gift tool.
Card type may be virtual, physical, or combined
Fixed/open value options may be provided
Personalization via design selection and a note
Preview option to see the final look before sending
Current extension version: 2.2.0 | Compatibility: Open Source 1.4.1.1 - 1.9.3.10; Commerce 1.12.0.0 - 1.14.3.10

30-DAY MONEY BACK

FREE INSTALLATION

30-DAY FREE SUPPORT

LIFETIME RIGHT TO USE
Gift Card / Certificate Gallery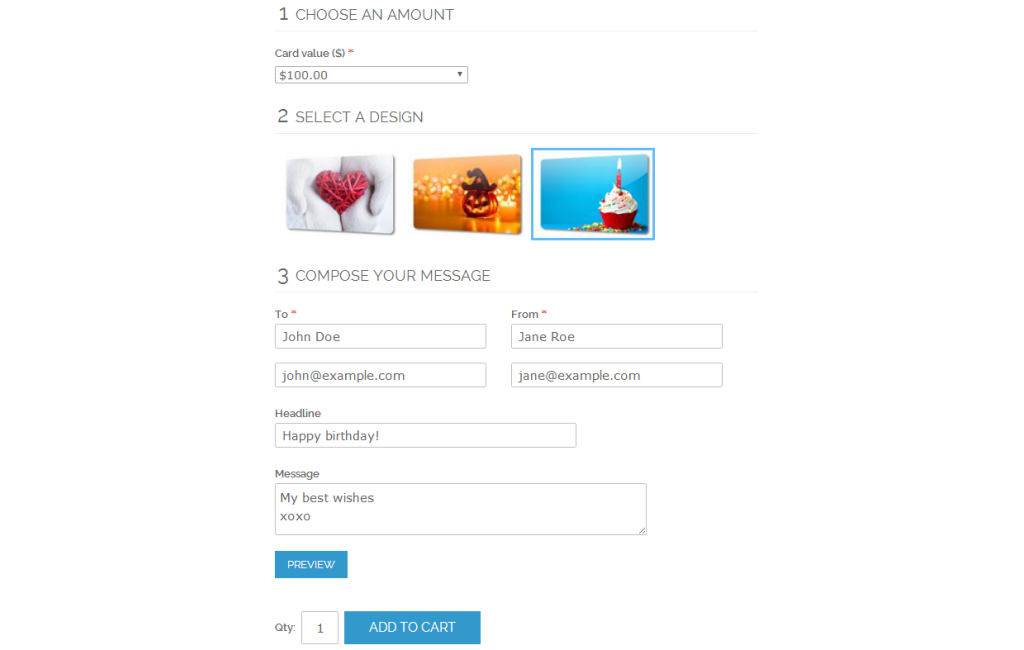 Magento Gift Card Extension Overview
A gift card is a pleasant thing all around. The person who buys it doesn't have to browse the stores trying to find the right thing, and the person who receives it doesn't have to be stuck with a bad gift. The person who sells it gets cash upfront for something that isn't sold yet and has more customers forwarded to their store.
Our Magento Gift Card / certificate is just the thing, with flexible gift amounts, delivery options, balance tracking, easy use at checkout and some more additional options to help you set up the gift card program exactly the way that fits you best.
Frontend features
Card personalization
Customer has an opportunity to pick from a selection of visual card designs and attach a personal message for the recipient.
Preview
An option to view the gift card email same way as it will be delivered to the recipient.
Responsive design
Email design will automatically adjust to the screen type used by the recipient.
Delivery options
The card may be delivered either online or by post, depending on whether it's virtual, physical, or a combined product.
Checkout activation
The gift card is applied during the checkout process by entering validation code in the gift card field. Several cards may be combined within a single purchase and any excess value will be preserved for further use.
Backend features
New product type
Gift card is added as an additional product type option, allowing you to place it in your store and to have it purchased much like any other product.
Flexible value
You can provide your customers with a number of fixed value suggestions or allow them to type in a custom gift card value.
Gift code monitoring
A grid of issued gift codes shows remaining balances, which codes are active, used, partially used, etc.
2.2.0

Released 12.06.2017
+ Gift Card import/export
+ Gift Card code creation using a pattern
* GC code status is wrong after updating code balance
* Default image is sent instead of uploaded image
* Gift Card block positioning issue
* Gift Card product price is not converted by selected currency in emails
* Incompatibility with Magento CE v.1.7

2.1.1

* Magento Marketplace compatibility issue

2.0.3

+ an option to apply GC codes to orders created in backend
+ Add possibility to create order with gift-card products at backend
* Small design issues at mobile view
* Incompatibility with iPhone Theme3

2.0.2

* Gift Card Products grid error

2.0.1

+ GC1 -> GC2 Migration tool

2.0.0

* Complete code refactoring

1.1.0

+ Possibility to specify customer email address to which notifcation with card code should be sent when card is created in backend
+ Export all gift card attributes
+ Specify date to deliver
+ Option to re-send notification with gift card code
+ Disable extension for certain stores
+ Import Gift Cards
* Design for iPhone theme
* iPhone Theme 3.x compatibility
* Custom SMTP compatibility

1.0.13

* SUPEE-6788 compatibility issue

1.0.12

+ Gift Card code remains applied upon login action

1.0.11

* Problem with ACL

1.0.10

* Incorrect design of the "Check Gift Card Status" button
* The Gift Card tab wasn't active in customer's account


1.0.9

* Problem when adding/checking gift cards using iPhone Theme 2

1.0.8

* Incorrect position of the "Remove" button on the RWD theme when One Step Checkout was installed
* The shipping tabs were shown on the checkout when card type was set to "Virtual"
* Inability to use a gift card when an order was created from the backend

1.0.7

* Wrong length of the gift card field on the Apply Discount page
* Incorrect order amount after registering from the checkout page
* Incorrect design of the Gift Card block on the RWD theme
* Minor bugfix

1.0.6

* Fatal error when order was placed using PayPal Express Checkout
* Problem with text translation in CSV

1.0.5

* Problem with product amount generation

1.0.4

* Problem with order cancelling

1.0.3

+ Compatibility with iPhone Theme by aheadWorks
+ Stability and speed improvements
* Minor bugfixes

1.0.2

* Minor bugfixes

1.0.1

+ Magento Enterprise compatibility
+ Language support improved
* Minor bugfixes

1.0.0

Initial release