Increase your AOV and encourage repeat purchases with an easy-to-use gift tool.
Create virtual, physical or combined gift cards to broaden customers' shopping opportunities
Configure fixed or open amount price type for a variety of card use cases
Design gift card to make it more personalized
Add card balance and expiration date to motivate cardholders to make faster decisions
GraphQL, API support
Current extension version: 1.4.4 | Compatibility: CE 2.3.X - 2.4.X EE 2.3.X - 2.4.X
What's the idea behind the Magento 2 Gift Voucher extension?
Place gift cards as items in your store. Decide on the look of the card, specify the value and lifetime of the card. Make possible for customers to choose from templates, type notes for recipients, and set delivery dates. Analyze the performance of the card against its balance track and expiration date.
Broaden traditional marketing horizons with the Gift Card module for Magento 2
Plan Smart Actions
ConnectPOS
One Step Checkout Integration
Plan Smart Actions
Add a few more explosives to your promotion armory. Try out Magento 2 Gift Certificate to experience the service that satisfies both customers and merchants.


Make your store more than a faceless website. Relate to basic human needs and grant opportunity to express oneself with a gift.


Analyze the audience engaged
Collect statistics on active, partially used or used cards to see benefits for your future campaigns.


Encourage customers to come back for more
Apply the balance and expiration date filters to gift cards in order to return customers just in time.
ConnectPOS
One Step Checkout Integration
Appeal to the 100% of potential buyers by removing the boundary between the physical and virtual, online and offline purchases.


Broadcast user-friendly ideas
Discover omnichannel to make gift cards and other items in your store relevant to your customers' needs.


Synchronize your store with the offline inventory
React to anything that happens in your store, including stock status and gift card balance changes, in real time.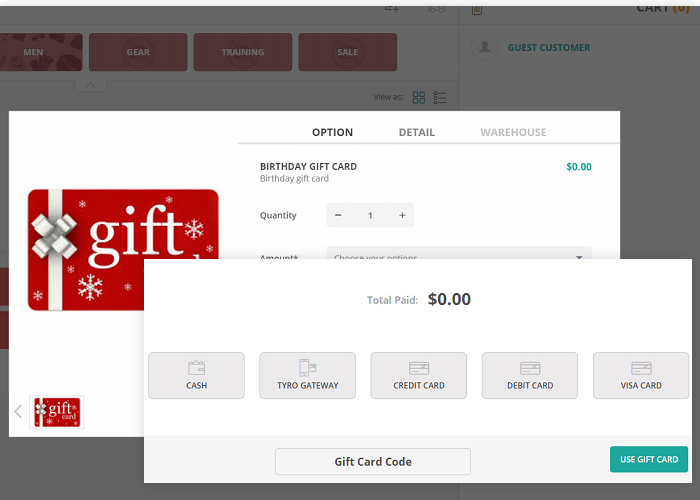 One Step Checkout Integration
Provide a familiar checkout process while paying with a gift card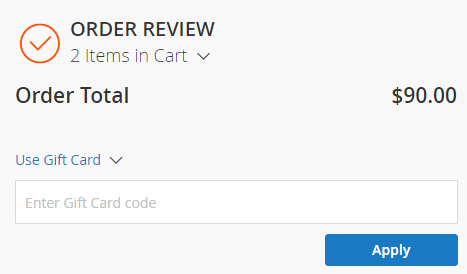 Magento 2 Gift Card Extension Features
1.4.4

Released 02.11.2020
* Fixed issue with filter by 'Website'

1.4.3

Released 12.10.2020
* Magento 2.4 compatibility issues
* Gift code is not displayed in the order email on 'Asynchronous sending' mode
* Fixed issue when one Gift code can be applied twice for one cart

1.4.2

Released 31.08.2020
* Speed improvements

1.4.1

Released 20.08.2020
+ Compatibility with Magento 2.4
* Minor design improvements

1.4.0

Released 22.05.2020
+ Uninstall script
+ GraphQL support
+ Gift Cart information is shown in invoices now
+ Gift Card details are received via order API
* Incorrect validation of Code Length
* Improved compatibility with Aheadworks Advanced Subscription Products

1.3.0

Released 08.01.2019
+ Codes in Code Pool follow the order of the CSV file
+ Restricted applying GC on purchase of GC

1.2.9

Released 29.08.2019
* Fixed issue with delivery date format changing
* Incorrect delivery date is displayed at "Edit Gift Card Code" page


1.2.8

Released 07.06.2019
* Fixed issue with multiple currencies
* Cronjob executing issue
* Error appears on an attempt to import 'Gift card' product
* The initial balance is set to match the item's base price
* When exporting 'gift card' product, custom fields data is not export
* Fixed issue when weight attribute disappears from every product type settings
* Error appears when changing GC attribute scope to Global
* Error happens on an attempt to change open amount max value in created Gift Card product
* Fixed issue when deactivated gift card codes can be used
* Error occurs when trying to preview Newsletter template
* Template reference is not correct
* Can't create GC code if "Expires After" is configured
* Price is converted twice in template preview on Storefront
* False message about GC code activation
* Fixed conflict of the module with Ebizmarts Sagepay
* Minor code improvements


1.2.7

Released 15.02.2019
+ Magento 2.3 compatibility
* Error message appears on an attempt to add a gift cart product to cart (Magento 2.2.7 EE)

1.2.6

Released 28.05.2018
*Fixes for Magento Marketplace
*Multistore codes visibility issue
*Compilation issue

1.2.5

Released 27.04.2018
*Fixes for Magento Marketplace

1.2.4

Released 28.02.2018
*Issue with duplicate gift cards using Sagepay payment method
*Fixed issue with double subtraction from Gift Card balance (Sagepay payment method)
*Fixes for Magento Marketplace
*Magento 2.2.x: installation issue
*Magento 2.2.2 EE: сompilation issue

1.2.3

Released 21.11.2017
+ One Step Checkout integration
*Fixed issue with validation for gift product's amount
*Unable to create a gift card product in Admin in some cases
*Fixed issue with incorrect price of the set and open amounts
*Discount is not displayed on the cart if the only item in the cart is a virtual gift card
*import deactivated codes issue
*CSV file adjustment
*Expiration date of gift card is different on pages

1.2.2

Released 17.10.2017
+ Magento 2.2 compatibility
* Issue with Gift Card for M2 that prevents orders being placed via PayPal Express
* Setup:db-data:upgrade run issue
* Invalid argument CreditMemoInterface issue
* Shopping Cart page issue on "Magento Blank" theme

1.2.1

Released 03.08.2017
* Unable to create Gift card product with open amount only
* Incorrect message for gift cards purchased from backend
* "Order Information" tab issue
* Changed column title for importing codes in code pool

1.2.0

Released 31.07.17
+ Export gift card codes from the grid
+ Gift Cards can be applied to the orders from the backend
+ Import gift card codes
+ Gift Card code pools
+ GIft Card codes patterns
+ Adjustable gift card type
+ Enable/disable custom message fields
* "Gift Card" tab is available for guests by direct link
* PayPal express issue

1.1.1

Released 12.07.2017
* Error with Virtual GC using PayPal Express payment method
* Shipping is applied to Virtual GC
* Flat Catalog compatibility issue
* Datepick calendar doesn't show up in Magento 2.1.6
* PHP syntax error: Redefinition of parameter $dateTime

1.1.0

Released 05.07.2017
+ Gift Card Delivery Date
+ Additional filter options in Gift Card code grid
+ Magento API support
* Variables in the email template must be improved or replaced
* Gift card code doesn't expire
* Add a sequence tab inside the module tag
* Gift Card Code expiration validation failed after changing locale
* Can't add GC product to wishlist
* Preview layout issue
* Stability and speed improvements
* Unit tests coverage


1.0.4

Released 12.10.2016
* Fixed composer requirements

1.0.3

Released 02.08.2016
* Error appears at "Backend->System->Export" page
* Gift Card Products grid is not shown if single-store mode is enabled
* Error shown when creating a gift-card product
* Implement script for correct installation of the module
* Unable to update Gift-Card product attributes via mass actions in Catalog grid
* Unable to update expiration date for gift card code after changing Interface locale
* Unable to select "Email Templates" and set "Amounts" when creating new product
* Filters don't work at Admin
* List of gift card codes is not displayed for customer
* Unable to place order at Storefront as registered customer
* Unexpected email sent out when order payments fails
* Blank page is displayed if gift card is assigned to category with configurable products
* "Open Amount Min-Max Value" fields should be hidden if "Allow Open Amount = No"
* Redirect to "Shipping address" page if gift card code was deleted
* Infinite loading after sorting by Type at "Gift Card Products" grid

1.0.1

Released 15.07.2016
* Database tables with prefix issue
* https protocol issue

1.0.0

Initial release 04.07.2016