How to install Hyvä theme?
Installing Hyvä theme
Here are the general steps for integrating Aheadworks extensions with Hyvä theme:
Purchase the desired extension compatible with the Hyvä theme and install it in your preferred way. To complete the installation process, purchase a license and follow the instructions provided in the installation manual.
Download and set up the Hyva theme package from the Hyvä website. To activate the Hyvä theme, you will need to obtain an active license and the necessary key.

To connect extensions with the Hyvä theme, install the Hyvä compatibility module. There are two ways to install the compatibility module for Hyvä: either directly from Hyvä's Git repository or via Composer.

You can find links to the repository and specific commands for each extension on the product and user manual pages of the respective extension.
Сustomers who purchase Hyvä theme are provided access to the corresponding Git repository, which includes a README file with installation instructions.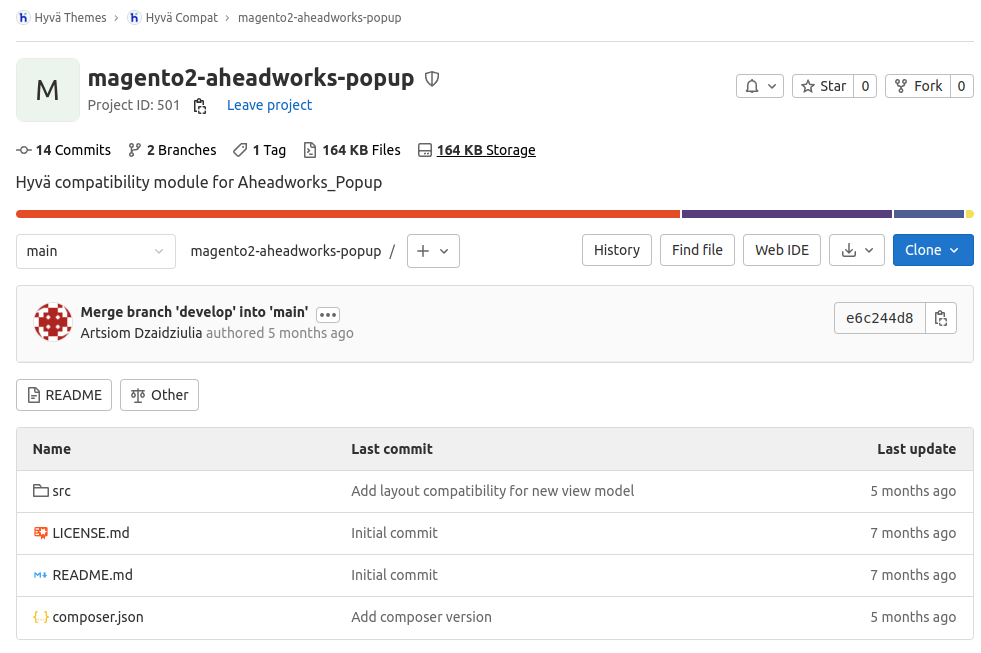 These are the general steps for integrating our extensions with the Hyvä theme.
Configuring Hyvä theme
The following are general steps for configuring the Hyvä theme in the Magento admin panel:
To configure the Hyvä theme, navigate to Stores > Configuration > Hyvä.

Here you can configure various settings related to the module, such as enabling or disabling features, setting up payment methods, configuring product settings, and more.

Click on the "Save Configuration" button to save your changes.
That's it! You have successfully installed and configured the Hyvä theme for your Magento 2 store. If you encounter any issues, please contact the support team for assistance.