B2B Company Accounts for Magento 2 - All Questions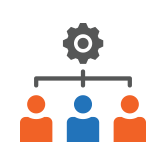 B2B Company Accounts for Magento 2
When do registration, is the company domain can be asked?
Question by: Marcel on May 11, 2021, 6:52 AM
When creating a company from scratch (that is when working on the New Company page), you will first have to save the company and then edit it to add company domains.
Answer by: Julia Gorobets (Admin) on Apr 21, 2022, 7:55 AM
Can it be added more field in the Company Information Customization Form? For example: a radio button based question.
Question by: Julia Gorobets on Apr 21, 2022, 8:50 AM
To customize the New Company form, you can do the following:
rename the fields, shuffle the fields to the desired order, enable or disable fields, set fields as "Required".
Answer by: Julia Gorobets (Admin) on Apr 21, 2022, 8:52 AM