Offer Terms and Conditions
The reward points redeemed from the coupon code can be applied to pay for up to 100% of purchased product price on checkout.
The offer is valid on Aheadworks.com only and the promotion code must be applied on your account in the Reward Points section to retrieve reward points. Accumulated rewards can be redeemed at checkout, and up to 100% of the order price can be paid with these points. The reward points have no expiration date and can be redeemed at any time using all or a certain number of points. 
This offer has no cash value and can be used in conjunction with any other offer. The promotion is limited to one-time use of the coupon per customer. Reward points can be used towards Magento 2 and Magento 1 extensions purchase. Cannot be applied to Buildify, LangShop, Migration services, Shopify or WooCommerce products. 
Other restrictions, exclusions, or terms may apply. Aheadworks reserves the right to modify or discontinue this offer at any time without notice.
To convert the coupon into reward points, log in and open the My Account section. In the left side bar menu click Reward Points, paste your coupon code in the Apply coupon to retrieve rewards field and press the Apply button. Now you can pay for the extensions with rewards.

Once reward points are retrieved you can spend them on your purchases at checkout. For it, enter the number of points you want to spend for the purchase and click Use Reward Points button.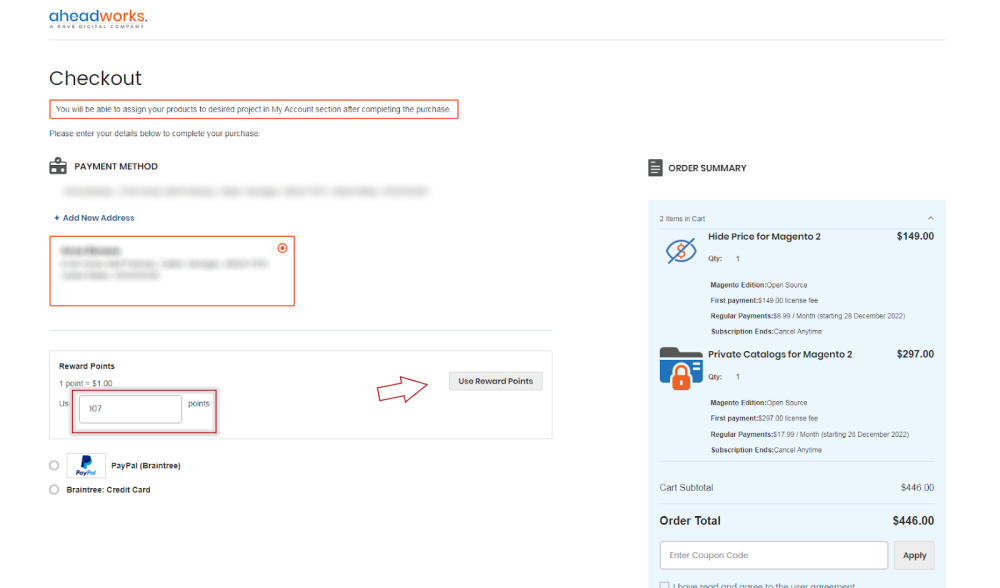 Note
In case your account is a part of company accounts, only company admins can use reward points. You can ask the company admin either to apply for reward points for your purchase or allow your account to manage them. You can check the company admin contacts in the Company Information section under the company admin field. Read more details here.