Replace product options with swatches and show matching product images.
Swatches displayed in product, category, layered navigation
Easy attribute setup with drag-and-drop editing
Swatches adjusted for text, image size, and product images
Current extension version: 1.1.3 | Compatibility: Open Source 1.4.1.1 - 1.9.3.10; Commerce 1.12.0.0 - 1.14.3.10

30-DAY MONEY BACK

FREE INSTALLATION

30-DAY FREE SUPPORT

LIFETIME RIGHT TO USE
Product Color Swatches Gallery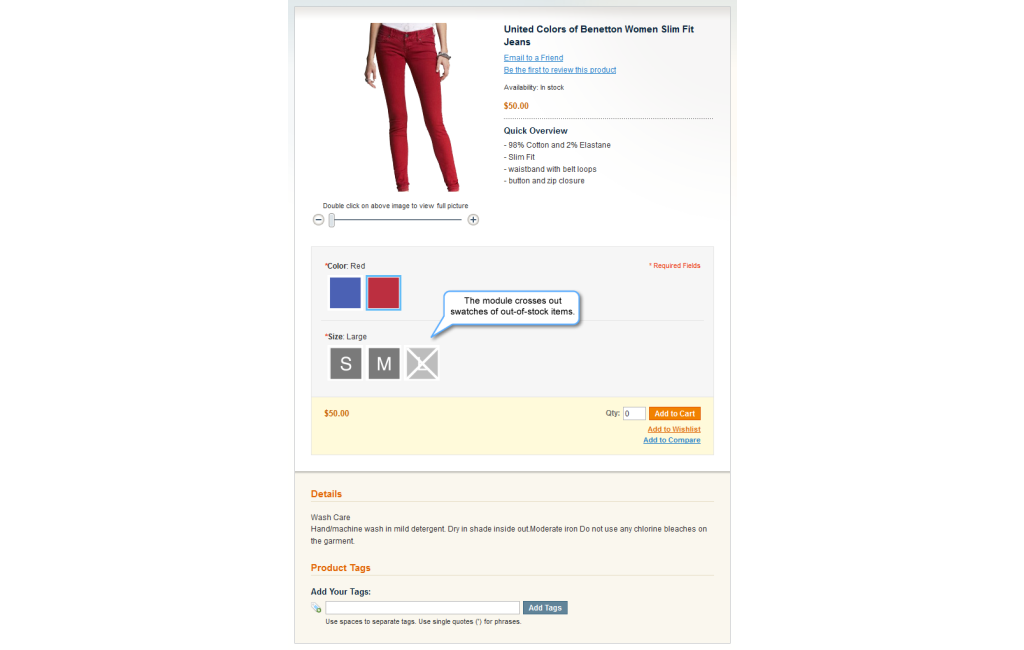 Overview
Visualize a variety of your product options with vivid swatches! Fast and easy-to-use, the Product Color Swatches extension lets you create swatches for configurable product options (color, material, manufacture) and demonstrate the exact view of your products in a couple of clicks. Just choose required images, upload and assign them to attribute values with our drag-and-drop feature and enjoy the result.
Features for store visitors:
Display swatches for specific attributes on product and category pages
Show attributes swatches in layered navigation
Show swatches in a pop-up window on mouse hover (on product and category pages)
Demonstrate the exact configurable product view according to selected attributes. A visitor can choose required product attributes and see the final product view without a page reloading (the AJAX technology is used)
Display out-of-stock items with crossed-out swatches (e.g. out-of-stock items of specific size are displayed with a crossed-out size swatch)
Features for administrators:
Use Drag-and-Drop to upload swatch images ( JPEG, PNG formats are supported)
Use mass swatch upload to save your time (unlimited number of swatches can be uploaded at once)
Use Drag-and-Drop to assign swatches to specific attribute values
Redefine attribute swatch just in one click - drop a new image to the area of the existing swatch you want to alter
Delete or restore swatches in one click
Specify swatch sizes for product and category pages
Specify swatch information to be displayed in layered navigation (only image, image and text)
Use product images as attribute swatches. If a product has only 1 attribute, you can use its images for attributes demonstration without the need to upload separate pictures
Upload as many images as you need - extension supports unlimited number of swatches
What's new in version 1.1.0:
Upload as many images as you need - the extension supports unlimited number of swatches
Use Drag-and-Drop for mass images upload
Use Drag-and-Drop to assign images to swatches
Show product images as attribute swatches
Demonstrate swatches on category pages
Show swatch titles in layered navigation
1.1.3

Released 15.11.2017
*Fixes for Magento Marketplace

1.1.2

* SUPEE-6788 compatibility issue

1.1.1

+ Compatibility with AJAX Catalog by aheadWorks

1.1.0

+ Override swatches with product images
+ Show swatches on category pages
+ Backend UX improvements
+ Show swatch titles in layered navigation

1.0.4

* Required fields were marked incorrectly on product pages
* Slow loading of a huge amount of attributes

1.0.3

+ Compatibility with iPhone Theme by aheadWorks
* Minor bugfixes

1.0.2

+ Multiple file uploading from backend area (using magento FLEX control)

1.0.1

+ Integration with Magento Layered Navigation

1.0.0

Initial release