Product attributes may be rated via radio buttons
Pros/cons multiple choice list + manual input
Sorting reviews by new, helpful, or by given rating
Social sharing is possible via social network buttons
Current extension version: 2.4.0 | Compatibility: Open Source 1.4.1.1 - 1.9.3.10; Commerce 1.12.0.0 - 1.14.3.10

30-DAY MONEY BACK

FREE INSTALLATION

30-DAY FREE SUPPORT

LIFETIME RIGHT TO USE
Advanced Reviews Gallery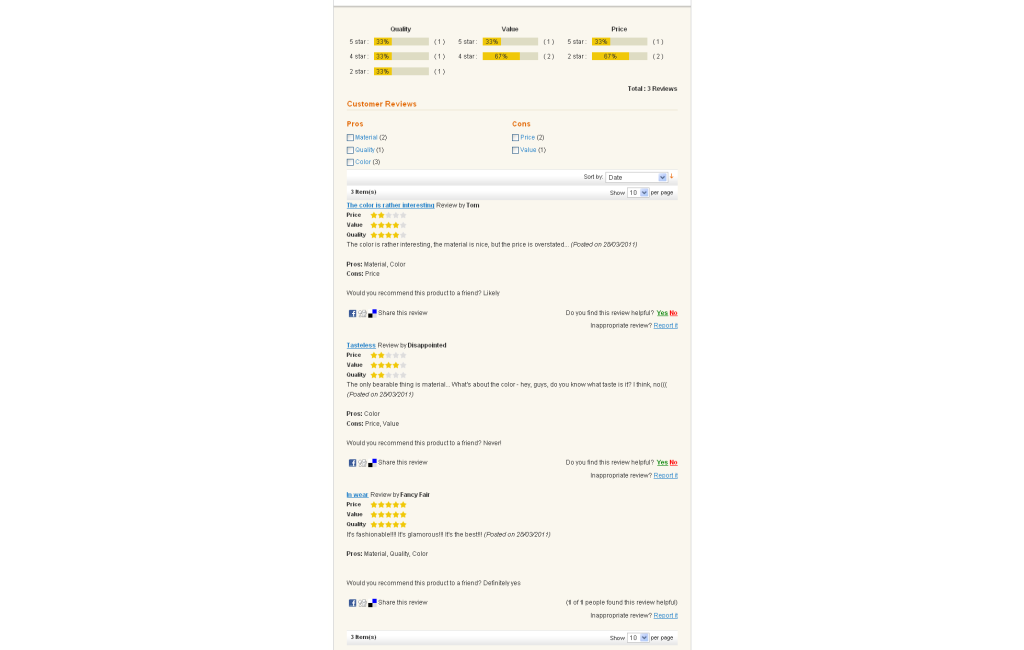 Overview
Product Reviews by customers are the # 1 resource for product research, according to the "Digital Consumer Behavior Study" conducted by Avenue A/Razorfish. 86% of customers read online reviews before making a purchase decision. Given these stats, can you afford to miss the opportunity to generate and showcase rich review content? Our Magento review extension is designed to encourage customers to submit their reviews and make it extremely easy to do so.
Features
Generate lots of reviews with the simple-to-use review interface

Customers may not be great writers but can tick off pros and cons from a list. What's more, they can even add pros and cons you've not covered!
Customers can report inappropriate reviews by others
"Do you find this review to be helpful?" field gets instant feedback from the reader - summary of answers is shown below this question to help other readers make a purchase decision
"Would you recommend this product to a friend?" field gives you a true picture of what your customer thinks of your product
Logged in customers can view all their reviews by clicking "All my reviews"
You can enrich your Product pages content with as many automatically displayed customer reviews as you want. The additional settings tab allows you to specify whether the latest, the most helpful or with the highest rating reviews will be shown

Ensure credibility of reviews by controlling the quality of the reviews

Option to restrict adding reviews to customers who purchased product only. This helps attract only serious reviewers
"Do you find this review to be helpful?" field too can be restricted to logged in customers
You can also restrict adding reviews to customers who have purchased a product
Social bookmarks bar helps your customer share reviews
Pros and cons list can be configured by admin and set up store-wise
Option to sort reviews by Date, Average Rating, or Helpfulness

Learn about new reviews in no time
With the 'email notification of new reviews' option you will receive notifications on your e-mail addresses
New powerful features since the 2.0 version:
Spam protection
Now you shouldn't worry about spam in your reviews as the spam protection has been added to the "Write Your Own product Review" form as well as to the Abuse and Helpfulness links.
Order status for posting reviews
You can specify order's status to allow customers to post reviews if "Only those who bought the product can review it" is enabled.
Reviews management via AJAX in frontend
No additional page reloads are required. All your site visitors' actions – reviews sorting, filtering, etc. - are performed via AJAX.
Additional variables for default email template
New variables are available for usage in your templates - nickname, product name, review text, review id, and review URL. Make your notifications more personal and informative.
Reviews summary block with reviews statistic
A quantitative and percentage analysis of the product ratings results can be represented in a reviews statistic block in the frontend.
RSS feed for reviews
This new ability allows you and your site visitors to follow new reviews easily, comfortably, and efficiently.
SEO-friendly
The URLs to reviews pages have become more SEO-friendly. Moreover, there is more information in the review page title since the 2.0 version.
With advantages such as these, online marketing couldn't get any better!
2.4.0

Released 16.06.2017
+ Reviews Rich snippets - markup for google
* Pros and cons sorting issue
* "Reviews"(count) option doesn't work on product page
* Wrong template is used on updating reviews list for RWD theme

2.3.10

* Fix for magento connect verification

2.3.9

* SUPEE-6788 compatibility issue

2.3.8

* Problem with ACL

2.3.7

* Vulnerability issue

2.3.6

* Incorrect work of the "Only those who bought the product can review it" option if FPC was enabled

2.3.5

* Native Magento 'Review' tab wasn't replaced by the module on the RWD theme
* Incorrect page layout after reviews sorting on "All my Reviews" page

2.3.4

* Problem with tickets creation from reviews

2.3.3

* Incorrect look of the Reviews page
* Problem when switching language on the Reviews page

2.3.2

* Customers were not able to leave a review for grouped products
* Problem with the 'Would you recommend this product to a friend?' field in Magento 1.8.1.0

2.3.1

+ Сompatibility with Magento EE 1.13.1.0
* Problem with reviews left prior to module installation
* Minor bugfixes

2.3.0

+ Stability and speed improvements

2.2.4

* URL rewriting problem if product had several URLs

2.2.3

* Fatal error if administrator follows link in Advanced Reviews email template in Magento 1.7*
* Default email template errors



2.2.2

* Localization problems
* SQL optimization
* "Average rating" sorting problem
* Minor bugfixes



2.2.1

* Fatal error on following link to disabled or not existing products instead of redirecting to 404
* Blank page after submitting review
* Incorrect work with URLs without '.'
* Short tag in template
* Incorrect Magento Admin page title in backend



2.2.0

+ Stability and speed improvements