Create a competitive environment by auction and achieve the highest price possible in the shortest time
Auction category and tab added to the store
Bidding interface is straightforward and easy to use
Notifications inform bidders about status changes
Shopping cart created automatically for the winner
Current extension version: 1.0.4 | Compatibility: Open Source 1.4.1.1 - 1.9.3.10; Commerce 1.12.0.0 - 1.14.3.10

30-DAY MONEY BACK

FREE INSTALLATION

30-DAY FREE SUPPORT

LIFETIME RIGHT TO USE
Auction Pro Gallery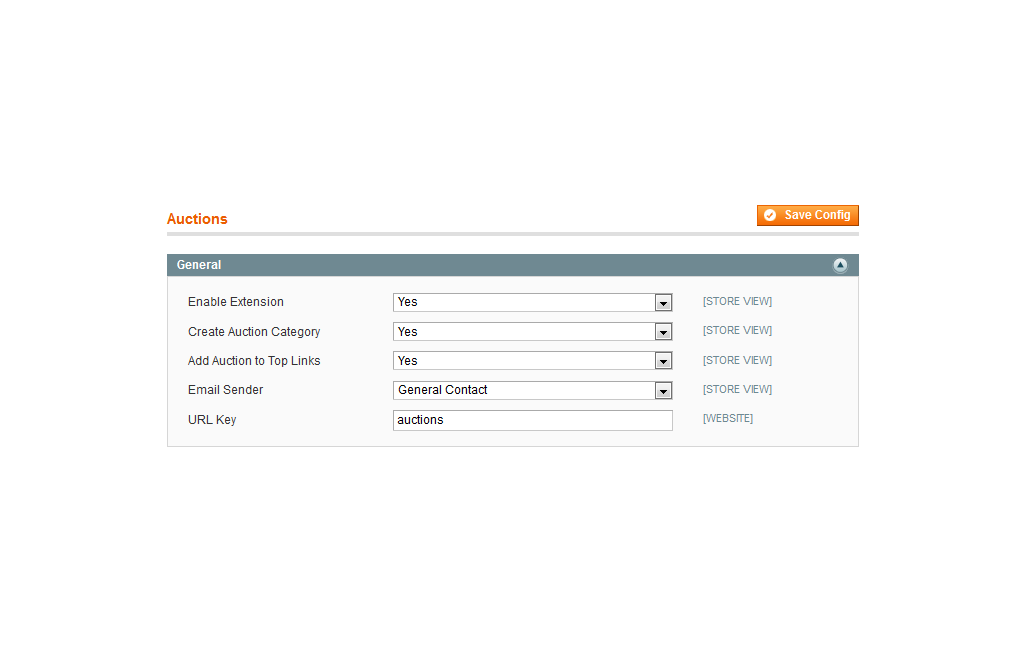 Overview
Selling at an auction is one of the most effective marketing methods. This sales approach is also called the "deadline method of sale" because of the established sales date and time. With the Magento Auction Pro extension by aheadWorks, you can get maximum profit from this powerful strategy.
No matter whether you are in strong or slow market, the Magento Auction Pro module will definitely benefit you as a seller. In a strong market, emulative spirit accompanies the bidding process and guarantees unlimited upside potential. In a slow market, you can sell your products rapidly at current market price. Thus with our Magento Auction Pro extension, you don't risk to overprice and then constantly reduce price to stimulate your customers interest.
Your auction product is neither overpriced nor undersold; its value is determined by the market and individual buyers. At an auction, competitive bidding among potential buyers means that the selling price often exceeds the expected value of the property, maximizing the sale price for the seller.
With the Magento Auction Pro extension, sellers benefit as well as their customers!
Benefits for sellers
A 99% successful closing rate
You set terms and conditions of the sale
Auction accelerates the sale of your goods
You know when your products will sell
You know that your products will be sold at true market value
Auctions create competition among potential buyers
Auction price can exceed the price of a negotiated sale price
Auction generates excitement and heightens buyer interest
Auctions reduce the time your products are on the market
Auction process requires action and a decision from buyers – they must act now or lose the opportunity to purchase
Benefits for buyers
Your customers know that the terms and conditions of the auction are the same for everyone. They know they are competing fairly and on the same terms as all other buyers. When property is sold by auction, no potential buyer has an unfair advantage.
Your customers determine purchase price by competitive bidding.
Your customers feel better about purchase – they know that there was a contending bid just one increment under the purchase price.
Your customers gain confidence as they compete.
The Auction Pro Magento extension features:
Separate category
Possibility to add Auction category to top links
Intuitive auction management
Easy-to-use bids management
Auto-creation of cart for winner
Customized notifications of new bid and auction ending
Auction process logging
Automatically sent to all participants offer to buy the product for the maximal bid
Ability to allow buy out
Ability to notify participants of higher bids
Supported product types:

Simple
Virtual
Configurable
Downloadable

Multistore support
1.0.4

* SUPEE-6788 compatibility issue

1.0.3

* Error note didn't appear when incorrect login credentials were entered

1.0.2

+ Stability and speed improvements

1.0.1

+ Stability and speed improvements

1.0.0

Initial release