Displays customer's purchases from all orders in a single list in admin area.
Current extension version: 1.2.4 | Compatibility: Open Source 1.4.1.1 - 1.9.3.10; Commerce 1.12.0.0 - 1.14.3.10

30-DAY MONEY BACK

FREE INSTALLATION

30-DAY FREE SUPPORT

LIFETIME RIGHT TO USE
Customer Purchases Gallery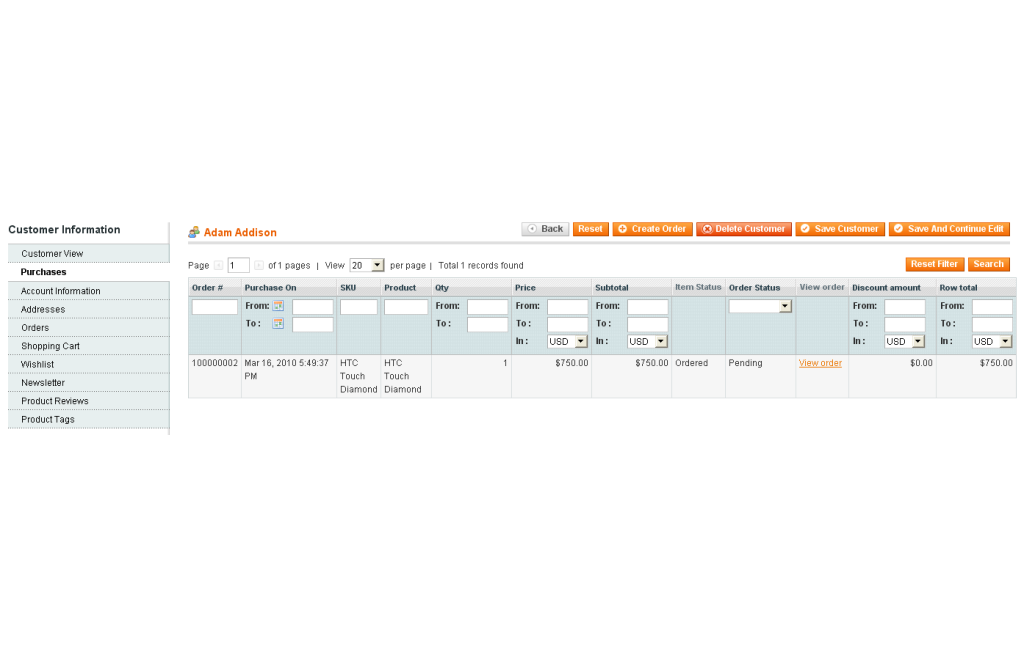 Overview
Without the help of the Customer Purchases Magento module, it can be complicated to quickly view what each customer is buying. That's because the standard Magento "Orders" tab simply doesn't allow this option. For online store representatives to obtain the data they need for marketing and analysis, additional, time-consuming steps must be undertaken.
The Customer Purchases extension solves this dilemma by incorporating a "Purchases" tab into the Customer Information page. Using the tab, businesses can observe a complete listing of any customer's purchases. And with the "View Order" button, they can easily check the date and time each order was made; the product title(s); the quantity ordered; the price per item ordered; and the total purchase price.
With the Customer Purchases module, any online store manager can get a complete snapshot of activities of customers, allowing for stronger promotions and discount planning.
Features
Addition of "Purchases" tab to the customer information page
Comprehensive overview of any customer's purchases
Displaying product options at purchases grid
Ability to go directly to the order page
1.2.4

+ Stability and speed improvements


1.2.3

+ Magento CE 1.6.x compatibility
* Minor grid modification
* Wrong currency symbol display

1.2.2

+ Minor bugfixes

1.2.1

+ Magento Enterprise Edition compatibility

1.2.0

+ Discount amount and Row total columns have been added to purchases grid

1.1.1

* [1.4.0.0] Purchases tab is empty

1.1.0

* Minor bugfixes

1.0.0

Initial release