Make the delivery process more cut and clear.
Delivery day may be selected from a calendar
Delivery notice field for any additional information
Delivery dates and intervals may be specified by admin
Current extension version: 1.4.0 | Compatibility: Open Source 1.4.1.1 - 1.9.3.10; Commerce 1.12.0.0 - 1.14.3.10

30-DAY MONEY BACK

FREE INSTALLATION

30-DAY FREE SUPPORT

LIFETIME RIGHT TO USE
Delivery Date and Notice Gallery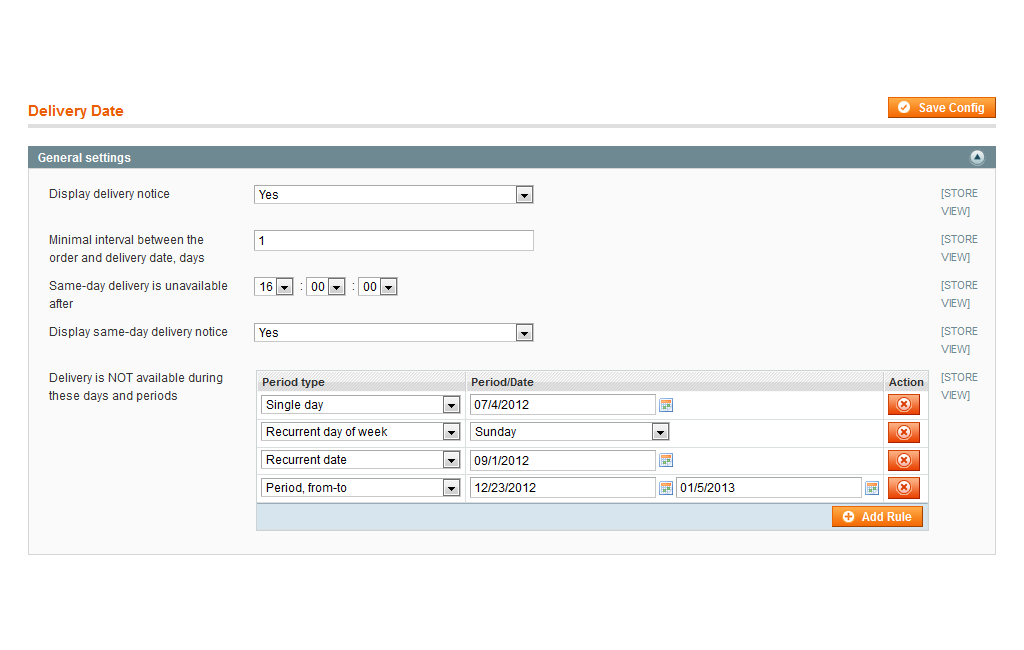 Overview
Without adding any extra pages to the checkout process, our Delivery Date and Notice Magento module provides new options for your customers. By filling in two fields, they can choose their preferred delivery arrival dates as well as leave a message for their postal or delivery person. Best of all, your customers will be instantly informed as to any dates when delivery is unavailable to them (i.e., weekends, holidays, recurrent days of the week, isolated days). It's the perfect way to effectively increase your customer service!
The Delivery Date and Notice extension includes configuration that allows you to set other parameters aside from the most convenient delivery schedule for you and your customers. You can also specify a minimal interval between the order and delivery date (such as 3 days, one week, etc.) Adding these settings to your store takes very little time and provides incredible value!
Features:
The aheadWorks Delivery Date and Notice module for Magento includes a wide array of features and benefits:
Customers can determine their preferred merchandise delivery date. If no delivery date is specified, the nearest available date is automatically used
Customers can add a notice for the delivery person
Same-day delivery dates are customizable and can be automatically listed as unavailable to streamline communications between you and your customers
Orders can be sorted and filtered by delivery date from the back end
Unavailable delivery dates/days can be flexibly configured
Minimal intervals between the order and delivery dates can be customized
Delivery date and notice are added to standard Magento order print outs
Ability to modify delivery date formats directly in e-mail templates
1.4.0

Released 14.06.2017
+ When order is edited, it should be possible to change delivery date data
+ Add support of Paypal Express
+ Deliver date and notice as required field
* Orders grid disappears when disabling module output
* Delivery date is shown for recurring orders

1.3.7

* Recurrent date* option's setting got applied to all months
* Delivery notice with special characters was displayed incorrectly in the backend


1.3.6

* Incorrect position of the icon calendar
* Html tags were shown in the frontend

1.3.5

+ Stability and speed improvements

1.3.4

+ Stability and speed improvements

1.3.3

+ Compatibility with Gift Wrap and Order Attributes by aheadWorks

1.3.2

* Incorrect processing of date values in different locales
* Minor bug fixes



1.3.1

+ Multistore support for 'Delivery is NOT available during these days and periods'
* HTML escaping issue
* Incompatibility with Mage_GiftMessage



1.3.0

+ Delivery Date and Notice are added to standard Magento order print outs
+ Ability to modify delivery date formats directly in email templates
* Delivery date is reseted after payment error
* Incorrect filtering by date in Sales -> Orders grid
* Incorrect delivery date locale settings



1.2.0

+ Magento CE 1.6.0.0 compatibility
* 'Delivery is NOT available during these days and periods' saving option error
* JS issue with input field hiding in backend