Organize collective buying by offering products at significantly lower prices.
Deal types: upcoming, featured, active, closed
Notifications sent on deal outcome
Coupons generated and delivered automatically
Deal block customizable in a number of ways
Current extension version: 1.0.8 | Compatibility: Open Source 1.4.1.1 - 1.9.3.10; Commerce 1.12.0.0 - 1.14.3.10

30-DAY MONEY BACK

FREE INSTALLATION

30-DAY FREE SUPPORT

LIFETIME RIGHT TO USE
Group Deals Gallery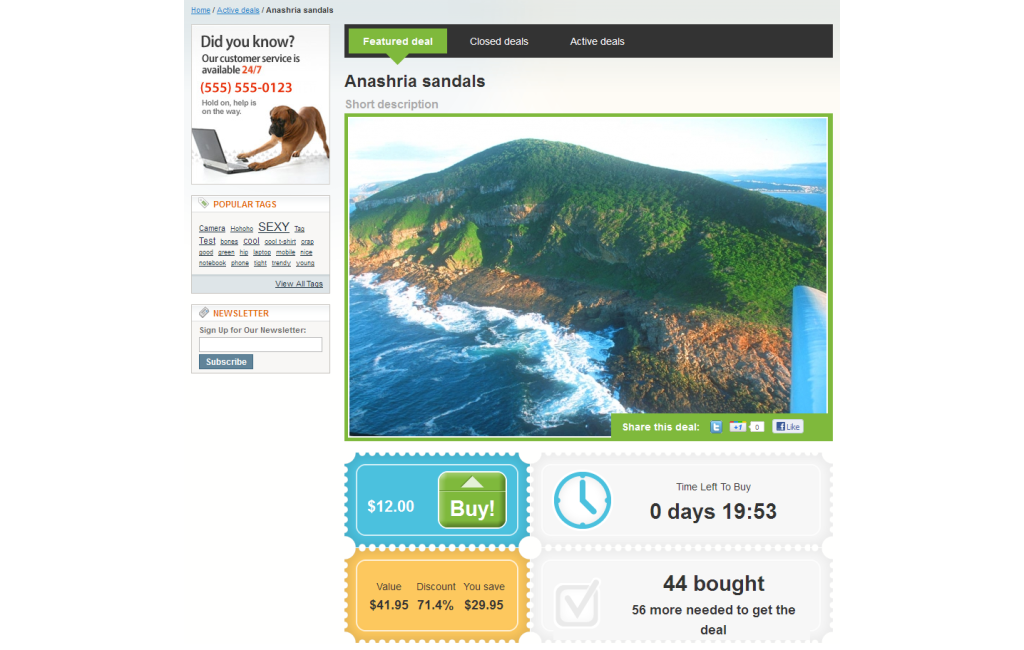 Overview
Groupon is a new popular ecommerce trend which made its first deal in October 2008. Now you can gain from the service of collective purchases as well in your Magento store with the Group Deals Magento extension. This module from aheadWorks is a fantastic way out for those online merchants who want to organize collective purchases process.
Group buying is a truly fantastic way for businesses to connect with new prospects. Make new and diverse deals with the Group Deals Magento extension by aheadWorks. Every day you can feature a cool new experience on unbeatable price in your store and assemble a huge group of people with the targeting power to get amazing deals.
With the Group Deals Magento extension you can offer products and services at significantly lower prices. The deal takes place when a minimum required number of people buy the product.
Features
Unlimited number of deals
Separate blocks for category and product pages
Four deal types:

upcoming
featured
active
closed

Email notifications sent to customers and admin about:

deal succeed
deal failed
deal expiration

Coupons auto-generation
Ability to set up a coupon expiration period
Ability to set up coupons quantity generated for each deal
Ability to bind coupon to a certain product
Personalize your deals by configuring:

name
picture
short description
description
store view

Ability to schedule deals to be run automatically
Ability to specify maximum allowed purchases
Optional deal auto-closure on succeed
Auto-count of the discount and "you save" price
Ability to insert any deal via CMS
Ability to configure each deal type
Ability to change coupon code status manually
Deal overview
Sort order for deal types tabs
Linked-to-deal product visibility
Ability for customers to print coupons
Ability for customers to view deals
Main product types support (except bundled products, grouped, and gift cards)
Complete multistore support
1.0.8

* Fix for magento connect verification

1.0.7

* SUPEE-6788 compatibility issue
* Inability to invoice the last order of the deal
* Incorrect design of the "Deals" page when no deals were available
* Inability to view a deal from My Account
* Active deals were not displayed in the frontend on Magento EE 1.14.2.0
* Error occurred on an attempt to close a deal as failed
* Incompatibility with the RWD theme
* Blank page after a deal was closed as failed


1.0.6

* Minor bugfixes

1.0.5

+ Stability and speed improvements

1.0.4

+ Stability and speed improvements

1.0.3

* Minor bugfixes

1.0.2

+ Magento PE compatibility
+ Social buttons in CMS block
* Mass deleting in grid issue
* Minor bugfix



1.0.1

+ Order Tags compatibility
+ URL field for deal
* Extension breaks https (Facebook Share button is replaced with Like button)
* Incorrect collection filter for upcoming deals
* Fatal error in admin panel if related to deal product is deleted
* Disabling extension in System > Configuration > Advanced breaks shopping cart
* No confirmation dialog on deleting deal from mass action section
* Magento Enterprise - incorrect CSS in customer account