Product Downloads for Magento 2
Increase cusomer retetention by offering free materials with product additional info.
Upload files of various types
Import/export files in bulk
Associate a file with multiple products
Attach any number of files to a product
Make use of the premade icon package
View the number of downloads of each file
Current extension version: 1.0.8 | Compatibility: Open Source 2.4.4 - 2.4.6; Commerce 2.4.4 - 2.4.6

License:
Starting At
Special Price
$149.00
$149.00

30-DAY MONEY BACK

FREE INSTALLATION

30-DAY FREE SUPPORT

LIFETIME RIGHT TO USE
Product Downloads Gallery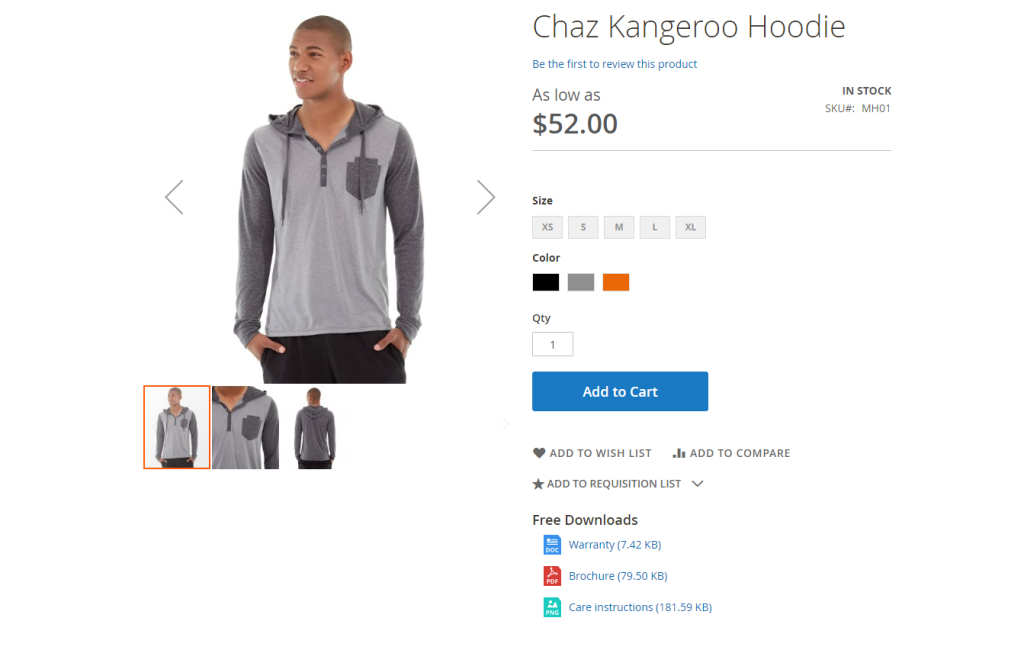 Why Magento 2 Product Downloads
Support your products with detailed specifications, instructions on use, video tutorials and other attachment files - easily accessible and downloadable from the product pages. Customers are highly likely to buy a product when informed well of its worth and quality, and when offered free materials on how to make the most of it. Samples and templates for downloadable products will by far turn customers on your side!
How Magento 2 Product Downloads Works
Adding Files
Displaying on Storefront
Customizing the Look
Analyzing and Managing
Adding Files
Enjoy the diversity in adding files to products. Do that on the Product page: in bulk, via an URL or selecting from the pre-uploaded files. Alternatively, add files one by one via the New File page or import them with the help of the native Magento 2 functionality.
Displaying on Storefront
Define where on a product page the downloads are to be displayed, under what block title and if the file size is to be shown to customers.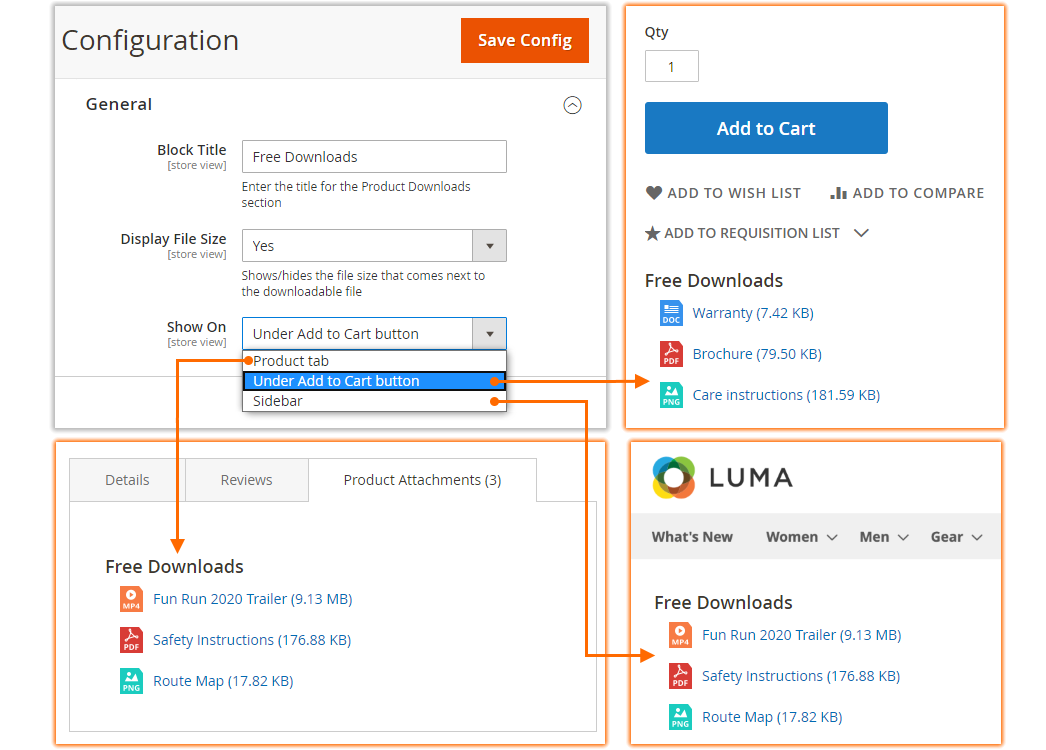 Customizing the Look
Alter the prearranged bank of icons, updating the file types or images, adding new icons and deleting the ones of rare use. Uploaded files will automatically receive icons with regard to their file type.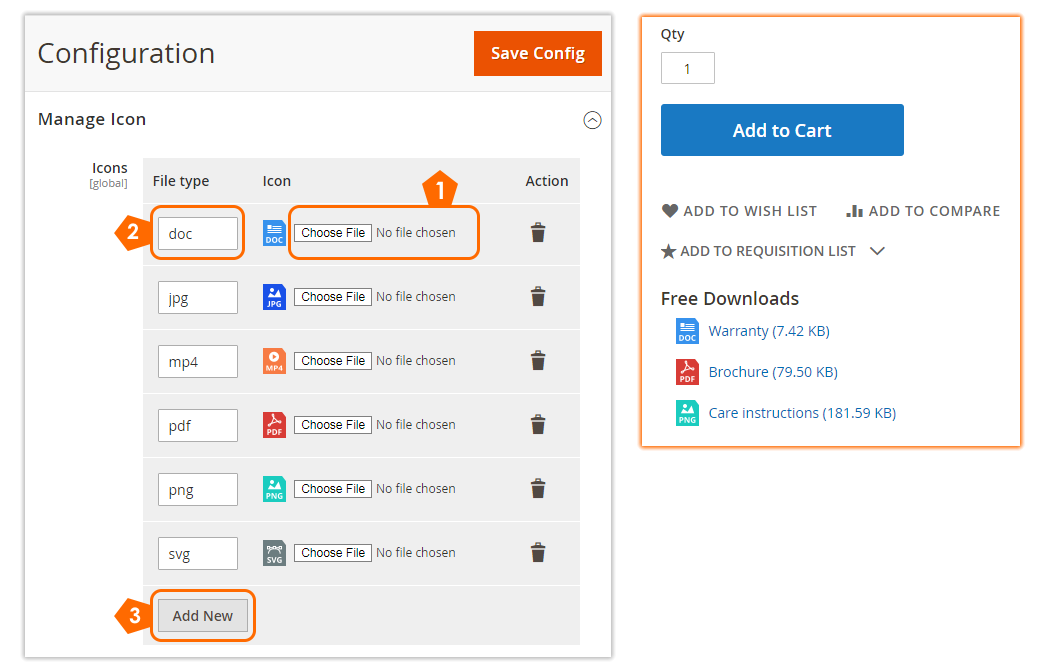 Analyzing and Managing
Track the number of downloads of each file with the help of the Files grid. Decide if files of lower popularity are to be hidden from Storefront or appropriated for a selected group of customers. You can update file configuration on the Edit File page, which is easily accessible from the grid.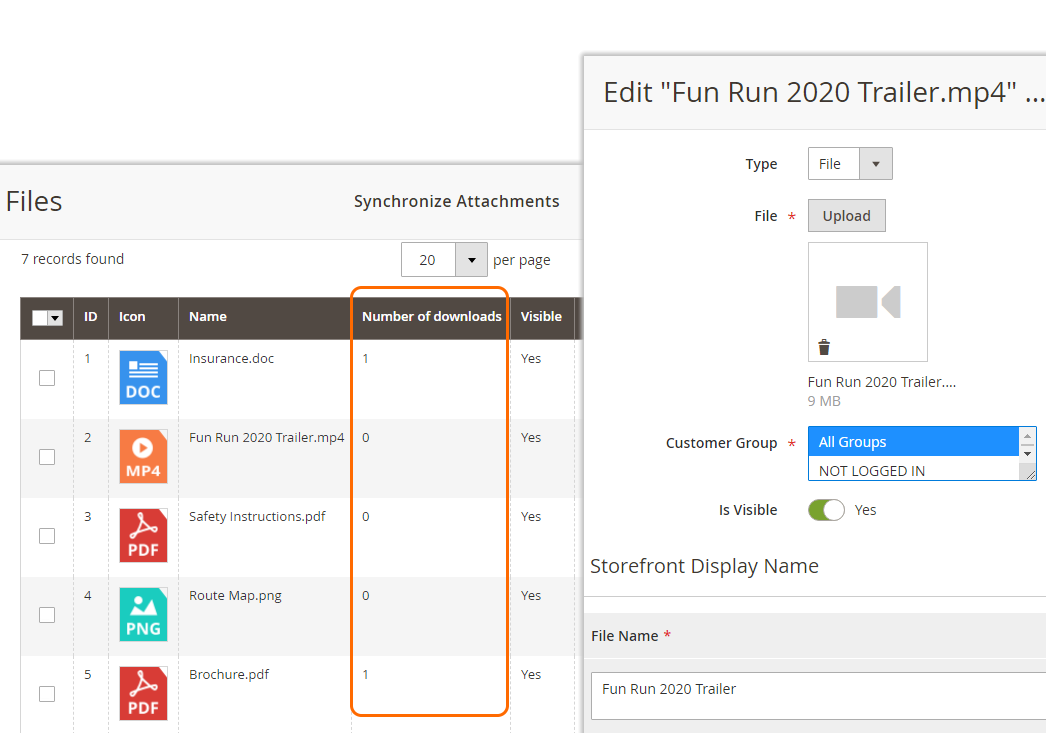 Magento 2 Product Downloads Detailed Feature List
1.0.8

Released 12.09.2023
* Minor updates

1.0.7

Released 02.09.2022
+ REST API support

1.0.6

Released 07.07.2022
* Fixed issue with indexing PDFs by Google
* Fixed issue with implementation of the Mview\ActionInterface by indexer.


1.0.5

Released 01.06.2022
* Fixed issue with displaying incorrect notification when added URL without file type

1.0.4

Released 14.03.2022
+Declarative schema upgrade

1.0.3

Released 11.02.2022
*Fixed issue with ACL

1.0.2

Released 28.10.2020
+ Magento 2.4 compatibility
* Fixed issue with svg file uploading
* Fixed ACL issues



1.0.0

Released 06.07.2020
* Initial release