Enrich customer base with an effective tool for social networks.
Facebook - login, like, follow, comment
Twitter - login, tweet, follow
Google+ - login, shareproduct pages
Pinterest - pin products on Pinterest board
Current extension version: 3.1.3 | Compatibility: Open Source 1.4.1.1 - 1.9.3.10; Commerce 1.12.0.0 - 1.14.3.10

30-DAY MONEY BACK

FREE INSTALLATION

30-DAY FREE SUPPORT

LIFETIME RIGHT TO USE
Social Media Bundle Gallery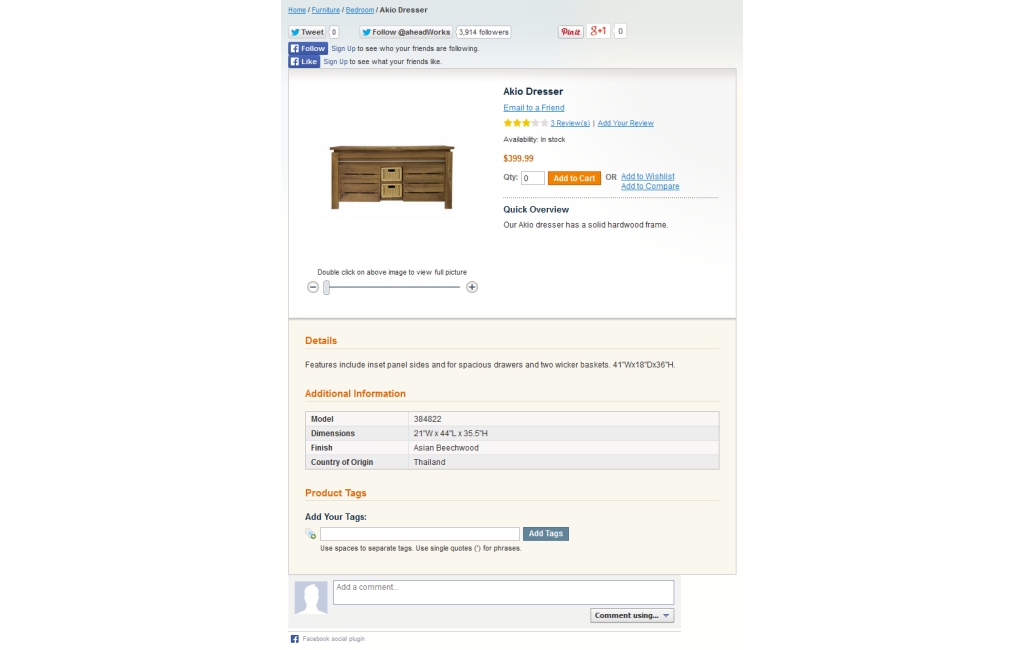 It goes without saying that social networks are an effective tool to increase the quantity of store customers. They can be used to announce promotions or discounts and spread this news within social communities. The Social Media Bundle extension delivers all features of Twitter, Facebook and Google+ with one installation.
Facebook Integration The Social Media Bundle extension places 'Facebook Like' and 'Follow' buttons on any page of a website, thus integrating your Magento store with Facebook. By clicking on the 'Like' button, the extension automatically places the product image and name on the user's Facebook wall. Visitors get the possibility to promote your shop within Facebook community leaving comments on store items and involving their friends into a discussion. The extension adds Facebook Connect button to login and checkout pages enabling users to access your store and their accounts in just a few clicks. The Magento account will be created automatically.
Twitter Integration The module equips your visitor with one click registration and login to Magento with their Twitter profile. Users do not have to fill in long registration forms. All they have to do is enter their email address to Magento profile. The 'Tweet' button encourages customers to share store content on Twitter and highlight products they like with their friends. The 'Follow' button is aimed to increase the quantity of your Twitter account followers and keep them informed about store news. The counter added to this button displays the total quantity of followers.
Google Integration Add the Google +1 button on any page of your store and make it stand out in Google search results. Google Connector automatically creates Magento accounts for Google+ users and the 'Google Share' button assists customers in sharing their shopping experience and promoting products within Google+ community.
"Pin" Button The 'Pin' button added by the Social Media Bundle module helps grabbing an image, price and product description from a Magento site and adding it to one of the Pinterest boards.
Features:
Easy login using Facebook, Twitter or Google+ accounts
Automatic creation of Magento account for Facebook, Twitter or Google+ users
Place social buttons on chosen pages
Privacy settings for clients
Set URL and/or Tweet text
Convert Facebook and Twitter users into followers
Add Followers Count Display
Improve store ranking in search results
Let your visitors highlight your site in search results
Set layout style
Adjust social buttons to your custom design
Add comments to products and pages in your store
Manage comments and see statistics with Facebook tool
Adjust color scheme and layout size for comments
Blacklists and grammar filters
Ability to post customers' purchases on their walls in social accounts
Edit text to be posted on user's wall
3.1.3

Released 20.11.2017
*Fixes for Magento Marketplace

3.1.2

Released 17.05.2017
* Facebook login issues

3.1.1

* HTML in description of the product is not properly escaped
* Impossible to login with Twitter