Offer and manage all kind of bookable products.
Responsive pricing adjusts for days/items left
Booking options to suit any business type
AJAX support for a faster booking process
User-friendly interface for both admin and clients
Current extension version: 1.4.6 | Compatibility: Open Source 1.4.1.1 - 1.9.3.10; Commerce 1.12.0.0 - 1.14.3.10

30-DAY MONEY BACK

FREE INSTALLATION

30-DAY FREE SUPPORT

LIFETIME RIGHT TO USE
Booking and Reservations Gallery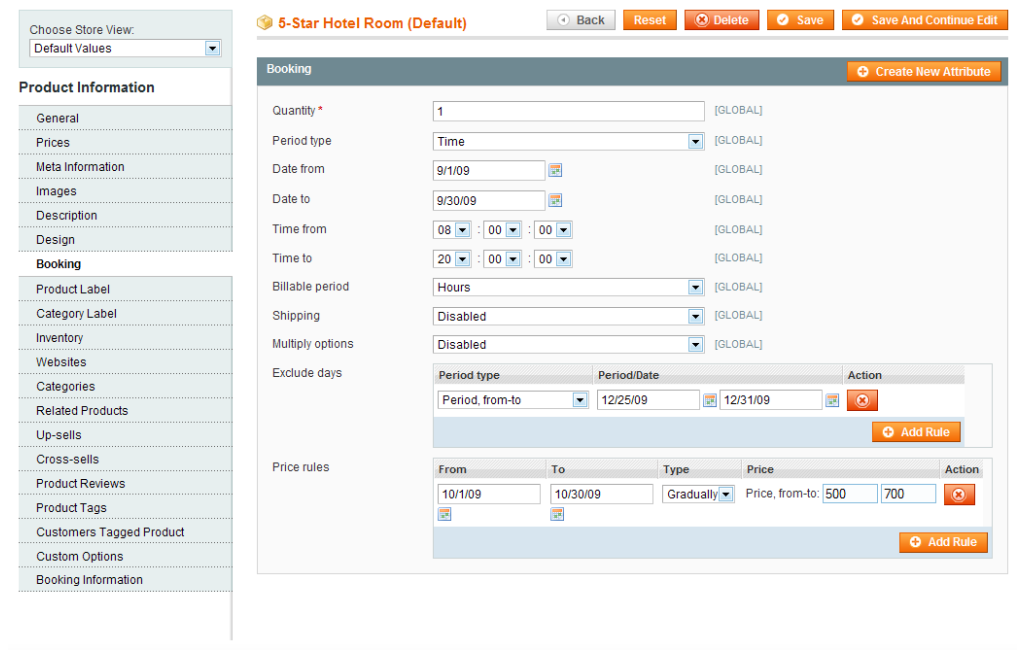 Overview
Looking at the needs of customers for whom booking-related services is the crux of their business, aheadWorks introduced Booking and Reservations – a feature-rich Magento extension that helps you efficiently manage your booking and reservation work.
Want to sell tickets for events online? The Event Tickets module has been developed for this purpose.
Check out Booking and Reservations features and how they can make a difference to your business.
Features
Multiple pricing rules to maximize business opportunities
Set flexible price rules: you can set different price for different days;
Offer tier pricing: good for those who wish to increase or reduce prices right before the event;
Promote your booking/reservation products by pricing items differently when higher quantities are purchased. by pricing items differently when higher quantities are purchased.
Flexible booking/reservation options to suit different businesses
Flexible "exclude days" rules: Similar to 'blackout' days with airlines, prevent bookings/reservations for certain dates;
Option to set billable periods by "day" or "hours": makes this extension suitable for date-time-date and time-based products, e.g. hotel room/consulting attendance/rental products;
Set a period available for bookings and reservations, e.g. reservations can be made only from 8:00 AM - 6:00 PM;
Specify date and time period of product availability, making this extension useful for products that are available for limited time periods such as a particular play or movie;
Allow multiple reservations for the same time based on available quantity of the bookable product: for example, a car wash with 3 boxes could allow 3 reservations in the same time slot.
Useful and user-friendly interface for customers and admin
For Admin
Booking tab is displayed when editing a product. It contains calendar widget and orders overview;
Ability to turn on/off shipping for bookable products;
Separate orders page with all bookings and reservations;
Booking period is displayed in Order details and Invoice;
Ability to specify how many days the booked item is kept in abandoned cart;
Ability to define the number of calendar pages displayed on the product page.
For Buyer
Calendar and busy/free time periods for easy ordering;
Customer can also view their bookings and reservations on an "orders view" page;
See booking/ reservation details in the shopping cart before placing the order;
Check the reserved period in the received invoice;
"Live" price change while changing custom options;
Booked period is shown as unavailable for another reserving to the customer even if he/she hasn't checked it out.
AJAX support
Dynamically changing price with AJAX while changing reserved period at frontend
AJAX calendar loading and navigation
1.4.6

* Fix for magento connect verification

1.4.5

* SUPEE-6788 compatibility issue

1.4.4

* Inability to book a product for the next year if "Date from" & "Date to" fields were empty in the backend
* Incorrect month was shown when date range was selected on calendar


1.4.3

* A product wasn't added to cart when date/time in future were selected

1.4.2

* Past time could be selected for booking
* Incorrect design in the RWD theme

1.4.1

* No rows headers after orders exporting
* "Qty" field of each product was hidden in the backend
* The Calendar block stretch according to the Day details bar
* Inability to select time in the From, To fields

1.4.0

+ Email notifications improvements
+ Logic of reservation for the same date improvements
* Incorrect validation of the "Number of calendar pages to show" field
* Calendar was updated only after opening previous/next month
* "Date to" could be early than "Date from"
* Custom options didn't work
* Incorrect behavior when several days were excluded
* Inability to book more than 3 days
* Problem when filtering booking orders
* Problem when editing product in the shopping cart
* Inability to create a booking product with a single day
* Incorrect time displaying in the frontend
* Minor bugfixes

1.3.1

+ Stability and speed improvements

1.3.0

+ Booked dates are marked with red color at backend
+ If product has been booked but available quantity is not exceeded for that date, this day is colored green at backend
* Issue with product editing from shopping cart
* After changing booking period, configured price wasn't updated automatically
* Impossibility to add product to shopping cart if "Period Type" was set to "Time" or "Date and Time"
* Incorrect work of {{var order_date}}
* Product with incorrect time range was added to shopping cart
* Incorrect CSS-style on product page in Enterprise Edition


1.2.3

+ Page loading time improved
* Calendar issues
* Minor bugfixes



1.2.2

+ Magento EE 1.10 compatibility
+ Magento CE 1.5 compatibility
+ Speed of booking product page loading is increased
+ Notification to admin about wanting product quantity in completed order
+ Tiered price support
* Incorrect extension work if two customers add one product to cart at the same time
* Incorrect work with orders which don't need invoice
* Fatal error while filtering "Last order" at Booking/orders grid
* "'opConfig' is undefined" error at product page in IE 7/8
* Incorrect work at product reviews page
* Impossibility to add booking product from wishlist to cart
* Unlimited product quantity in shopping cart
* CSS bugs
* Wrong extension behaviour at reviews page
* Incorrect work with percent price type in custom options
* Incorrect price rules validation
* Wrong calculating when price rules added
* Wrong calculation of billable period
* Wrong calculation with "Date and Time" period type
* Minor bugfixes



1.2.1

+ Magento Enterprise Edition v.1.8 compatibility
+ Ability to duplicate booking product
* Incorrect calculation of price with custom option
* Bugs on refunding booking product
* Special price was displayed at catalog page when product was reserved for all day
* Incorrect work with 2 AM or 2 PM periods on product page

1.2.0

+ Magento v.1.4.* compatibility
+ Booking period is added to Order details and invoice
+ Dynamically changing price with AJAX while changing reserved period at frontend
+ AJAX calendar loading and navigation
+ Live price change while changing custom options
+ AJAX Cart Pro support
+ Booked period is shown to customer as unavailable for reserving even without being checked out
+ Ability to define the number of calendar pages displayed on the product page
+ Ability to specify the number days the booked item is kept in abandoned cart
+ JavaScript load optimization
* Incorrect design for Time option in Magento 1.4.*
* Multiple October 31 fixed
* "Recurrent day of week" option works incorrectly
* Wrong date format on most pages fixed
* Booking/reservation products are not available while managing orders from admin panel
* Possibility to order a bookable product on excluded days
* "To" option is not displayed in IE 7/8
* "Last order" field is not updated
* Incorrect number of pages and total number of records
* Booking quantity is set to 0 fixed
* Recurrent excluded days optimization
* Incorrect quantity of ordered products
* Localization issues
* "Duplicate" button disappears
* Wrong custom options summing
* "Booking" tab was added to all products after installing on Magento 1.4.0.0
* IE incompatible JSON notation
* Backend crash after exporting/re-importing all products to CSV
* Error occurs after changing daily billing to hourly (and vice-versa) and clicking "Save and Continue Edit"

1.1.1

+ Stability and speed improvements

1.1.0

* Minor bugfixes