Provide customers with quick answers to common questions with Chat Bot. 
Enable/disable module on the frontend

Modify the position of Chat Bot 

Set the behaviour of the Chat Bot window
NOTE: This is a free addon product to FAQ for Magento 2 and cannot be purchased separately.
Current extension version: 1.1.0 | Compatibility: Open Source 2.3.X - 2.4.X; Commerce 2.3.X - 2.4.X
When shopping online, customers tend to ask the same questions that require immediate answers. It is inconvenient for customers to submit tickets every time some simple clarifications are needed. As a result, shoppers hesitate to make a purchase and leave the site.
Enable customers to ask questions on any page and get answers immediately with ChatBot! It is a widget that responds on the spot providing all the necessary details, based on FAQ resources. Turn a looker into a buyer by having all customers' questions already answered.
Help customers to find answers to urgent questions conveniently
Save customers time and provide all relevant information within a second via ChatBot. Acting as an intelligent assistant, ChatBot caters to users with a personified experience maintaining smart and logical interaction. As far as ChatBot is available on every page, customers can quickly get their questions answered without browsing the FAQ articles or submitting tickets to the support service. Customize ChatBot interface to make it more personalized and engaging.
General settings
Chat Bot window
Chat Bot design
General settings
Being a separate module, Chat Bot can be enabled or disabled in the configurations. Store admin can set an email address where Chat Bot notifications should be sent. Enter a title that will appear on the top of the Chat window and that will tell customers what the window is meant for. Suggest welcome messages for logged-in and guest users to engage customers into interaction. Thanks to integration with Help Desk Ultimate for Magento 2, you can come up with a confirmation ticket massage that will be shown when a ticket is submitted via Chat Bot.
Chat Bot window
 In order not to interrupt a user, auto-appearing and auto-minimizing of the Chat window can be predefined. Set the time Chat Bot waits to auto-open on load of the store page and auto-minimize when no interaction happens. When the window is minimized, only title and Chat Bot image are displayed. As a Chat avatar, a photo of a sales manager can be uploaded to make customers feel comfortable while talking to Chat Bot.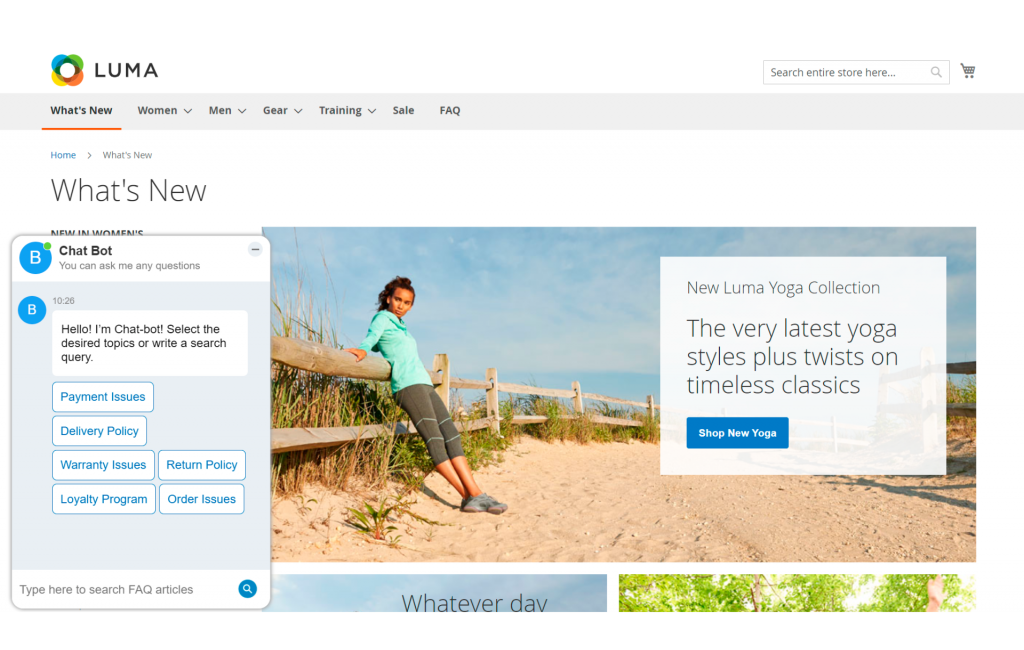 Chat Bot design
Configure the Chat window location which fits best your store layout. Set permissions and specify customer groups who can view Chat Bot. You can choose the number of FAQ categories to display on the start of the session with a customer. To defend your store from spam, select the spam-protection mechanism: none, reCaptcha, or Honeypot.