Enable customers to find necessary information in a matter of a few clicks.
Provide customers with quick answers to common questions via

ChatBot 

Increase the credibility of FAQ pages with the Helpfulness Rate feature

Make FAQ pages eye-catching by adding images to categories and articles

Define which customer groups can access FAQ content by setting view permissions

Make FAQ pages highly searchable with enhanced SEO tools
Current extension version: 1.3.0 | Compatibility: CE 2.3.X - 2.4.X EE 2.3.X - 2.4.X

45-DAY MONEY BACK

FREE INSTALLATION

90-DAY FREE SUPPORT

FREE LIFETIME UPDATES
FAQ Gallery

Gain Trust By Answering to Customers' Questions
Give shoppers the info they ask for with the Magento 2 FAQ extension! Collect user feedback to your articles with the helpfulness rating system and the dedicated question form. Divide articles by categories to let users quickly find what they need on your FAQ page. Decorate categories with catchy images. Make FAQ pages visible and searchable on the web with powerful SEO configuration options.
Magento 2 FAQ Extension Overview
Articles by categories
ChatBot
Custom images
Block layout
Helpfulness rating
Article questions
Search on article pages
SEO Tools
Articles by categories
Divide FAQ articles by categories (key topics) with the Magento 2 FAQ module!. By equipping the page with a search field, you will let users quickly find the necessary info.
ChatBot
Save customers time and provide all relevant information within a second via ChatBot. Acting as an intellectual assistant, ChatBot caters to users with a personified experience maintaining smart and logical interaction. As far as ChatBot is available on every page, customers can quickly get their questions answered without browsing the FAQ articles or submitting tickets to the support service. Customize ChatBot interface to make it more personalized and engaging.
Custom images
Tailor the look of your FAQ page to your web store design! Do this by uploading custom category and/or article list icons.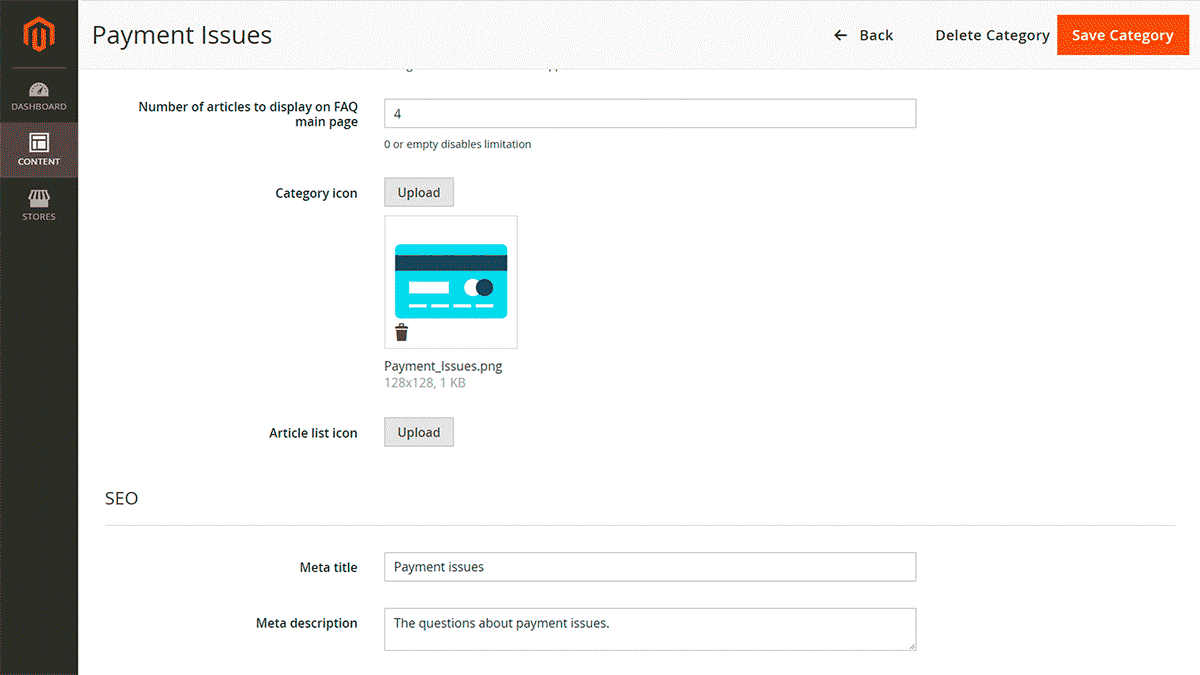 Block layout
Tweak your FAQ page layout even further! Divide the FAQ block into up to 3 columns. Set the maximum number of articles to be displayed per category.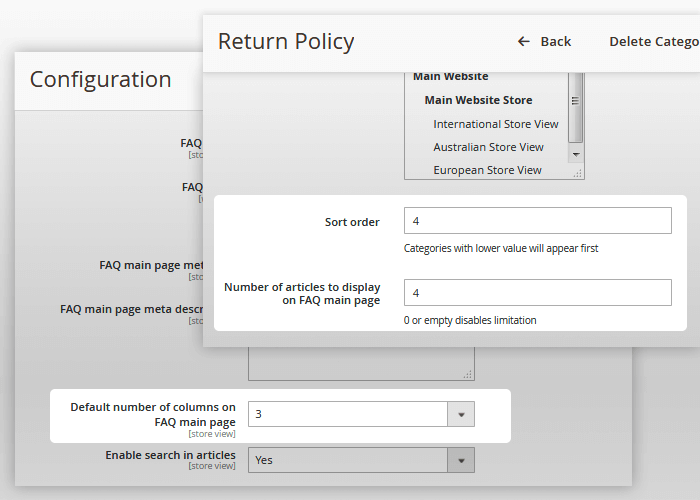 Helpfulness rating
Let users vote the helpfulness of each article. By the way, you can define when to display the helpfulness rate (before voting, after it, or both).
Article questions
Add a question form to article pages. This way, users will be able to ask for some details regarding the corresponding article.
Search on article pages
Besides the main FAQ page, users can search for additional info right from article pages.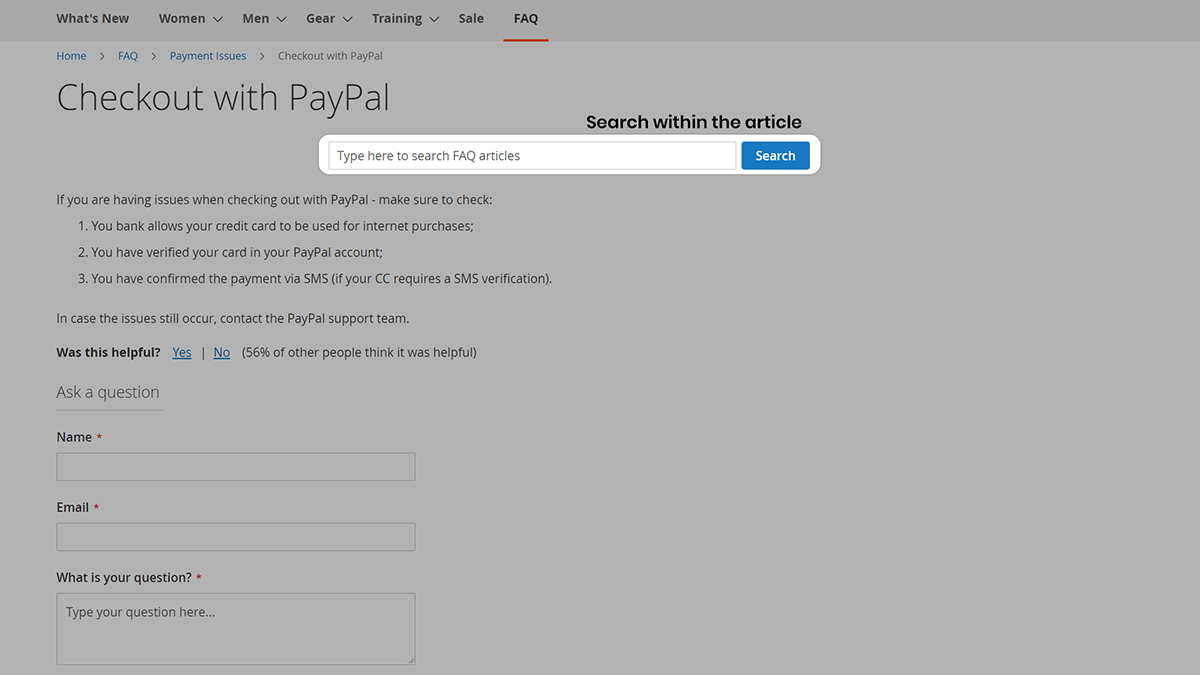 SEO Tools
Employ all essential SEO configuration options to have your FAQ pages and categories visible and searchable: meta data, redirect 301, URL suffixes, page separators and canonical urls.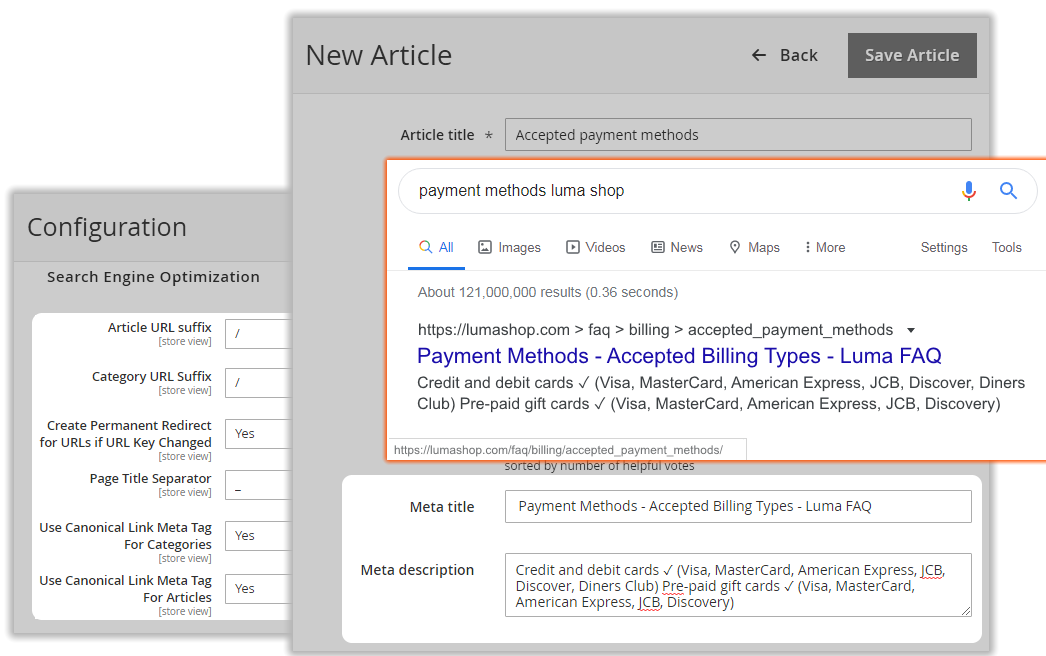 Magento 2 FAQ Module Features
1.3.0

Released 01.03.2021
+ ChatBot functionality has been added
* Article URL key and Category URL key can not be the same
* The "Submit the question" button is not blocked after being clicked
* Fixed issues with sitemap generation

1.2.2

Released 22.10.2020
* Compatibility with Magento v. 2.4
* Minor UI adjustments


1.2.1

Released 04.03.2020
* Improved compatibility with Magento v. 2.3.4
* Error occurs in console when invalid "URL key" is entered
* Fixed URL issues
* Minor UI adjustments



1.2.0

Released 21.02.2020
+ Added URL suffixes for FAQ posts and categories
* URL rewrites aren't created if suffixes were changed
* 'Search by keyword' doesn't work
* Fixed issue with trailing slash in FAQ URL



1.1.1

Released 25.02.2019
+ Magento 2.3 compatibility
* Improved support of database with prefix
* Translation improvements
* Compilation issue (Magento CE v.2.1.16)

1.1.0

Released 22.03.2018
+Questions on article pages
+Aheadworks Advanced Search 1.0 integration
+Helpfulness block UI refactoring
+Refactoring of 'faq.helpfulness' jQuery widget
*Image size is displayed as "NaN undefined" in category settings
*Fixed issue with articles sorting
*FAQ options renaming
*Article list icon is not displayed on category page


1.0.3

Released 27.03.2017
* Stability and speed improvements

1.0.2

Released 22.03.2017
* FAQ Category can't be deleted
* FAQ urls are not generated in sitemap.xml if Blog is installed

1.0.1

Released 14.12.2016
* Stability and speed improvements

1.0.0

Initial release 16.11.2016