Gather all the relevant information with customer attributes of various types.
Any number of additional attributes may be created
Various input types and input validation are available
Backend view of attribute grid arranged by customer
Current extension version: 1.0.9 | Compatibility: Open Source 1.4.1.1 - 1.9.3.10; Commerce 1.12.0.0 - 1.14.3.10

30-DAY MONEY BACK

FREE INSTALLATION

30-DAY FREE SUPPORT

LIFETIME RIGHT TO USE
Customer Attributes Gallery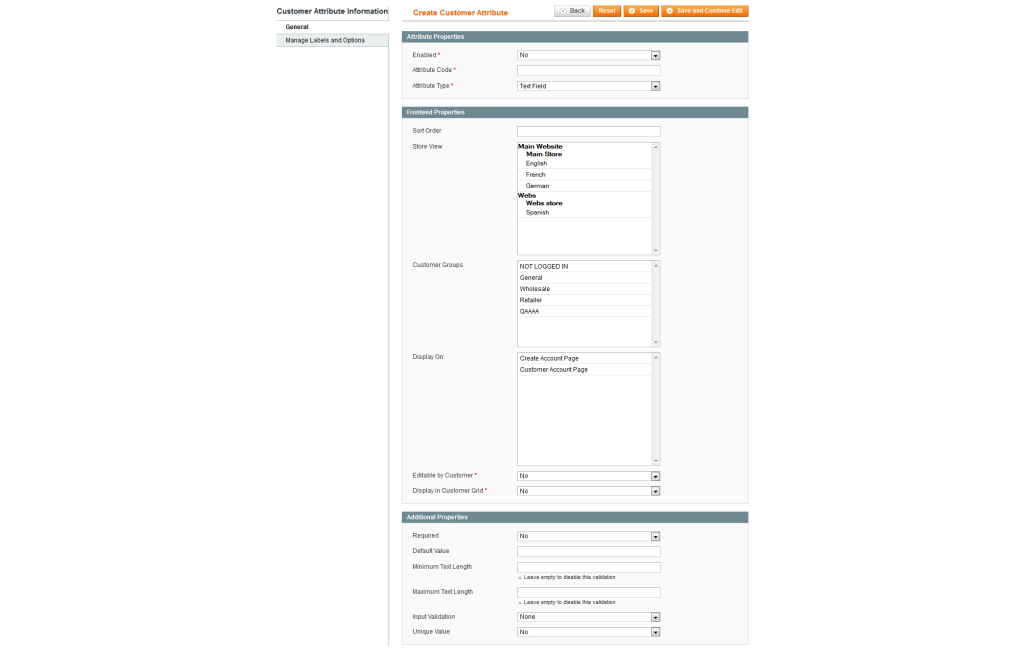 Magento Customer Attributes
The better you know your clients, the more you gain from your marketing strategy. Explore the auditory you are connected to, find out their preferences and interests.
With the Customer Attributes Magento extension, you are able to get any information about new customers and already existing ones at any time you like. The extension gives you a possibility to create additional customer attributes and display them on the registration form or in the customer account area to allow logged in visitors to manage their data. Your customers are asked to leave some additional info and you get knowledge about them immediately.
New attribute creating is very handy and intuitive for Magento administrators. The Customer Attributes Magento module makes it possible to create different types of attributes such as image, attachment, dropdown, etc. All attributes parameters are located at one place, so the process of collecting info about your clients starts in several simple steps.
Know your customers if you want to sell effectively. Bring different actions to different Magento customer groups.
Magento Attributes Extension Features:
Unlimited number of attributes
Displaying in the customer account area
Add attributes to the customer registration page or disable them for guests
Show attributes to specific Magento customer group
Ability to make attributes fields mandatory
Specify default attribute value
Enable unique value for attributes
Various attributes types

text field
text area
date
"Yes/No"
multiple select
dropdown
image
attachment

Attributes input validation

alphanumeric
numeric
alpha
URL
email

Specify the order for attribute displaying in the frontend
Ability to change customers' data in the backend
Make Magento customer fields editable for a visitor in the account area
Show attributes in admin grid
Easy management of customer attributes
View and edit customer attributes in the backend
Ability to filter customers by attributes
Multistore support
1.0.9

* Stability and speed improvements

1.0.8

* Error occurs on attempt to click on attached file link in the backend

1.0.7

* "Unable save attribute" message on saving 'Multiple Select' or 'Dropdown' type attribute with options
* Creating account with 'Text Field' attribute type issue

1.0.6

* SUPEE-6788 compatibility issue

1.0.5

* Error if default value for a customer attribute contained an apostrophe
* Problem with applying a rule to all store views


1.0.4

* Incompatibility with the RWD theme

1.0.3

+ Variables to include customer attributes into customer-related transactional emails
+ Option to export customer attributes from the extension grid
* Potential fatal error on the extension page in backend after installation

1.0.2

+ Enable unique value for attributes

1.0.1

+ Stability and speed improvements

1.0.0

Initial release