Market Segmentation Suite
Customer Segmentation for Magento 2 is also available
Segment by customer attribute, order, cart, product
Resulting segments may be used as customer groups
Export segments to CSV or Excel files
Use with other marketing modules for better targeting
Current extension version: 2.1.3 | Compatibility: Open Source 1.4.1.1 - 1.9.3.10; Commerce 1.12.0.0 - 1.14.3.10

30-DAY MONEY BACK

FREE INSTALLATION

30-DAY FREE SUPPORT

LIFETIME RIGHT TO USE
Market Segmentation Suite Gallery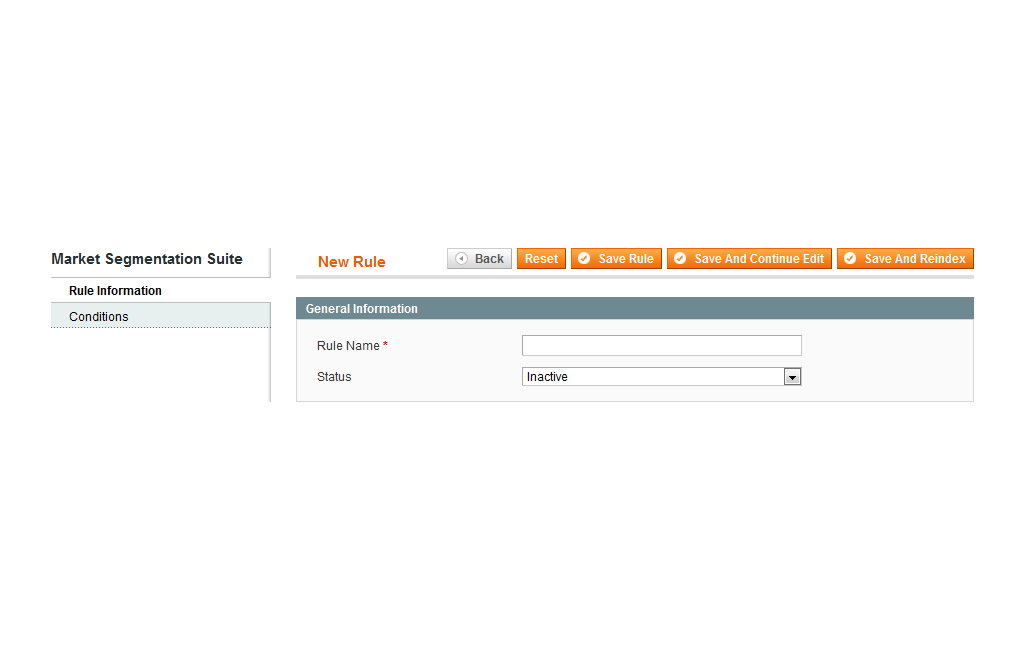 Magento Customer Segmentation Overview
Segmentation is one of the first things we learn about in marketing and there is hardly any need to stress its importance. With its help we can target the right audience and achieve a higher degree of our desired effect. Without it, a lot of marketing effort is wasted by broadcasting to the wrong people - which is not only inefficient, but could also backfire, since customers really don't like getting information that has nothing to do with them.
Unfortunately, native Magento customer segmentation is almost entirely absent, so we are here to fix it. Our Market Segmentation Suite allows you to create any number of rules that create Magento customer segments based on their traits, or even trait combinations. You can save the resulting segments and use them to differentiate your messages, discounts, newsletters, banners and whatever other marketing tools you employ.
Market Segmentation Features
Create rules
Rules define the conditions that have to be met by customers before they qualify for any given segment. You'll have a variety of options to choose from:
Customers


Billing address
Shipping address
Customer group
Date of birth
Email
First name
Last name
Gender
Newsletter subscription
Advanced newsletter subscription
Registered in store

Orders


Orders quantity
Sales amount
Purchased quantity

Shopping cart


Grand total
Number of different products
Total items quantity
Subtotal

Products


Product list
Product history
Segment customers
Within the segmentation tab, you will have a list of all customers and a list of orders made within the store. Once your rules are set you may apply them to the lists and see which items/customers fit the segment conditions.
Move segments to Magento customer groups
Once you have sorted your customers you may want to move them to customer groups within native Magento and then use these Magento customer groups as you see fit.
Use segments within other extensions
Seeing as segmentation plays a key role in any marketing strategy we made sure that Market Segmentation Suite is compatible with a variety of other marketing extensions developed by aheadWorks. At the bottom of the page you will be able to see a full list of possible integrations and their effects.
Export segments to CSV/XML
Segmented lists may be also exported into CSV/XML files with one simple click.
Re-index the rules
Starting with the 2.0 edition, you can re-index Magento customer segmentation rules for faster and more stable work of the module. The extension can process more than 100k of customers or orders. The progress of re-indexing can be viewed in the backend as well.
What's new in version 2.1.0:
Create Magento customer groups based on segmentation rules
Use customer attributes as segmentation criteria due to integration with Customer Attributes
Use order status as segmentation criteria
2.1.3

* Fatall error when exporting to xml or csv file from MSS order page or MSS customer page
* Impossible to export orders to XML when MSS is installed

2.1.2

* SUPEE-6788 compatibility issue

2.1.1

* Problem after clicking the Search button when customers were selected in the Customers grid
* Incorrect work of rule conditions with custom attributes
* Incorrect work of rule when "Name" was used as a condition


2.1.0

+ Ability to move segmented customers to customer groups
+ Integration with Customer Attributes
+ "Oder status" condition in segmentation rules
* Problem with orders filtering

2.0.7

+ "Email" column in the Orders grid
* Minor bugfixes

2.0.6

* Problem when SKU was chosen as a rule condition
* Minor bugfixes

2.0.5

* Incorrect validation of "Product History" condition

2.0.4

* "Product History" condition worked slowly
* Incorrect sequence of rule conditions

2.0.3

+ 'Category' condition redesign
* Minor bugfixes



2.0.2

+ Stability and speed improvements

2.0.1

+ Stability and speed improvements

2.0.0

+ New MSS logic
+ "Total Items Qty" condition
+ Order Tags by aheadWorks compatibility