Display featured products on any page automatically.
Automation options for selecting related products
Block appearance is highly customizable
Location/position placement is up to admin
Current extension version: 3.6.5 | Compatibility: Open Source 1.4.1.1 - 1.9.3.10; Commerce 1.12.0.0 - 1.14.3.10

30-DAY MONEY BACK

FREE INSTALLATION

30-DAY FREE SUPPORT

LIFETIME RIGHT TO USE
Featured Products 3 Gallery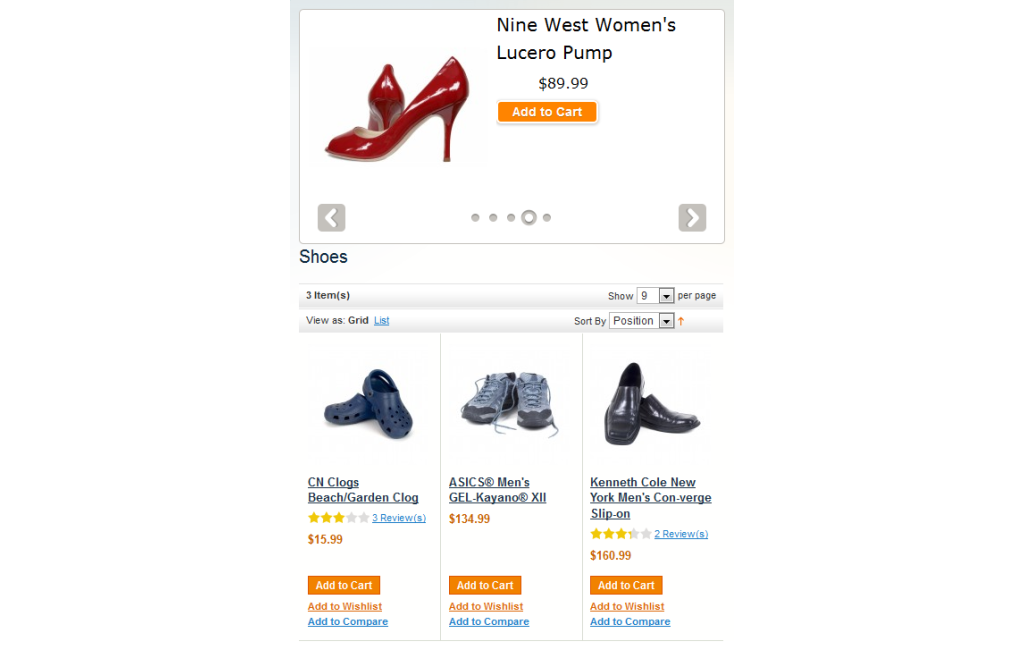 Customizable Layout
Product Slider mode
Showcase top products of your store in an eye-catching and attractive sliding gallery. Depending on the place of block displaying, you can select horizontal or vertical layout type.
Product Grid mode
With the Magento Featured Products 3 extension, you can display a specified number of products using a grid layout based on thumbnails of your popular products. Inserted in the predefined position or via layout, CMS, and widgets, your featured products block can be displayed at any page of your Magento store.
Various animation types
Having chosen the product slider mode, you are offered several animation switching effects which can be specified for each block individually. Make products presentation more lively and memorable in your store!
Slider
Blind Up/Blind Down
Fade
Slide Up/Slide Down
Customize appearance from admin just in few clicks
Magento Featured Products 3 is very flexible for configuration. Just few clicks and all block parameters are defined in accordance with the insertion place requirements. Thus you can easily enable product name, price, and short description, hide the "Add to cart" button, specify the block style, size and even define animation speed.
Automation options
Random Products
The Featured Products 3 extension allows displaying random products from any categories of your store. The block with this option will be perfect at the Login and Home page of your Magento store.
Top Rated
In the featured products block, you can display highest-rated items that have received an essential number of total customer ratings. It is most appropriate to display it at the Category and Product pages.
Recently Added
With the Magento Featured Products 3 module, you can easily promote your just added products. It is an ideal automation option for the block displayed at the My Account and Home pages.
Top Sellers
The block with the most frequently bought items will definitely improve your up-selling. This option is especially effective when chosen for blocks displayed at the Shopping Cart and Checkout pages.
Most Reviewed
If you want increase your cross-selling, select the most reviewed items for your featured products block. It can be equally efficient both at the Category and Product pages.
Current Category Products
Featured Products 3 allows making your up-selling block category-related and display items from the current category only.
Even more
Ability to create any number of blocks
Ability to duplicate blocks
Ability to insert block via layout, CMS, and widgets
Ability to select product pictures displayed in the block
Ability to hide out of stock items in the block
Predefined block positions:

left column
right column
before content
Featured Products 3 is the next generation of the Featured Products extension. Thus the previous versions (Featured Products 1.x and 2.x) won't be further developed to support the newest Magento versions.
3.6.5

* Product name displays as ALT attribute instead of image label
* Top Sellers block doesn't include grouped products


3.6.4

* Incompatibility with SUPEE-6788
* Incompatibility with RWD Enterprise theme

3.6.3

* SUPEE-6788 compatibility issue

3.6.2

* Problem with Full Page Cache in Magento EE
* Error when a block didn't contain any products


3.6.1

* Problem with products URLs in the block
* Incorrect design in the RWD theme
* Slow work when "Recently Added" type was selected

3.6.0

+ Editable background color, border, and border-radius of the block
+ Hide out-of-stock products
* Missed CSS file
* Incorrect horizontal slider displaying in right/left columns
* Incorrect block displaying with 4 and more products

3.5.2

* Selected products appears first in the list when "Automation Type" is set to "None"

3.5.1

+ Stability and speed improvements

3.5.0

+ Stability and speed improvements

3.4.0

* Problem with generating random products block at big stores
* Incorrect CSS list style when inserting via widget
* Problem with adding products with MAP options



3.3.0

+ Ability to duplicate blocks
* Filtering issue in product selecting
* Minor bugfixes