Login via pop-up - no redirect to a different page
Social network accounts may be used for login
Optional fields: newsletter subscription, terms & conditions
Redirect to any page after a registration or login
Current extension version: 1.1.9 | Compatibility: Open Source 1.4.1.1 - 1.9.3.10; Commerce 1.12.0.0 - 1.14.3.10

30-DAY MONEY BACK

FREE INSTALLATION

30-DAY FREE SUPPORT

LIFETIME RIGHT TO USE
AJAX Login Pro Gallery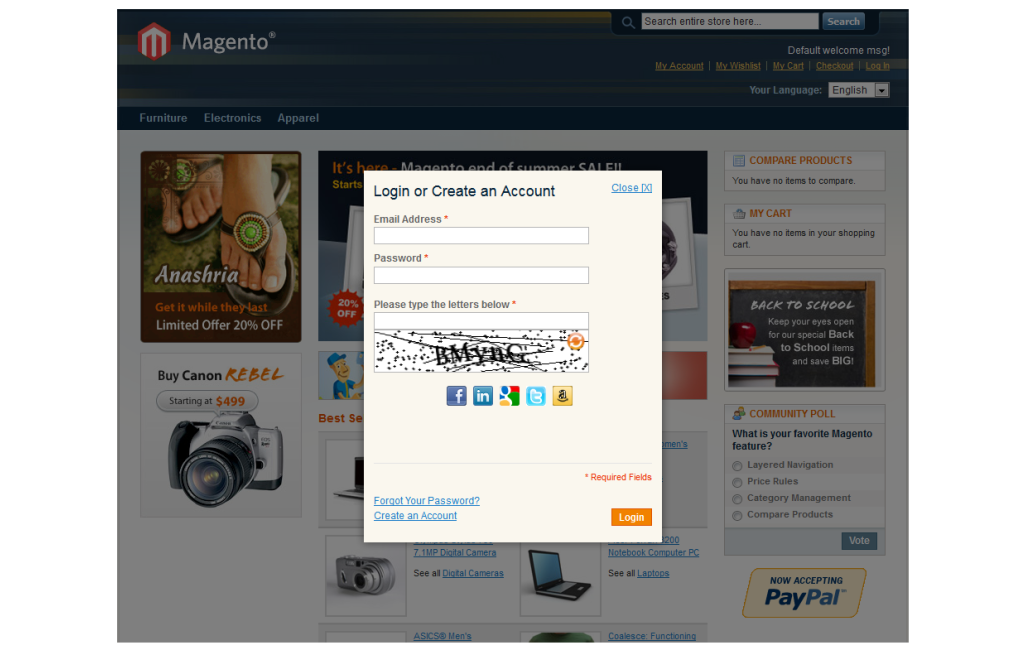 Overview
The AJAX Login Pro extension for Magento is an essential tool for those online store owners who want to make login procedure as comfortable and fast for customers as possible. The less time visitors spend on logging in or registration, the better customer experience is and the more registered users you get.
With the AJAX Login Pro module, native Magento login functionality is greatly improved and simplified at the same time. After a customer clicks the Login button, a special pop-up window appears. Visitor can create an account, specify his/her email and password to log in, or recover the password directly from the pop-up window. So your clients are not redirected to the Login page and can register while viewing any page of your store. Moreover, the module gives you a possibility to redirect customers to any page after successful logging in, registration, or password recovering.
Besides, the Magento extension allows your clients to use their accounts at social networks and log into your website with one click.
Features:
Quick login, registration, and password recovery
Wherever your client is at the website, he/she can always login, create an account, or recover the password without leaving the current page.
URL redirection
The AJAX Login Pro extension allows you to redirect clients to any pages after successful logging in, registration, or password recovering. By the way, the Magento login module allows a customer to stay on the current page as well.
Empower Registration form


Newsletter Subscription section – let visitors subscribe to newsletters of your store and be always in touch with them.
Terms & Conditions – visitors can check the terms and conditions during the registration process.

Login via Facebook, LinkedIn, Google+, Twitter, Amazon
Make logging in as fast as possible. Enable the possibility of customers logging in via social networks or Amazon account. One button click is required for a client to log in at your web store.
Easy and flexible settings
The Magento AJAX Login Pro module is very easy and friendly in configuration. Just several minutes are necessary to make login faster and increase customer satisfaction level.
1.1.9

Released 10.05.2017
* Undefined variable error in logs
* FB access token issue

1.1.8

* Registration form multiselect control issue
* Login via Twitter compilation process issue
* AJAX Login Pro Facebook API

1.1.7

* Facebook compatibility

1.1.6

* Errors in log when a user logged in with disabled CAPTCHA
* Problem with password confirmation when a user registered on Magento CE 1.9.1.0
* Problem with a design of the "Incorrect CAPTCHA" message on RWD
* When one tried to re-input the CAPTCHA without refreshing, it was always invalid
* Incompatible with Facebook API v.2.*
* Disabled CAPTCHA generated images


1.1.5

* Minor bugfix

1.1.4

* "Add to cart" button didn't work when a user logged in from the product/category page
* Page and header info were not updated after logout/login
* Incorrect popup position on category and product pages
* Incorrect position of the "Terms and Conditions" popup
* Popup position was incorrect
* "Login" and "Create an Account" popups worked incorrectly

1.1.3

* Incorrect help instruction for "Login with Google Account"

1.1.2

+ Compatibility with AJAX Cart Pro by aheadWorks
* Minor bugfixes

1.1.1

+ Stability and speed improvements

1.1.0

+ Twitter login support
+ Advanced Newsletter by aheadWorks compatibility
+ Ajax Cart Pro compatibility
+ CAPTCHA support
+ Redesign of Terms and Conditions
+ Amazon login support

1.0.1

* Minor bugfixes

1.0.0

Initial release