Points awarded for a variety of actions
Earning rate may vary for actions/products
Invite-a-friend feature built in to increase referrals
Backend control over balance and transactions
Current extension version: 1.9.0 | Compatibility: Open Source 1.4.1.1 - 1.9.3.10; Commerce 1.12.0.0 - 1.14.3.10

30-DAY MONEY BACK

FREE INSTALLATION

30-DAY FREE SUPPORT

LIFETIME RIGHT TO USE
Points & Rewards Gallery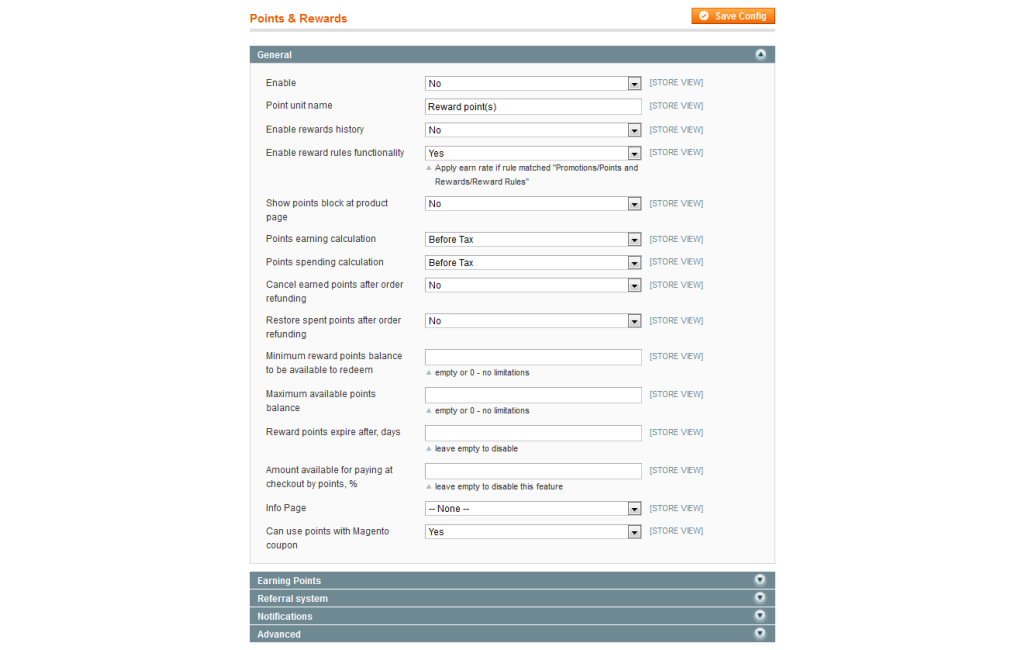 Magento Reward Points
Available reward options are:
Registration
Newsletter signup
Product review
Tagging product
Poll participation
Customer's birthday
*Video upload
*Facebook "Like"
*Product question answer
* Video Testimonials integration allows you to reward your customers for uploading videos.
* Integration with Facebook Link gives you a possibility to reward your customers when they "Like" your products.
* Reward customers for answering questions with the help of the Product Questions extension.
Rule Creation Abilities
Flexible Points & Rewards rules allow your customers to earn different number of points while buying products from various categories, with certain SKU, price, or any other item attribute.
Referral System
The Points & Rewards extension offers the built-in referral system with flexible settings, so that you can reward your customers for inviting their friends as well as for their referrals' purchases.
Stimulate your customers to tell their friends about your Magento store!
Advanced Notifications
Show your customers that you care about them — inform them about their points balance update immediately and notify of the points expiring date beforehand.
Balance & Transactions Control
Your customers can always check their points balance right in the Account page of your store, and the current exchange rates keep them in the know how many points can be redeemed for discounts.
The Points & Rewards extension allows tracking the transactions history exactly in the customers area. Moreover, your consumers can subscribe to balance update and get notifications about the points amount change by email.
Change Points Balance from Backend for:
Each customer individually
The Magento Points & Rewards module adds its own tab on the Customer Information page in the backend. Thus you can manage the points balance of every customer on individual basis - either increase or reduce. You can also subscribe\unsubscribe customers from points expiration and balance update notifications.
A group of customers automatically
If you need to change the points balance of a group of customers at a time, you can easily use the high end extension's feature of the mass balance update. Just filter all your current customers in the way you need - by group, country, website, or however else, - and specify the points amount you want to add or subtract.
And much more...
Extension block displayed on the Cart page
Points for a purchase on product pages
Multistore support
Magento Enterprise Edition compatibility (NEW!)
Invitation statistics in the customer's area
"Learn more" link in the customer's area
Reset all transactions with 1 click
Specify rewarded points expiration date
Limit maximum available points balance
Limit points amount available to redeem
1.9.0

Released 04.09.2017
+ Grid with customers' points balances
+ Data EXPORT tool for M1 points
* Referral system doesn't work if base currency doesn't match with website currency
* Frontend text can't be translated via CSV file
* Incorrect points amount in the order invoice
* Impossible to place an order with discount code and points applied

1.8.7

* Magento Marketplace compatibility issue

1.8.6

* Expired points cancellation on the order refund issue
* Store Credit and Refund compatibility
* Zero Subtotal Checkout payment method is not available if grand total has cents
* Incorrect quantity of refunded items in transactions
* Text-area broadcast-link
* Incorrect total calculation with coupon code applied
* Incorrect tax calculation with taxable shipping method
* Issue with closing refunded order

1.8.5

+ iPhone Theme 3.x compatibility

1.8.4

* SUPEE-6788 compatibility issue

1.8.3

* 'Checkout now and earn X Reward point(s)' message wasn't shown if reward rules functionality was disabled
* Reward Credits message displayed inconsistent points value on the Shopping Cart page


1.8.2

+ Compatibility with the Gift Card/Certificate extension by aheadWorks
+ Compatibility with the Catalog Permissions extension by aheadWorks


1.8.1

* Taxes were calculated incorrectly on the checkout page if points were applied

1.8.0

+ Magento Enterprise Edition compatibility

1.7.7

* Incorrect work with Website Payments Pro Hosted Solution
* Incorrect position of the points block on checkout page

1.7.6

+ Set up expiration date for points in manual transactions
+ Edit points expiration date per each transaction
* Inability to make a refund if a product was bought via points only
* Inability to add a transaction if "Reward points expire after, days" field was empty
* Errors were shown in System.log after points adding

1.7.5

+ Compatibility with Store Credit and Refund by aheadWorks

1.7.4

* Incorrect quantity of points on product pages when earning was calculated after tax
* Incorrect URL in the notification about balance update
* Wrong comment in reward points history
* Inability to send custom confirmation email

1.7.3

+ Integration with Product Questions v.2.0 by aheadWorks
* Problem with message translation
* Incompatibility with Subscriptions and Recurring Payments by aheadWorks
* Minor bugfixes

1.7.2

+ Limit number of words per review
* Comment for balance update wasn't displayed properly in emails
* Problem with points for registration
* Minor bugfixes

1.7.1

* Minor bugfixes

1.7.0

+ Points that can be earned for a purchase are displayed on product pages

1.6.3

+ Option to spend the points before or after tax
* Incorrect amount of points in expiration notification email
* Problem with invitation sending
* Problem with order placing from backend



1.6.2

+ pt_BR (Brazilian Portuguese) locale file added
* Incorrect points calculation in invoice (WEEE tax was not taken into account)
* Error on attempt to place order via Authorize.Net on Magento 1.4



1.6.1

* Problem with PayPal Website Payments Standard
* Incorrect points quantity on checkout page
* Spelling error in backend



1.6.0

+ Automatic Points balance update after order refunding
+ MSS Integration
+ Backend option for calculating the earned points amounts "Before Tax" or "After Tax"
+ Current Points Balance widget
+ Points can be added on Customer's Birthday event
+ Backend interface improvements
* Incorrect Points Expiration calculations on multi-store
* Incorrect points conversion rates were applied if a customer was created from the backend
* Issues with applying customer's points for backend orders
* "Apply earn rate if rule matched" option didn't work correctly
* Translation file is updated



1.5.2

+ Ability to add points when editing order from backend
+ Ability to use points simultaneously with Magento coupons
* Problem with notifications



1.5.1

+ "Apply earn rate if rule matched" option
* Problems with "Amount available for paying at checkout by points, %"
* User could save coupon with wrong start date
* Some translation issues
* Minor bugfix



1.5.0

+ Video Testimonials integration
+ "Amount available for paying at checkout by points, %" field added
* Coupons ACL issue



1.4.0

+ Invitation link for social networks and forums
+ "Points" column added to the Rule grid
+ Points expiration notifications are updated
* Minor bugfixes



1.3.0

+ Ability to convert P&R coupon codes to points
* Incorrect points round up at checkout
* Float values in points amount at checkout