Improve customer service and upgrade return process dramatically with flexible product return management.
RMA request form is arranged in an intuitive way
Partial return allowed for orders with several items
Admin control over RMA form, request editing, etc.
Current extension version: 1.6.2 | Compatibility: Open Source 1.4.1.1 - 1.9.3.10; Commerce 1.12.0.0 - 1.14.3.10

30-DAY MONEY BACK

FREE INSTALLATION

30-DAY FREE SUPPORT

LIFETIME RIGHT TO USE
RMA Gallery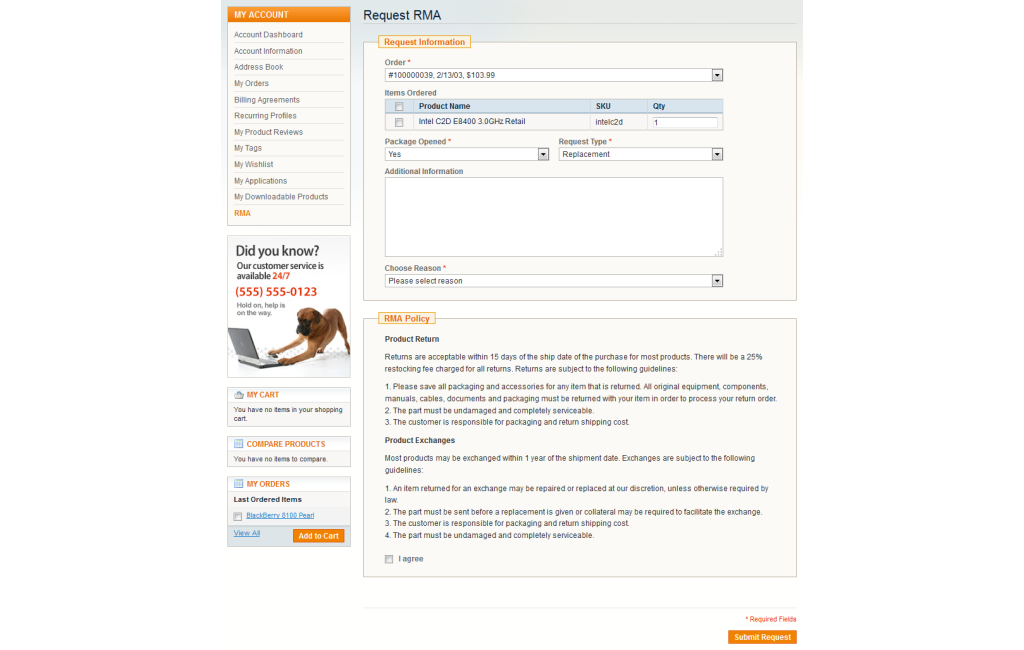 Magento RMA Overview
Even though RMA (Return Merchandise Authorization) is not something that directly contributes to your profit margin, it is something that will subtract from it if not dealt with properly. And there is no avoiding the issue either as anywhere between 5% and 40% of merchandise sold online ends up either returned or replaced. On top of that, the process tends to get somewhat messy, including multiple stages, confirmations, fraud risks and so on.
What we offer is a one stop solution to take care of all RMA aspects within your store. On one hand, our Magento returns extension is flexible enough to design the process to suit your business model. On the other, it includes enough options to accommodate your clients with whatever RMA situation they are in.
Features
Intuitive frontend
For a customer, requesting RMA in Magento is really straightforward. All he has to do is:
Choose one or several products
Select reason and package condition
Add message and an optional attachment
Agree to an RMA policy. 
RMA request can be created without even logging in. 
Partial RMA
There is a possibility of returning one product out of group order or even out of bundle purchase.
Extensive backend options
From backend you can adjust most aspects of the process:
Automatic stock updates;
Define the return period; 
File attachments; 
Create requests from backend;
Email notifications for customer and admin;
Custom statuses
Custom reasons & resolutions
Internal notes for RMA requests
etc.
Info storage
All of the RMA requests are logged both within the Magento RMA extension tab and on the order page.
Fraud protection
With the print labels and unique tracking codes, you get protection against fraudulent returns and can easily follow not only RMA requests but products returned as well.
Multistore support
Specify the store view for each request type and status.
1.6.2

Released 09.06.2017
* Fatal error at the backend after installation if php vesion 5.3 and less (+solution)

1.6.1

* Magento Marketplace compatibility issue

1.6.0

+ Automatic RMA requests approval
+ Automatic stock updates
+ RMA request cancellation
+ Disabling file attachments
* "Save and Update Stock" button issue
* RMA request link adjustments
* Last item in order RMA request issue
* "Save" and "Save and Update Stock" event email template adjustments
* Administrator notifications issue
* Products with qty=0 cannot be selected
* Variable and links adjustments for email templates

1.5.7

* SUPPEE-6788 stability improvements

1.5.6

* SUPEE-6788 compatibility issue

1.5.5

* Incorrect "Print Label" link in emails sent to guests

1.5.4

* RMA requests were created even if there were no items in orders
* Errors in system.log after a new RMA request was added


1.5.3

+ Tick off specific items to be replaced/refunded
+ Email templates improvement
* Problem with deleted Reason/Type/Status
* Problem with edited customer email address

1.5.2

* Inability to create a secure URL for the RMA page in the frontend
* Problem with variables in the RMA Policy block
* Minor bugfixes

1.5.1

* Incorrect font size in RMA request
* Problem with attachments in request

1.5.0

+ 'Print Label' and 'Confirm Shipping' options are hidden for unapproved RMA requests
+ File attachments in notifications
+ Export RMA requests to CSV
+ RMA policy
* Minor bugfixes

1.4.4

+ Compatibility with AW Gift Card

1.4.3

+ Stability and speed improvements

1.4.2

+ Stability and speed improvements

1.4.1

+ Stability and speed improvements

1.4.0

+ Ability to define reasons for RMA request
+ Ability to set up RMA ID manually
+ "RMA Requests" tab on Customer Information panel
* Permissions didn't work correctly



1.3.1

+ Magento CE 1.7.0.0 compatibility
+ Bundle product components can be refunded/replaced separately
* When "Allow guests to request RMA" was set to No, the Print button in "RMA Information" at the backend didn't work
* Custom options, gift card details, and downloadable product details weren't displayed in RMA
* Guests couldn't request RMA for their orders
* Design issue in the RMA tab of the customer area
* It was impossible to create RMA for an admin user without enabled "Edit RMA" in his roles
* Minor bugfixes



1.3.0

+ "Another RMA for this product" block
+ Multistore support for RMA status
* Notifications issue
* Incorrect work when RMA is created by guest
* Minor bugfixes



1.2.0

* Wrong links in the backend
* Incorrect work with line breaks in e-mails
* Incorrect order completion date
* Double '##' in RMA notification e-mail