Increase brand trust and customer loyalty by creating dedicated brand pages.
Create brands, give them names, icons, logos, etc.
Select products that will belong to each brand
Add brand menu to store navigation
Create an all brand and separate brand pages
Current extension version: 1.6.0 | Compatibility: Open Source 1.4.1.1 - 1.9.3.10; Commerce 1.12.0.0 - 1.14.3.10

30-DAY MONEY BACK

FREE INSTALLATION

30-DAY FREE SUPPORT

LIFETIME RIGHT TO USE
Shop By Brand Gallery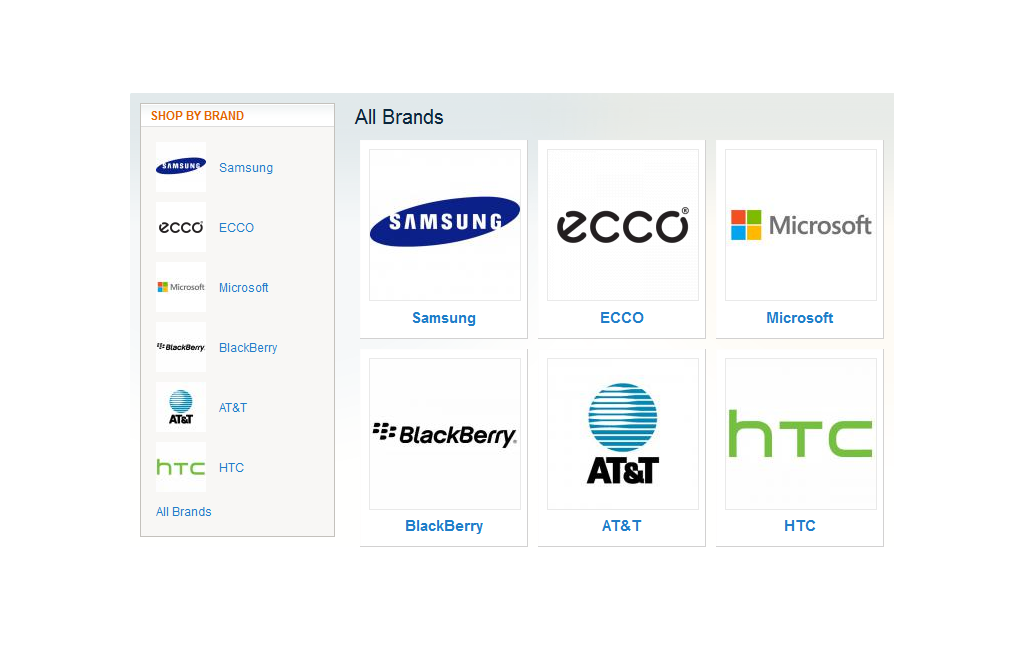 Magento Shop By Brand Overview
The Shop By Brand Magento extension allows you to create new brands and connect products to them. So your customers have a possibility to find the necessary manufacturer with its items or recognize the brand that the required product belongs to.
The process of brands creating is very easy and convenient for Magento store owners. Define some general information of the brand (title, status, priority); attach images to be displayed as brand logo and icon; select products of the manufacturer and enjoy the results.
Imagine the seismic shift in sales and customer loyalty after helping your visitors in finding what they are really interested in.
Features:
Brands in the layered navigation
The extension allows your merchants to filter products by brands in the left-bar navigation.
Brands menu
You can add the brands menu to the frontend and let your visitors see the required brand with its products just in one click.
All brands page
The Shop By Brand extension for Magento allows you to create a separate page containing all existed brands in the store.
Brands auto-generation

(NEW)


Since version 1.4.0, you can generate brands automatically within one click from the backend. Brands will be created based on specific product attribute values. Each attribute value is equal to a new brand. Products with attributes will be assigned to new brands automatically.
Limit the number of brands in the sidebar

(NEW)


The module allows you to configure which manufacturers to display in the frontend. If the option is enabled, the brand will be shown in the sidebar.
Filter products of specific brand

(NEW)


After opening the required brand page, customers can see products assigned to it and find the necessary item using native Magento layered navigation.
Prioritizing
You have a possibility to define the priority of every brand, so the most important ones will be displayed first. If the priority is not set up, brands will be sorted in the order of creation.
Ability to display brand name and/or image (logo) in the frontend
With the Shop By Brand module, you are able to upload logo to every brand. Just define whether to show brand name and/or brand image on products pages and in the left-bar navigation. After clicking the logo or name, you will be redirected to the brand page where you can view all the products of the manufacturer.
Show other items of the brand on the product page

(NEW)


The extension gives you a possibility to suggest other items of the same brand to customers by inserting a special "More From Same Brand" block via CMS or layout into the product page.
Handy products assigning to the brand
You can connect products with the required manufacturer while editing or creating a new brand. Just filter items by necessary parameters and tick off the required ones. Moreover, you can assign a product to a brand separately in product settings.
Main product types support

simple
downloadable
configurable
virtual

SEO-enhancements
The extension allows you to create SEO-friendly URLs for a separate brand/all brands pages and add custom meta tags to improve your site SEO.
WYSIWYG – editor
Use WYSIWYG panel to create descriptions for a brand and brands list pages.
1.6.0

+ Ability to eliminate 'brand' from the URL
+ Canonical URLs

1.5.0

+ Storeview selector for brand
+ Multistore support for brand fields
* Generated brand title issue
* Deleted brand product issue
* Removing image from a folder issue

1.4.2

* Placeholder for brand
* Double slash in brand image URL

1.4.1

* SUPEE-6788 compatibility issue

1.4.0

+ Brands auto-generation based on product attributes

1.3.4

* "Shop by Brand Product Tab" wasn't added to ACL resources
* Problem after Magento Security patch (SUPEE-6285) installation
* 'All Brands' link didn't work on Magento EE when FPC was enabled
* Unfriendly error message when a new brand with the same URL was created


1.3.3

* Minor bugfixes

1.3.2

* Brand was assigned to grouped and bundle products on product pages
* Incorrect design on the RWD theme
* Products were not assigned to brands from the product configuration page

1.3.1

* Incorrect URLs opened brand pages
* Incorrect meta description on the "All brands" page in the frontend
* Incorrect design in the RWD theme

1.3.0

+ "More from same brand" block on product page
+ Layered navigation on the brand page
+ "Show in Sidebar" option
+ Custom Meta title for brands
+ Customizable images size
+ Hyphen in URL support
* No URL key validation of the All Brands page

1.2.3

* Minor bugfixes

1.2.2

+ Stability and speed improvements

1.2.1

+ Stability and speed improvements

1.2.0

+ Stability and speed improvements

1.1.0

+ Custom rewrites support
+ Mass attributes update of brand products



1.0.1

* Minor bugfixes

1.0.0

Initial release