Shop By Brand for Magento 2
Increase brand trust and customer loyalty by creating dedicated brand pages.
'All Brands' page for convenient brand browsing
Individual brand pages with brand info and related products
'More from this brand' block with flexible display settings
Featured brands can be put across different site pages
Integration with Layered Navigation by Aheadworks
Current extension version: 1.2.5 | Compatibility: Open Source 2.3.X - 2.4.X; Commerce 2.3.X - 2.4.X
Starting At
Special Price
$129.00
$129.00

30-DAY MONEY BACK

FREE INSTALLATION

30-DAY FREE SUPPORT

LIFETIME RIGHT TO USE
Shop By Brand Gallery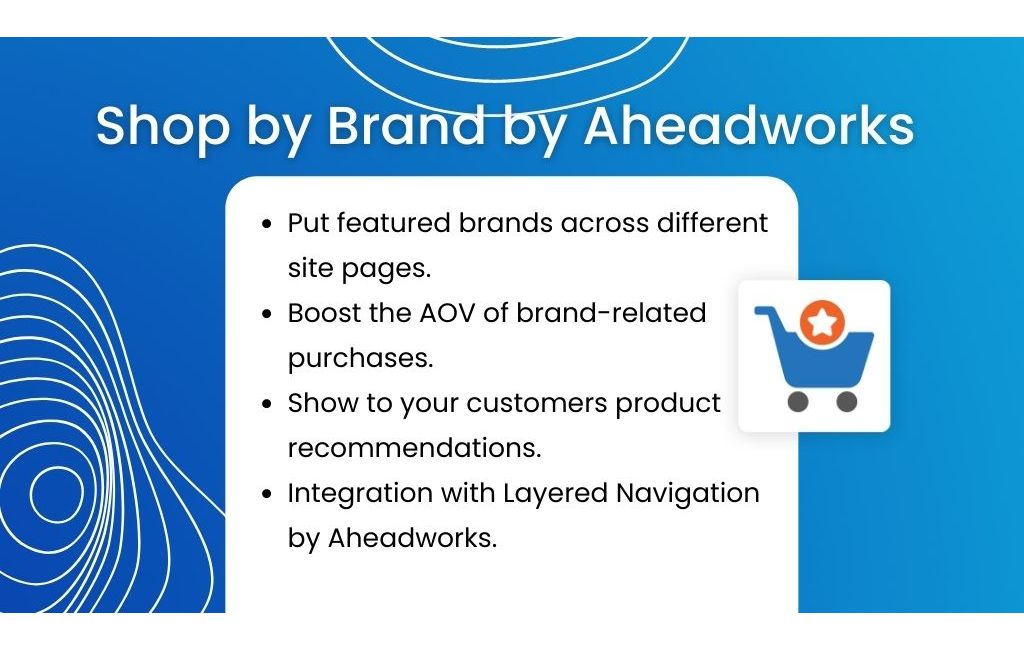 How Magento 2 Shop by Brand works
Create individual brand pages with brand logos, descriptions, and related products (brands are assigned to the products automatically based on the attribute you selected). Add a widget with all and featured brands to any website page and in any page position. Encourage additional purchases with the 'More from this Brand' block on product pages.
Utilize Brands in the Best Manner for Your Magento 2 Store
Introduce brands
Reach customers
Cross-sell
Allow sorting products by brands
Introduce brands
With our Magento 2 Shop by Brand module, you can create individual brand pages for your store.
Pick a proper brand from the already existing ones.
Write the brand description, upload the brand logo, assign the right products from the catalog, and voila - the new brand is now added to your 'All brands' list!
Reach customers
Make your brand promotion more effective!
Draw customer attention to your brands. Display the most popular brands in the dedicated brand widget as featured on any site page and in any page position.
This Magento 2 brand extension enhances your product pages by automatically adding related brand logos and descriptions to them.
Cross-sell
Our extension allows you to boost the AOV of brand-related purchases.
Enable the 'More from this Brand' block on product pages. That's it - you don't have to waste time picking the right items to be your cross-sells.
'More from this brand' block
The module will automatically feature the products in the block
Allow sorting products by brands
Integrate the module with the Layered Navigation extension by Aheadworks and make brand browsing just flawless!
The extension adds the new 'brand' filter to your navigation. It can be configured like any other filter.
Brand filter on site pages
This way, customers can quickly find products from their favorite brands.
Magento 2 Shop by Brand Detailed Feature List
Functionality enhancements
1.2.5

Released 14.03.2022
+Declarative schema upgrade

1.2.4

Released 13.10.2021
*Fixed issue with the error appearing after clicking on an image
*Fixed issue with design issue with style appears on a brand page
*Magento EE: Impossible to edit brand content using Page Builder
*Fixed issue with 404 error after selecting a filter on a brand page

1.2.3

Released 12.10.2020 + Magento 2.4 compatibility

1.2.2

Released 13.05.2020
* Brand page is not displayed correctly when selecting a brand in catalog / product
* Error occurs when editing brand with multiple store views
* Error appears when brand is clicked on store with Elasticsearch6
* Deprecated functions + missing try/catch blocks
* Сategory suffix on brand page is not added
* "Show/Hide Editor" button doesn't work correctly on store with multiple views
* Fixed issue when invalid URL doesn't redirect to 404 page
* Removed redundant swatches.css file
* Brand page is broken when configurable parent and child are assigned to Webs2

1.2.1

Released 12.09.2019
* Fixed issues with Google ads and other search-related features
* Magento EQP tests fixes
* Fixed compilation issue (Magento v2.2.9)
* Fixed issue with Elastic Search 6

1.2.0

Released 09.04.2019
+ Split database support
+ Data migration tool from M1 to M2
+ Option to display brand URL according to backend brand settings
+ Page Builder support
* Fixed issue with Elasticsearch
* Fixes issue when widget with brands are shown incorrectly
* Error appears when using "/" as a suffix for categories

1.1.1

Released 15.02.2019
+ Magento 2.3 compatibility
* Fixed issue with Elastic Search

1.1.0

Released 14.02.2018
+Brand page products management

1.0.5

Released 15.01.2018
*Fixes for Magento Marketplace
*Wrong brand info on bundle product page for Magento 2.1.X
*Compatibility with [M2] Layered Navigation 1.7.0 for Magento 2.1.X

1.0.4

Released 09.11.2017
+Magento 2.2 compatibility
+Unit tests coverage
*Fixed issue with wrong brand info displayed on bundle product page
*Fixed issue with image uploading in Description section
*"More from this Brand" block is empty in Chrome browser


1.0.3

Released 01.08.2017
* Elasticsearch compatibility
* Unexpected black background under the brand logo

1.0.2

Released 25.04.2017
* Compatibility with [M2] Layered Navigation 1.5.0

1.0.1

Released 27.03.2017
* Stability and speed improvements

1.0.0

* Initial release
When we add new products to an existing brand using the same brand attribute are the products automatically added to that brand's Brand Page?
Question by: Stephen Lamb on Jul 16, 2019, 10:51 AM
Yes, once you add or remove products from the brand list (on the Edit Brand page), they will automatically appear/disappear on the frontend Brand page.
Answer by: Tatiana Poleshchuk on Jul 16, 2019, 12:50 PM