Adds canonical links to the head of each product page, sitemap, and Google sitemap.
Search engines avoid crawling pages more than once
Best insurance to have your pages found by engines
Large sitemaps split into smaller files to get by Google
Current extension version: 1.3.8 | Compatibility: Open Source 1.4.1.1 - 1.9.3.10; Commerce 1.12.0.0 - 1.14.3.10

30-DAY MONEY BACK

FREE INSTALLATION

30-DAY FREE SUPPORT

LIFETIME RIGHT TO USE
Ultimate SEO Suite Gallery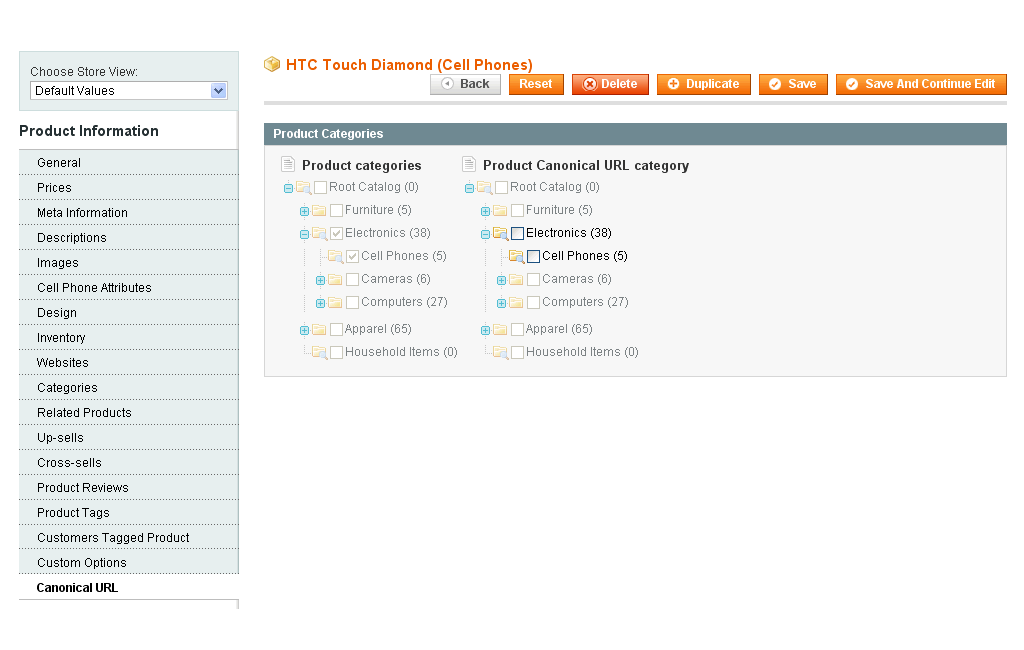 Overview
Duplicate content is one of the biggest headaches for every SEO expert. Even if there are two different URLs for one page, the search engine is never certain which page to show on this or that keyword, which page to give the PageRank to, and which page to consider as the main. Eventually, it divides the authority and page rank on its own what makes the page you are trying to promote far enough in the search listings.
Identical content can seriously hurt your website page rankings, but using the Ultimate SEO Suite extension you can reduce the amount of duplication. When crawling and indexing your site, search engines adopt canonical URLs and single out the main among the duplicate pages. In other words, if there are two different URLs for one page, a canonical tag implemented by the extension tells the robots which page it should promote. This gives you more control over the URL returned in search results.
You don't have to optimize the functionality of your website, eliminate self-created duplicate content, or change the code – just use the power of canonization.
Features
Canonical URL at the head section of the product page
The extension adds rel="canonical" URL's to the head of your product pages what allows search engines to avoid crawling the same page more than once.
Canonical URLs in sitemap
The usage of canonical URLs in your sitemap is the best insurance that the pages you want will be found and indexed by search engines bots.
Canonical URLs in Google sitemap
Submit automatically generated canonical URLs to Google – allow this search engine to crawl and index your site more intelligently.
Ability to split Google sitemap
Google accepts only up to 50'000 URLs per sitemap or a file size of 10MB – rather inconvenient for large websites. The Ultimate SEO Suite extension allows you to split your sitemap into smaller more manageable files that get approved by Google.
Google sitemap pictures support
If you allow including pictures in your sitemap, Google indexes these pictures and adds them to the picture search attracting more traffic to your site.
Auto-change to canonical URLs
The extension automatically replaces short product URLs with canonical URLs all over the store. You can either leave default categories used in the canonical URL or easily change them for every product.
Complete multi-store support
Don't worry if you are running a multistore – with this aheadWorks extension you can easily set different canonical links for every product for each store view.
1.3.8

+ Ability to translate into a different language via *.csv
* Categories with disabled "Include in Navigation Menu" parameter can not be canonical
* Incompatibility with SUPEE-6788 patch
* Incorrect generation of Google Sitemap
* Incompatibility with EE CMS page version control logic

1.3.7

* Multi-store issue
* Product canonical URLs didn't include category path in Magento EE
* Products were not added to Google sitemap in Magento EE v.1.13+
* "html" suffix of category URLs was missed in sitemap.xml


1.3.6

* One sitemap file was generated per each link

1.3.5

+ Stability and speed improvements

1.3.4

+ Stability and speed improvements

1.3.3

+ Stability and speed improvements

1.3.2

* Fatal error at sitemap generating if an attribute had global scope

1.3.1

+ Magento CE 1.7.0.0 compatibility

1.3.0

+ Canonical URLs on a category page

1.2.0

+ Magento 1.6.2.0 compatibility
* Minor bugfixes


1.1.0

+ Blog extension compatibility
+ Core optimization
* Correct work with 'use categories in URLs' option

1.0.0

Initial release