Display a selection of customer reviews at a category page.
"
Display category specific reviews for higher relvance
Random/recent reviews may be displayed
The number of reviews displayed is cusomizable
The rating of reviews is customizable as well
Current extension version: 1.3.4 | Compatibility: Open Source 1.4.1.1 - 1.9.3.10; Commerce 1.12.0.0 - 1.14.3.10

30-DAY MONEY BACK

FREE INSTALLATION

30-DAY FREE SUPPORT

LIFETIME RIGHT TO USE
Review Rotator Gallery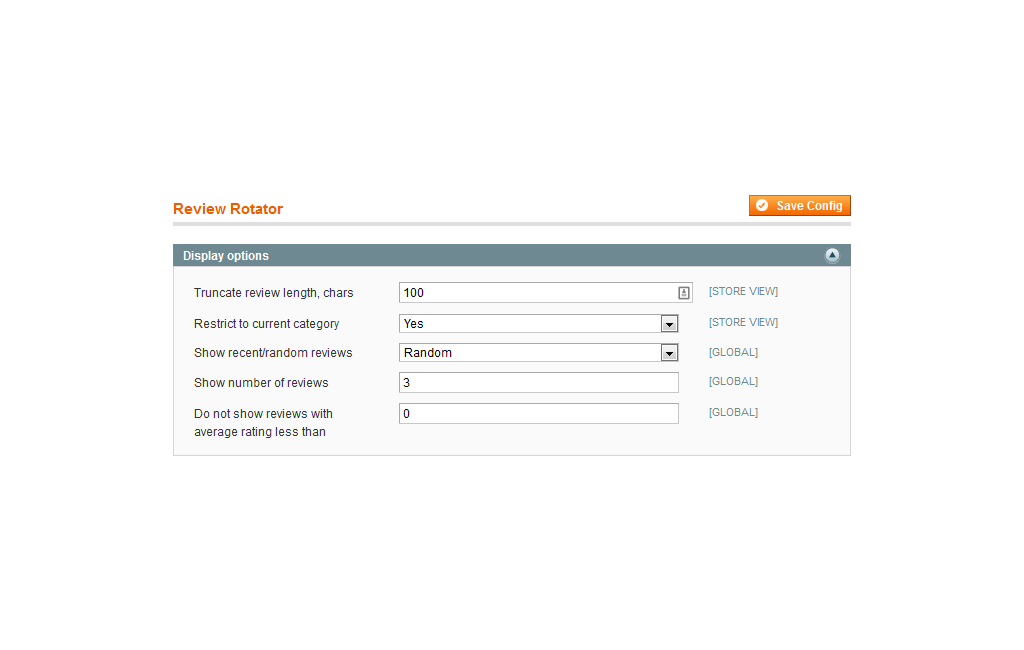 When product Review Rotator's "Consider category" option is enabled, the software shows reviews from the current category only. These types of targeted reviews can help a customer decide which product to purchase or entice them to buy additional merchandise.
Any number of Review Rotator blocks can be put into place on your store site using the standard Magento CMS.
Some of product Review Rotator's incredible benefits and customizable options include:
Instant installation and integration
Unlimited number of extension instances within a Magento installation
Review restriction to limit reviews shown to those from current category and/or subcategories
Configurable number of reviews
Minimum review rating setting (Allows only those with a minimum rating to be put into rotation)
Display of last "x"-number of reviews added
Rotation of reviews to avoid displaying results twice in a row
Flawless integration into any store design or layout
NEW! Display of only specified reviews
NEW! Display of reviews only from specified products
1.3.4

+ Stability and speed improvements

1.3.3

+ Stability and speed improvements

1.3.2

* Minor bugfixes

1.3.1

+ Magento CE 1.6.0.0 compatibility

1.3.0

+ Stability and speed improvements