Turn the order success page into a powerful marketing tool.
Show order details, related items, social media buttons, newsletter subscription form, or any promotion via flexible rules with numerous conditions.
Current extension version: 1.1.6 | Compatibility: Open Source 1.4.1.1 - 1.9.3.10; Commerce 1.12.0.0 - 1.14.3.10

30-DAY MONEY BACK

FREE INSTALLATION

30-DAY FREE SUPPORT

LIFETIME RIGHT TO USE
Better Thank You Page Gallery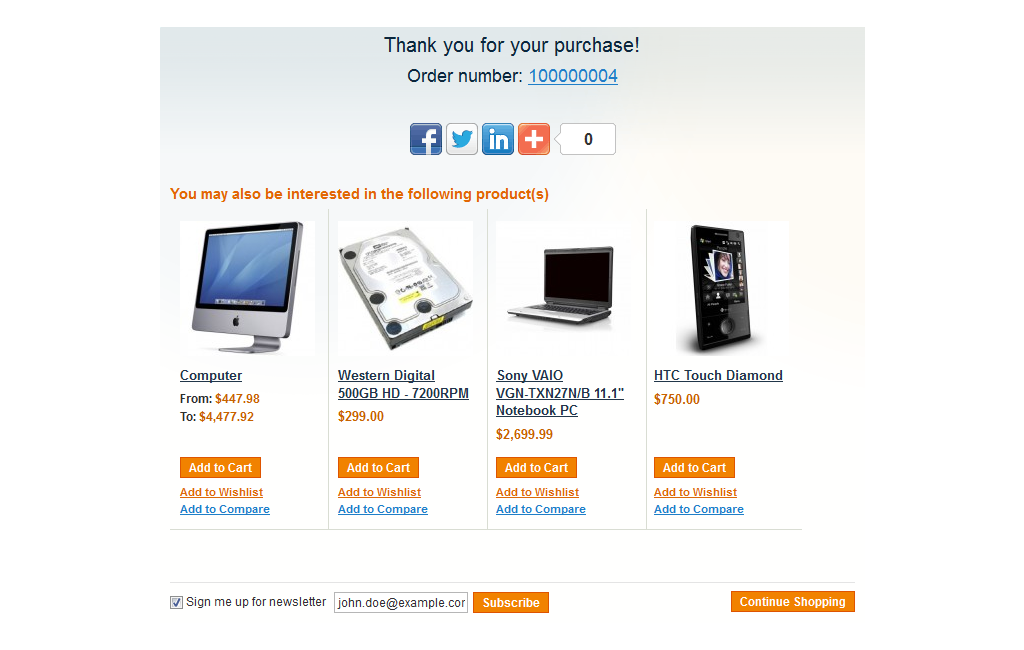 Overview
The Better Thank You Page Magento extension allows you to empower Magento success page and derive a profit from it. You can thank clients for the valuable purchase they have made using attractive banners, leave some additional information that can be useful for customers, or encourage them to buy more products at your website. Moreover, you can strengthen the connection with your clients by suggesting them to subscribe to newsletter directly from the Magento thank you page.
Create an unlimited number of rules with flexible conditions to fill in the success page with any content automatically in the required sequence momentary. For example, you can offer a discount on further purchases or highlight brand new products of your store to customers from specific group, who spend more than $1000, or bought more than 3 items.
Give as much attention to the Magento success page as to other pages of your store and be sure that it will return increased customer loyalty and experience with a boost of sales.
Important Tips to Enhance Magento Order Success Page
Flexible rules to improve order success page automatically
Since version 1.1, the extension offers convenient rules system. The content of the order success page depends on the rule that has been triggered. Select customer groups/store views that the rule can be applied to, define its priority and time duration, set up rule conditions (as in shopping cart rules) to enable rule-based population of the order success page. When order matches the specified rule conditions, the required order information and CMS block sections appear on the order success page automatically.
Show order details
The module allows you to display order number, invoice; add any custom text to the Magento success page. For example, you can thank clients for the purchase, tell them when the order will be processed, suggest making another purchase at a discounted price, etc.
Newsletter subscription option
Stay in touch with your clients by enabling the newsletter subscription block on the order success page.
Insert social media buttons
Offer sharing options on the order success page and let customers tell their friends from social networks (Facebook, Twitter, LinkedIn, Google +) what they have bought in your store. The text for sharing can be configured from the admin panel. You can display social networks buttons using:
small icons with titles
small icons
large icons
Show any promotion using CMS block
Insert CMS block into the order success page to inform customers about new products, sales, coupon codes, or any other promotions held in your store.
Recommend other products of your store
Use native Magento cross-sells on the thank you page to prompt customers to buy other products on your website without a risk of cart abandonment as the order has been already placed.
1.1.6

Released 21.02.2018
*Incorrect shareable link for "Tweet" button


1.1.5

* Stability and speed improvements

1.1.4

* Stability and speed improvements

1.1.3

* Mobile: module should be disable for iPhone Theme

1.1.2

* SUPEE-6788 compatibility issue

1.1.1

* Disabled "CMS block section" was displayed in the frontend
* ACL issue


1.1.0

+ Rule-based order success pages
+ Advanced Newsletter integration
+ Custom text to share on Facebook
+ Default meta title improvement
* The View Invoice button was always shown

1.0.2

+ Stability and speed improvements

1.0.1

+ Stability and speed improvements

1.0.0

Initial release