Design eye-catching content with the powerful drag-and-drop page builder
Create any type of content with a huge number of widgets
Arrange widgets easily with Drag & Drop action
Customize style, layout and other options without any coding
Use pre-arranged page templates to save time
Have your content responsive on any device and screen size
Benefit from support of native Magento 2 widget
Note: only for websites with active SSL certificate.
Current extension version: 1.1.0 | Compatibility: CE 2.3.X - 2.4.X
14-day free trial
FREE INSTALLATION
FREE SUPPORT
FREE UPDATES
Buildify Gallery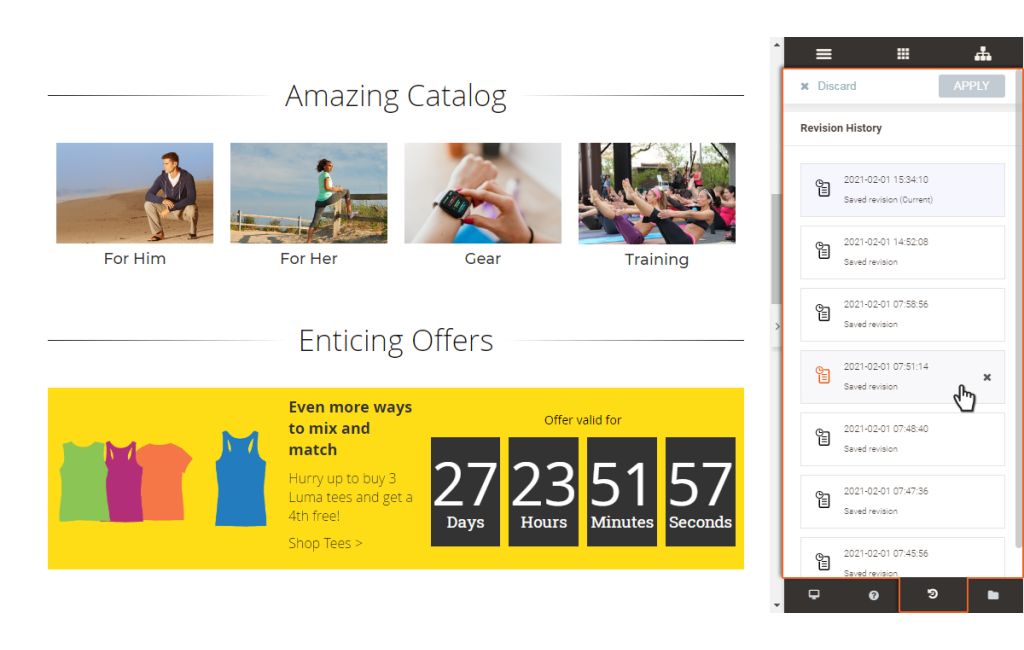 Default Magento 2 is not a Content Management System. Yes, the WYSIWYG editor is there and it comes with basic content tools but to create custom CMS blocks, widgets, and pages in Magento 2, you will certainly need something more advanced and personalized. And to achieve that you will either need to hire a frontend developer or use a third-party extension like AheadWorks's Buildify Extension for Magento 2.
Buildify is a Magento 2 compatible extension that helps you create beautiful custom pages and content blocks without writing a single line of code. It has a wide range of pre-build content widgets and a drag-and-drop interface. It enables your marketing team to embed any content block to any Magento page without involving development resources. They can create custom landing pages, customize categories, and product pages, and whatnot.
Build Magento 2 pages that Convert
Create and arrange content for pages effortlessly with an intuitive drag-and-drop page builder - Buildify for Magento 2! You do not have to mess with
code. Creativity and a wide range of widgets are all you need to design a perfect page layout. Make the page building process even easier: use
pre-arranged templates and shape your page in a Website.
Ready-to-use templates to design faster
Drag & drop content instead of coding
Customer-engaging widgets
Easily customizable features
Guaranteed responsiveness on any device
Ready-to-use templates to design faster
Ready-to-use templates to design faster
Create your own design or apply predesigned templates to save time dramatically. Buildify comes with 40+ free premade page templates to choose from.
Drag & drop content instead of coding
Drag & drop content instead of coding
Manage widgets at ease with a simple drag & drop feature. Add, edit, delete or duplicate elements in a few clicks without any changes in the code. There are 70+ widgets at your disposal, and you can employ the native Magento 2 ones as well! 
Customer-engaging widgets
Customer-engaging widgets
Add social media widgets to drive comments and posts to your store directly from Twitter, Facebook or Instagram. Increase customer activity with Share and Follow buttons
Easily customizable features
Easily customizable features
Edit elements and move sections around in one click. Adjust the layout, style, animation and other features to your unique vision and taste. The editor is absolutely intuitive and requires no training in coding.
Guaranteed responsiveness on any device
Guaranteed responsiveness on any device
Do not worry about responsiveness as all widgets and templates are already responsive. Make sure the pages look good on all screens checking responsiveness right from the editor.
Enjoy the advanced visual page building experience
15+ Customer-engaging widgets
Go beyond the essentials and let customers create your content themselves via comments and social media.
Build the page you want, or easily customize the page by simply dragging and dropping.
70+ Theme-friendly widgets
Take on a variety of widgets to embody all essential content types which will not fail on any Magento 2 theme
Expansive content library
Make use of the pre-arranged page templates or create your own ones, save widget configurations and their versions.
Screen-size friendly experience
Create seamless customer experiences for the screens of various sizes: desktop, laptop, tablet and mobile.
Get your content beyond the ideal with the endless configuration options for widgets, sections and columns.
Magento 2 widgets support
Improve the storefront with dynamic data on products, interactive navigation and other store elements.
Support your content with facts and figures from Google Analytics and Yandex Metrica.
Robust all-in-one functionality
Enjoy the visually-appealing experience of creating, editing and checking responsiveness of pages in one place, with no annoying popups or redirects.
Edit and see the changes of items added right away with the live preview mode and save time.
Set Column Width for Different Devices
In some special cases, if you want to set different column widths for each device, you can choose specific values for each device in the Width column.
Save widgets that have been customised and reuse them whenever you need.
Use a search bar to find necessary widgets in seconds without scrolling.
Create unique page design without any changes in the code.
Have all page elements clearly structured, making the navigation even easier.
All changes are applied and saved in the editor automatically without clicking any buttons.
Create variants of landing pages and use A/B tests to optimize your store for increased conversions.
Custom HTML/CSS/JS Supported
Get full access to your site's source code (HTML,
CSS, JS) to take your designs to the next level, if
needed.
1.1.0

Released 12.05.2021
+ API improvements
+ Import/export templates
* Styles issue occurs while performing Duplicate and Save
* Problem occurs when minification is enabled in Magento

1.0.3

Released 19.03.2021
+ WebAPI update
* Buildify page configuration should be saved to database if the service is not available
* User-defined styles are not applied in the Slides widget
* The Image Gallery lightbox transfers to the top of the page
* Fixed issue with reference URL to the image
* Fixed error in console when image from "Image Gallery" widget is clicked
* Native Magento widgets options are not displayed
* Fixed issues with the pages preview




1.0.2

Released 03.02.2021
+ Editor load speed improvements
* "Magento Blank" theme isn't supported in Admin
* There are no style settings for the Circle Progress widget
* Data remain in database when element is deleted
* Revision history doesn't work properly
* There are no CMS page styles on home page
* JS error occurs on storefront when JavaScript files minification is enabled
* Fixed errors occurring in console in Backend
* Fallback to Jquery error in console
* Headers are displayed incorrectly in tablet preview
* Deleted native section remains on the page

1.0.1

Released 23.12.2020
+ Enable/Disable Buildify selector added to Configuration
+ 5 New Templates
+ Section button moved to the left, before Column
+ Hint is added to Image gallery

1.0.0

Initial release 23.12.2020