Display promotional banners on shopping cart and checkout pages.
Cart conditions allow targeting by cart content
Group/storeview allow targeting by customer groups
Dispaly options include scheduling and rule priority
Current extension version: 1.2.9 | Compatibility: Open Source 1.4.1.1 - 1.9.3.10; Commerce 1.12.0.0 - 1.14.3.10

30-DAY MONEY BACK

FREE INSTALLATION

30-DAY FREE SUPPORT

LIFETIME RIGHT TO USE
Checkout Promo Gallery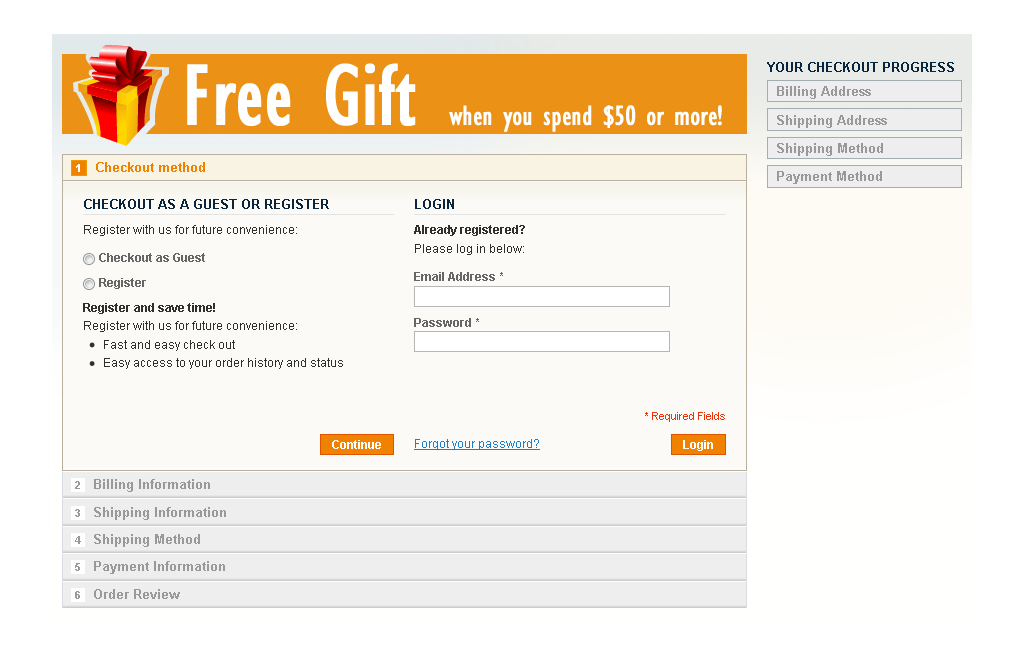 Overview
Successful retailers – whether offline or online – know the art of the upsell and cross sell. It is all about appealing to the buyer on the way out and luring the person to shell out a few dollars more. Use the Magento Checkout Promo module to increase your sales by making some tantalising offers to your customers. For example, "Buy Product X to get a 20% discount", "Spend more than $50 to get Product Y for $15 only!", "Buy product N to get K for free", and so on…
Smart and intelligent, this powerful sales motivation extension arms you with product upsell capabilities that can rival those of the largest online retailers. Check out some of the wonderful features and benefits of the Checkout Promo extension.
Features
Unlimited and customizable rules

Create your own shopping cart price rules to display your promotional messages. Native Magento functionality lets you set up rules for any combination of order and cart items' attributes, and our extension displays your promo banners.
Set priority for the application of different rules, start and end dates, so that you have complete control over your marketing promotion.
Target with precision
Target your promotional message based on customer groups or websites, to maximize the probability of an upsell.
Maximise visibility of promotional messages
Offers you multiple configurable blocks for positioning on checkout and shopping cart pages. The customizable blocks can be easily defined in the "Static Blocks" section in the CMS.
Option to place multiple promotional blocks on a page.
1.2.9

* Stability and speed improvements

1.2.8

* Minor bugfixes

1.2.7

Stability and speed improvements

1.2.6

* Incorrect saving of existing rules

1.2.5

* SUPEE-6788 compatibility issue

1.2.4

* Translation problem
* Incorrect work of the "Quantity in cart" condition in Magento EE


1.2.3

+ Market Segmentation Suite by aheadWorks compatibility

1.2.2

+ aheadWorks One Step Checkout extension integration
+ Brazilian Portuguese (pt_BR) locale added
+ Grid improvements
+ 'Select all/Deselect all' option for Customer Groups selector
* CMS block was not shown when the option Checkout with Multiply Addresses is used



1.2.1

+ Magento CE 1.7.0.0 compatibility
* Wrong page titles in backend



1.2.0

* admin.xml file added
* Rules based on Payment Method don't work
* Minor bugfixes



1.1.0

+ Market Segmentation Suite extension integration
* Incorrect saving of Date Start and Date Expire options
* Minor changes


1.0.3

* Bug with creating table during module installation fixed

1.0.2

* Minor bugfixes