Send emails from custom SMTP server or localhost.
Use custom SMTP to deliver emails
Outgoing emails are logged in backend grid
Any outgoing email may be viewed from a grid
Current extension version: 1.0.10 | Compatibility: Open Source 1.4.1.1 - 1.9.3.10; Commerce 1.12.0.0 - 1.14.3.10

30-DAY MONEY BACK

FREE INSTALLATION

30-DAY FREE SUPPORT

LIFETIME RIGHT TO USE
Custom SMTP Gallery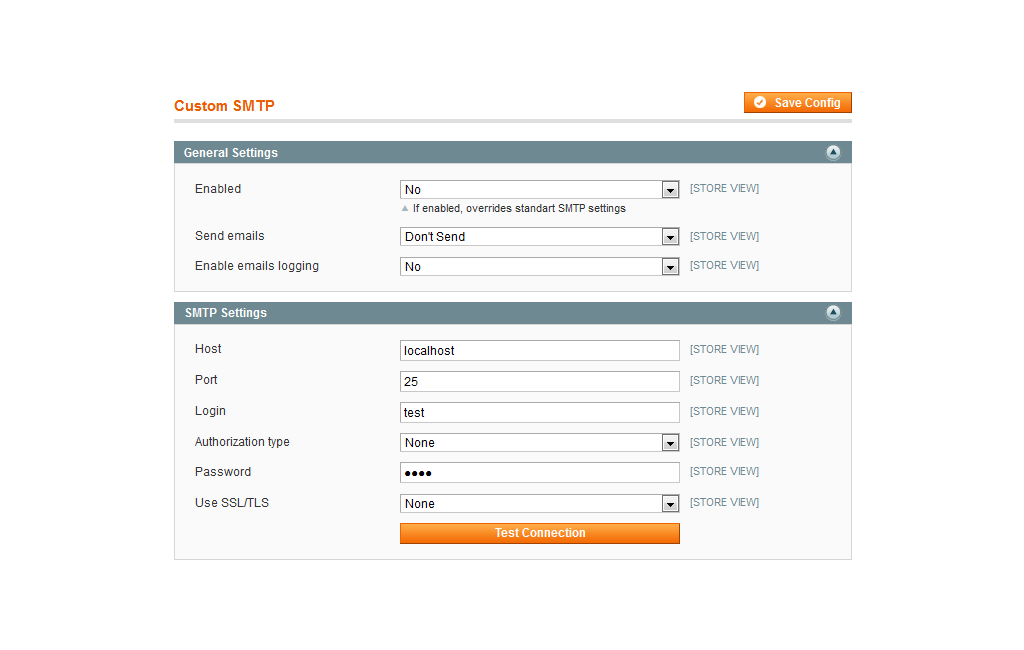 We regularly use the Custom SMTP Magento extension in our work and can assert with competence that intuitive and user-friendly interface of the Custom SMTP Magento module allows you to spend no more than 1 minute to set up the software and send emails from any server you require.
With Custom SMTP flexible settings you can configure this Magento extension in such a way that emails won't be sent but you will be able to view them exactly from mail log in admin panel.
The Custom SMTP module for Magento is an irreplaceable and indispensable tool for developers which offers you the following useful features:
Custom SMTP server usage
Custom port, authorization type, secure protocols support
Log of all outgoing emails
Possibility to view any outgoing email
1.0.10

* SUPEE-6788 compatibility issue

1.0.9

* Minor bugfixes

1.0.8

* Incompatibility with Magento CE 1.4.2.0 and earlier versions

1.0.7

* Minor bugfixes

1.0.6

+ Stability and speed improvements

1.0.5

+ Stability and speed improvements

1.0.4

+ "Test Connection" button in SMTP Settings
* Minor bugfixes



1.0.3

* "customsmtp_smtp_password" issue
* Multiple recipients problem



1.0.2

+ Magento Enterprise 1.10.1.1 compatibility
* Problems with existing orders editing
* Minor bug fixes



1.0.1

* Minor bugfixes

1.0.0

Initial release