Automatic discounts for your registered customers triggered by pre-configured rules and events.
Any number of custom timers may be created
Set up a trigger, a condition, and a type of discount/action
Customize the timer to match the style of the store
Track results with key stats for each timer
Current extension version: 1.0.6 | Compatibility: Open Source 1.4.1.1 - 1.9.3.10; Commerce 1.12.0.0 - 1.14.3.10

30-DAY MONEY BACK

FREE INSTALLATION

30-DAY FREE SUPPORT

LIFETIME RIGHT TO USE
Event-Based Discounts Gallery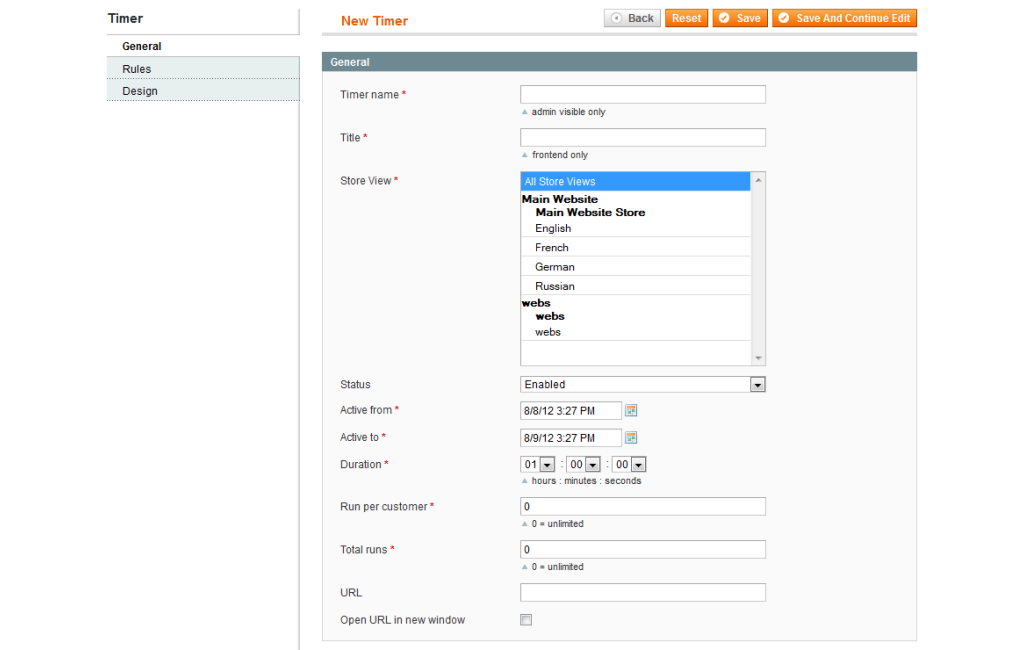 Overview
There are various reasons why customers abandon their carts. Every day merchants lose thousands of dollars because something distracted or prevented online shoppers from placing their orders. We offer you to try a new motivation tool which is aimed at reducing the number of abandoned carts.
The Event-Based Discounts Magento extension can help you stimulate your registered clients to place their orders without delays. A special timer counts backward to indicate the remaining time of the promotions. So your logged-in customers see that they have only X minutes to place the order and:
get fixed amount as a discount
obtain a percent discount
be moved to a premium group
The Event-Based Discounts extension allows you to create various campaigns to stimulate different groups of registered customers, so you can reach the highest results and maximum effect. With our Magento module, you can easily organize different promotions, such as:
20 first logged in customers get the 15% discount for the whole cart. The offer is active during 1 hour and the timer is shown 1 time to the same customer
every newly registered customer gets a 5% discount automatically applied to the shopping cart which can be used within 2 hours
if the cart subtotal is $1500, your consumers obtain a chance to get the access to the premium customer group by placing the order within 30 minutes
Features:
Automatically inserted on all store pages
Works for logged-in users
Floating timer
Set discount duration time
Set period for timer to be active
Limit runs per customer
Limit total runs
Show timer to selected customer groups only
4 activation events:

place order
cart update
log in
new registration

3 action types:

fixed amount discount
percent discount
change customer group

Same conditions as in shopping cart price rules
Timer appearing effects:
Choose timer position using live preview selector
Take advantage of nine predefined timer positions: top-left, top-center, top-right, middle-left, middle-center, middle-right, bottom-left, bottom-center, and bottom-right
Select font color using color picker
Preview timer
Timer notice with ability to use HTML
Ability to use URL for timer
Timer statistics
Dynamic change of values
CSS-friendly
3 design templates are included
Ability to customize timer block template
Multistore support
1.0.6

Released 15.11.2017
*Fixes for Magento Marketplace

1.0.5

* issue with Wrong grand total calculation in the certain cases
* issue with timer not appearing on frontend
* issue with placing orders

1.0.4

* SUPEE-6788 compatibility issue
* Problem with design packages installation


1.0.3

* Problem with the Cart Update activation event

1.0.2

+ Stability and speed improvements

1.0.1

+ Stability and speed improvements

1.0.0

Initial release