Insert eye-catching countdown timer.
Block placement available at category/product pages
Scheduling options to enable/disable the block
Countdown values range from days to seconds
Disable/enable products automatically with countdown
Current extension version: 1.1.6 | Compatibility: Open Source 1.4.1.1 - 1.9.3.10; Commerce 1.12.0.0 - 1.14.3.10

30-DAY MONEY BACK

FREE INSTALLATION

30-DAY FREE SUPPORT

LIFETIME RIGHT TO USE
Countdown Gallery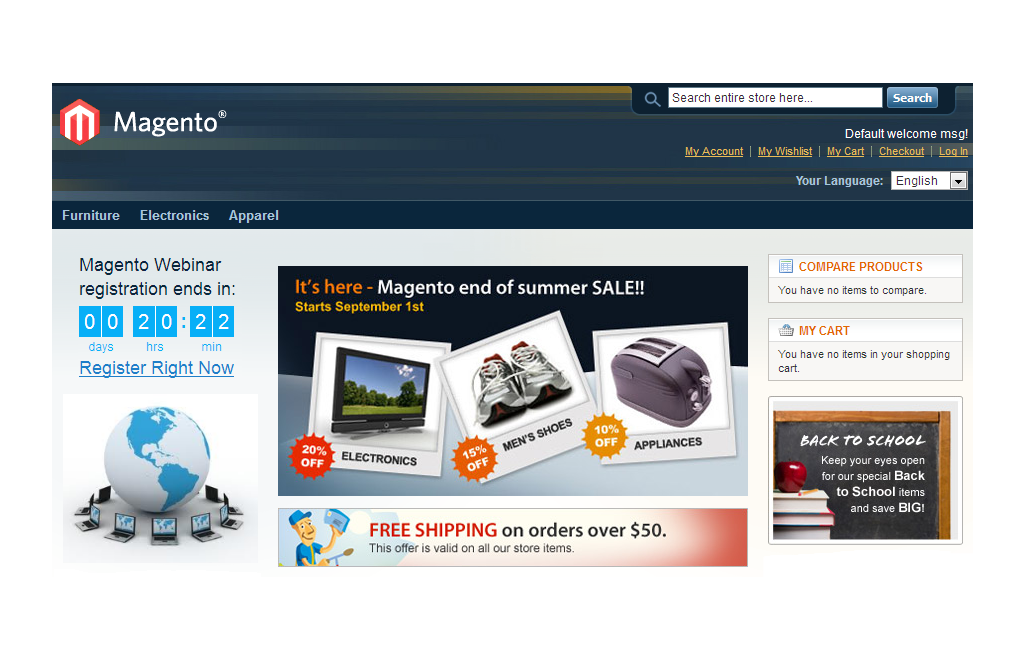 Magento Countdown Overview
If you want to attract additional attention to your promotions, use the Countdown extension for Magento. This module allows you to insert block which counts days, hours, minutes and seconds in reverse order to zero before or after the specified event triggering. The running out time stimulates better than words and pictures.
You can use Countdown for sales and promotions as well as for other different purposes. Place timer at the Home page and remind your website visitors about the approaching end of webinar registration. Make it displayed on certain product page and tell your customers when the item will be available for purchasing/downloading.
This easy at installation and flexible at configuration Magento extension allows you to create attractive countdown timers in a couple of minutes! You can insert the countdown on different pages of your Magento store, schedule its displaying, customize the block view and specify parameter for each countdown timer.
The Countdown Magento extension works with Catalog Price Rules and Shopping Cart Price Rules so that you can inform your customers when the sale will start or end.
Countdown Extension Features:
Insert countdown block via CMS, widget, or layout updates
Block can appear automatically according to created rule
Add countdown to any item and display on both product and catalog pages
Ability to specify a Countdown Timer for different customer groups
Ability to customize countdown blocks:

define start and end dates of countdown
set up countdown priority
add URL to countdown block
specify block title
use HTML code in description
edit timer view

Ability to schedule the countdown timer, e.g. show it every day from 1 to 4 p.m., every Monday, only at the weekend, etc.
Enable/Disable specific product when countdown starts/ends
Dynamic change of values
Configure timer to display:

Days
Days & Hours
Days, Hours, & Minutes
Days, Hours, Minutes, & Seconds

Create triggers to activate or deactivate Catalog Price Rules and Shopping Cart Price Rules
CSS-friendly
3 design templates are included
Multistore support
1.1.6

* SUPPEE-6788 compatibility issue
* "Days left" value issue

1.1.5

* SUPEE-6788 compatibility issue

1.1.4

* Error on category pages when FPC was enabled
* Countdown didn't appear on product pages of specific category
* Incorrect timer design on the category page on the RWD theme
* Problem with the "Gray" design package on the RWD theme
* Design packages were not shown in dropdown in backend after installation
* Countdown was not shown for newly assigned products to specific category
* Problem with countdown styles


1.1.3

* Incompatibility with Magento EE Full Page Cache on CMS pages

1.1.2

* Incorrect work of Full Page Cache in Magento EE

1.1.1

* Problem with order cancelling
* Recurring Time options were returned to zero by cron
* Countdown block wasn't shown in a custom position

1.1.0

+ Priority field for countdown block
+ Timer inside product list on the category page
+ A possibility to enable/disable product
+ Show countdown on a recurring basis

1.0.5

* Spelling mistakes
* Incorrect field type in the Triggers tab

1.0.4

+ Stability and speed improvements

1.0.3

+ Magento CE 1.7.0.0 compatibility
+ Magento EE 1.12.0.0 compatibility



1.0.2

+ Ability to specify Countdown Timer for different customer groups
* Files work optimization
* Catalog Price Rule error
* Time zones issue



1.0.1

* Single store support

1.0.0

Initial release