Powerful 'Buy X get Y free' solution.
Free product is added to cart automatically
Discounted product is suggested via pop-up
Flexible rules to set up highly specific promotions
Current extension version: 1.1.16 | Compatibility: Open Source 1.4.1.1 - 1.9.3.10; Commerce 1.12.0.0 - 1.14.3.10

30-DAY MONEY BACK

FREE INSTALLATION

30-DAY FREE SUPPORT

LIFETIME RIGHT TO USE
Add Free Product to Cart Gallery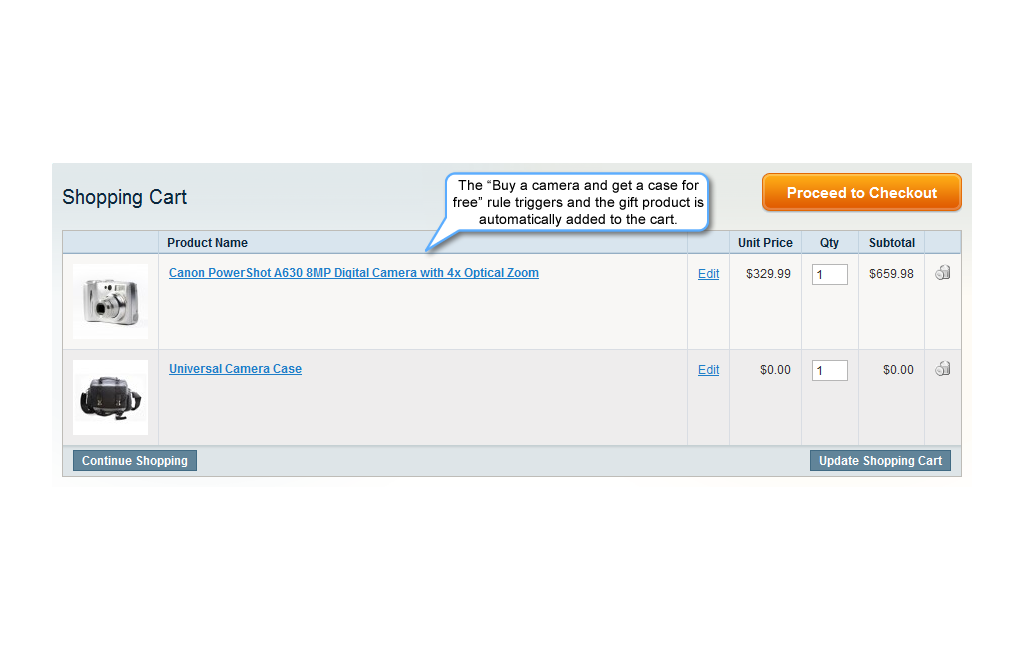 Overview
The Add Free Product To Cart module extends native Magento functionality with an ability of automatic product adding to the cart. An item appears in the shopping cart based on set criteria of the created rule. The module gives you a possibility of defining such promotions as "Buy Canon Power Shot & get Camera Charger for Free", "Spend $300 & get a 50% discount on HTC Touch Diamond", or "Buy 5 items and get Black Berry 8100 Pearl with free delivery".
The magnetic word "Free" spellbinds bargain hunters and attracts more and more customers to your store. Use The Add Free Product To Cart module to present gifts to your clients and follow the proverb "Little presents keep a friendship alive". Set up rules to fill clients' shopping cart after rule conditions met.
You can give your client a product for free or suggest getting it with a specified discount. The information with the offer appears in a pop-up window or the product is added to the cart without any notice, so your clients will be agreeably surprised after viewing the real ability of getting one more product absolutely for free.
Moreover, the extension allows you kindly suggest customers to buy another product with a discount. The product can be delivered for free as well.
Features:
Gift product auto-adding to cart
The Add Free Product to Cart module allows you to surprise your clients by suggesting them to get an item for free or at discounted price. If rule conditions meet after clicking on the Add to Cart button, the product is automatically added to the shopping cart or the offer to get the item with a discount appears in a pop-up window.
Product of the following types can be assigned to customer as a gift:


simple
virtual
downloadable

However, if the main products are deleted from the cart, the free product can't be bought as well.
Unlimited number of rules to gladden customers by a sudden gift


Limit the time period when rule is active
Show a pop up window for Item that is added to cart
Ability to display pop-up window with a suggestion of getting an additional item
Prioritize pop-up window to make the most desirable one appear after rules conditions met
Enable the possibility of closing the same pop-up window for a customer after conditions meet
Set conditions as in the shopping cart price rules
Create recurring rules
"Stop further rules processing" option
Ability to apply specific rules to different stores and customer groups
Re-add free product if it was deleted from cart
Several rules can be applied per one order
Specify rule description

Handy price management of product which is auto-added to cart
You can apply the discount to the item that will be auto-added to the shopping cart. To make the product free for buying just select the "Buy X get Y free" rule type.
Free of charge gift delivery
With the Add Product to Cart extension, you can decide whether the shipping of the product will cost your customer anything or the item will be delivered for free.
1.1.15

Released 17.08.2017
* 502 Bad Gateway error when 3 or greater free products are added to cart

1.1.14

* Unsupported products are added as free products by "Buy X get one free" rule
* AFPTC does not add free product to cart when To Date is the 1st day of month
* Date settings cause the free item to be removed from the cart
* Free product is not added to cart when SKU of custom option is added
* Carts with free products are merged improperly
* Reorder of an order with free product works incorrect
* Free item is not removed from cart
* Free product is not removed from cart if rule was disabled

1.1.13

* Magento Marketplace compatibility issue

1.1.12

* SUPEE-6788 compatibility issue

1.1.11

+ Integration with AJAX Cart Pro by aheadWorks
* If rule status was changed via mass action tool, rule conditions disappeared


1.1.10

* A free product was in the cart even after a rule expiration
* A free product was in the cart after main products removal
* A pop-up window appeared on the checkout page after logging in


1.1.9

+ Compatibility with aheadWorks Subscription and Recurring Payments
* Incorrect work of the free product re-adding to cart after being deleted from it
* Free products became paid after a customer logged in
* Extra items were added to the shopping cart if "Buy X get one free" rule was triggered for several products
* Product were removed from the shopping cart after a customer logged in at checkout
* Popup with several free products was displayed incorrectly on the RWD theme
* Incorrect subtotal of a free product in the shopping cart if local was changed
* Free product was not removed from the cart after changing the amount of other products
* Rule was triggered after clearing the shopping cart
* Rules were not applied if products quantity was updated in the cart
* Incorrect work with persistent shopping cart
* Incorrect work of the "Total quantity" condition in a rule

1.1.8

* Rules didn't trigger when the popup window was enabled

1.1.7

* Error when rule conditions were not configured
* Incorrect position of items in a popup window
* The Manufacturer condition didn't work

1.1.6

* Incorrect work of "Total quantity" condition in rules
* Problem with downloadable products
* Inability to set 0% in "Discount Amount Applied to Product" field

1.1.5

* Problem with fields titles translation in CSV
* Problem with "Total quantity" condition
* Minor bugfixes

1.1.4

* Problem with configurable product in "Buy X, get Y free" rule

1.1.3

+ Stability and speed improvements

1.1.2

* Incorrect work of customer groups
* Free product wasn't removed from cart

1.1.1

* Checkboxes on popup didn't work correctly
* Problem with https protocol on cart view page

1.1.0

+ Show a pop up window for Item that is added to cart
+ Ability to create recurring rules
+ Ability to re-add free product if it was deleted from cart
+ Stop further rules processing

1.0.0

Initial release