Automatic Related Products
Select products via flexible attribute conditions
Display block on any page within a store
Display block anywhere within the page
Current extension version: 2.5.1 | Compatibility: Open Source 1.4.1.1 - 1.9.3.10; Commerce 1.12.0.0 - 1.14.3.10

30-DAY MONEY BACK

FREE INSTALLATION

30-DAY FREE SUPPORT

LIFETIME RIGHT TO USE
Automatic Related Products Gallery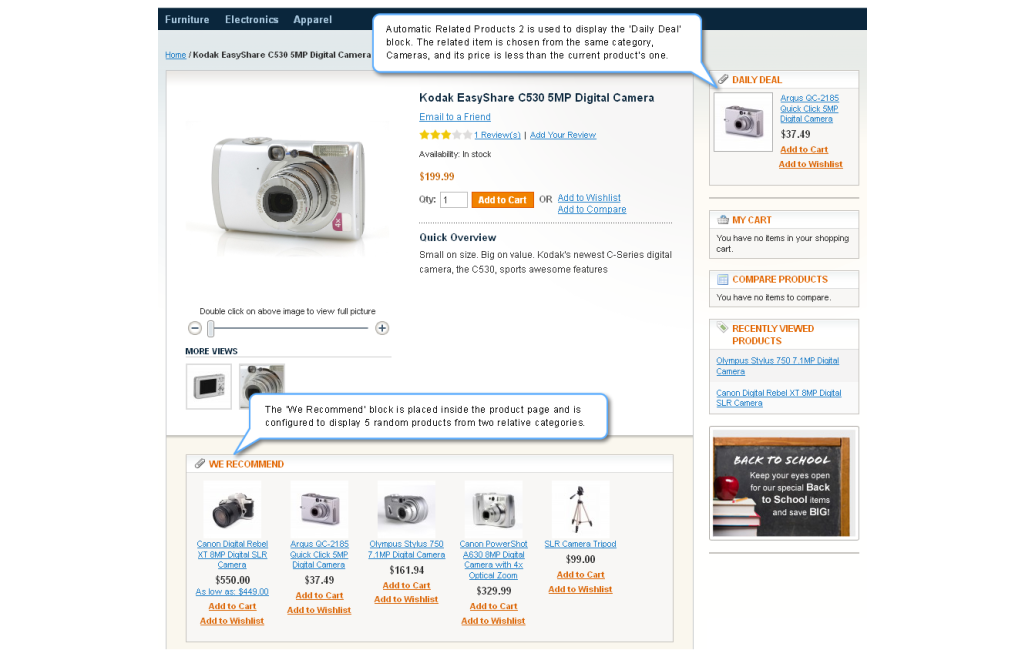 Magento Related Products Overview
Displaying relevant related products will increase the average order value, reduce the number of abandoned pages, and simply help your customers browse through the store looking for what they need. However, assigning related products in Magento is a time consuming task, especially for anyone managing a store with thousands of items.
What we have for you is a Magento Automatic Related Products extension that automates the whole process, allowing to define the general principles for assigning related products (up-sells, cross-sells, etc.) and to choose which products these principles apply to. This way it doesn't matter whether you are dealing with a couple items or with a 100K product store - it will still take just a few clicks to set up an appealing related product block.
Features
Position within the store
For each Magento related products block you create you may choose whether to display it on the product page, the category page, or within the shopping cart.
Position within the page
Within the page you may select one of the predefined positions: before content, instead of native block, under the native block, or inside the page. Additional options may be created by adding auto related products as a CMS block or a widget. Note that there is a possibility of creating different blocks with varying content and placing them within the same page.
Display options
Each block may be given a custom name to reflect the type of suggested products, e.g. "similar products", "frequently bought together", "more in this collection", etc. You may also decide on the number of related products displayed in the block at once.
Highly flexible rules
Products, for which any particular block is to be displayed, may be defined as narrowly as you want. Use any attributes to select a specific group of products or even select an individual item. Similarly, related products may be set to match specific attributes or to follow specific patterns.
Audience selection
We provide an option of creating different content for different customer groups.
2.5.1

Released 28.11.2019
* Fixed MySQL injection vulnerability

2.5.0

Released 04.09.2017
+ MySQL query optimization
+ ARP 2 page load speed improvement
+ Add "Stop Further Rules Processing" option to the ARP2 blocks
* Non-admin user can't create shopping cart block
* block type awautorelated/blocks is not whitelisted out of the box
* It is not possible to select multiple categories in conditions of Shopping Cart Rule

2.4.12

* Multiple categories issue

2.4.11

* No category product issue

2.4.10

+ iPhone Theme 3.x compatibility

2.4.9

* SUPEE-6788 compatibility issue

2.4.8

* Rules with price conditions didn't work for grouped and bundle products
* Incorrect work of rules if categories were chosen as conditions
* Incorrect list of attributes for the Shopping Cart Block


2.4.7

* Incorrect work of Rule-Based Product Relations in Magento EE when the module was installed

2.4.6

* Incorrect layout of products in a block on a CMS page (RWD theme)

2.4.5

* Warning while configuring a shopping cart block with "Products Subselection" condition
* "SKU" and "Category" conditions worked incorrectly
* Incorrect work if products had special prices
* Problem with product URL in the block

2.4.4

* The related block wasn't displayed properly on Magento CE 1.9, EE 1.14

2.4.3

* Product pages loaded slowly

2.4.2

+ Compatibility with Who Bought This Also Bought by aheadWorks
* Error in system.log file

2.4.1

+ Stability and speed improvements

2.4.0

+ Stability and speed improvements

2.3.1

+ Integration with Follow Up Email v.3.5+
* Block on shopping cart page was not displayed in a single-store environments
* Issue with 'product attribute combination' on shopping cart page
* Filter by attributes was not applied to a block on shopping cart
* Spelling error in block settings page



2.3.0

+ Ability to display ARP2 block on shopping cart page
+ Ability to sort products in block
+ Ability to display out-of-stock products in block



2.2.2

+ Ajax Cart Pro compatibility
* Fatal error in frontend if product had quotes in attribute value
* Products from different stores were visible in ARP block
* Incorrect work if number of products in block was set to 1
* Incorrect date field processing on ARP rule saving
* Fatal error on processing rules with SKU conditions (is one of, is not one of)



2.2.1

+ Magento 1.7 compatibility
+ Magento MSRP compatibility
* Incorrect work with URL rewrites
* HTML special chars handling
* SQL optimization
* Minor bugfixes


2.2.0

* Incorrect filtering by attributes
* Condition settings issue
* Incorrect products displaying
* "Click for a price" link error
* Magento EE issues
* Minor bugfixes