Automatic Related Products for Magento 2
Boost spontaneous purchases by showing customers cross-sell blocks with the products they are interested in.
Save time with the easiest cross-sell/upsells rule creating process
Display related products block exactly on the page you need
Apply auto-selection of related products based on product attributes
Monitor rule performance to plan further promotion strategies
Enhance targeting with Customer Segmentation
Current extension version: 1.7.1 | Compatibility: CE 2.3.X - 2.4.X EE 2.3.X - 2.4.X

45-DAY MONEY BACK

FREE INSTALLATION

90-DAY FREE SUPPORT

FREE LIFETIME UPDATES
Automatic Related Products Gallery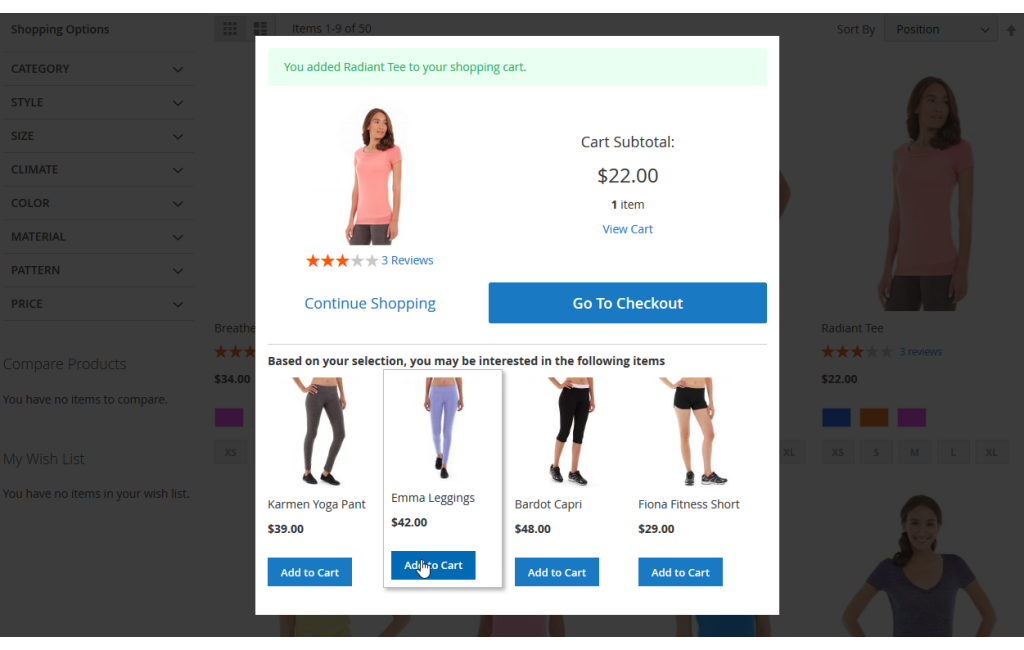 Related Products Magento 2 Business Value
The Automatic Related Products Magento 2 is a tool to display related products on the following pages: product, shopping cart, and category. Generate rules and assign them to multiple items simultaneously. Create recommendations based on views and relevant product purchases with the help of the array of flexible rule settings. Control the look of the related products blocks as well as their position within the store.
How Magento 2 Related Products works?
Flexible rule settings
Integrate related products seamless
Make up a flawless strategy for future promotions
Flexible rule settings
Magento 2 Related Products encompasses the features for the easiest and most desirable rule creating process:
Rule dashboard contains all the rules grouped by page type
Rules are triggered by the set-forth conditions and their combinations
Several rules can be applied to a single product against their priority
Auto selection of related products is based on products attributes
Integrate related products seamless
Integrate related products seamless
Magento 2 Related Products extension possesses a bunch of features that transform any customized backend settings into a responsive frontend design.
Possibility to create an unlimited number of blocks on catalog, product and shopping cart pages
Grid view and slider view are both available for the related products blocks
The advanced code enables mobile-specific gestures support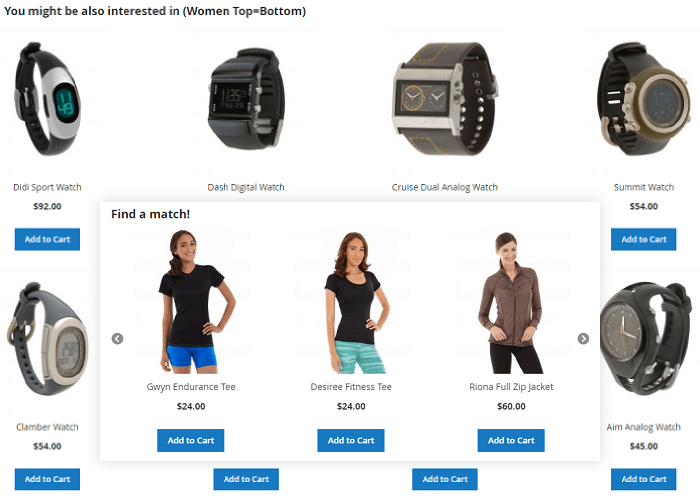 Make up a flawless strategy for future promotions
Make up a flawless strategy for future promotions
With Related Products Magento 2, merchants are able to monitor all the key rule performance stats: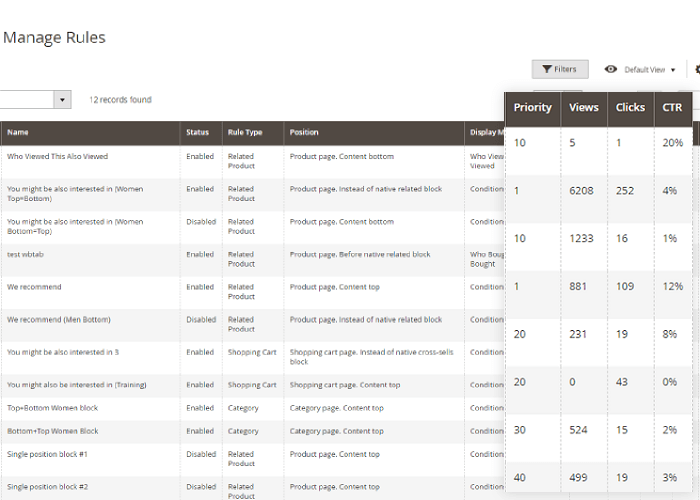 Automatic Related Products Magento 2 Detailed Feature List
1.7.1

Released 21.04.2020
* Fixed issue when slider with products doesn't work correctly
* Products opposite to rule are displayed in ARP block (related to bundle, grouped products, products with required options)

1.7.0

Released 01.04.2020
+ 'Block Layout' template selector includes existing block templates
* Error occurs when using 'Price (percent value)' attribute in rule
* Fixed jquery/ui issue


1.6.0

Released 13.12.2019
+ Integration with Aheadworks Customer Segmentation
* Improved integration with AJAX Cart Pro and Product Labels by Aheadworks
* Fixed "Invalid Form Key" error message on product page
* Fixed issue when Automatic Related Product block isn't displayed in deep sub-category
* Fixed problem when sub-categories are not loaded during a rule creation
* UI/UX improvements

1.5.1

Released 18.01.2019
* Magento 2.3 compatibility

1.5.0

Released 31.10.2018
+ Rule duplication feature
+ 'Instead of native up-sells block' on-page position option
+ Table view for the list of rules in the backend
+ "A number of days to build a list of bestsellers" configuration option
+ Custom position for block by editing a page template
* Multistore support improvement
* Fixed issue in conditional rules with "ANY" clause
* Fixed problem when create tables in a database with a prefix
* Fixed issue when extension creates 302 redirects in developer tools
* Deprecated "serialize/unserialize" functions in conditions
* Exception in the log when a category doesn't exist
* Rule conditions are cleared after sort order changing and re-saving the rule
* Products with the multi-select attribute type are not displayed

1.4.0

Released 19.12.2017
+ "Who Bought This Also Bought (WBTAB)" as an additional rule for product display
+ "Who View This Also Viewed (WVTAV)" as an additional rule for product display
+ Sorting for blocks in the WBTAB and WVTAV modes
+ New column 'Display Mode' in the Manage Rules grid
+ Module code refactoring
+ Integration with Magento 2 Full Page Cache
* Magento EE: Gift Cards block overlaps ARP block on Cart page
* Error occurs after compilation
* Fixed issue when a current product category is not extracted

1.3.1

Released 19.10.2017
* Magento 2.2.0 compatibility adjustments
* Magento_GoogleTagManager (Magento EE module) compatibility

1.3.0

Released 19.07.2017
+ Custom block position via widget
+ Multiple blocks for a single position
+ Magento Enterprise Segmentation support

1.2.0

Released 14.06.2017
+ Show "Out of stock" Products option
* Block isn't shown in Sidebar's position on product page

1.1.4

Released 20.02.2017
* Impossible to create a new rule when single-store mode is enabled
* Rule is duplicated in Mozilla Firefox
* Unable to save ARP rule without conditions
* Products can't be clicked in ARP block

1.1.3

Released 21.01.2017
+ AJAX Cart Pro compatibility


1.1.2

Released 14.10.2016
* Magento 2.1 composer.json compatibility

1.1.1

Released 12.10.2016
* Incorrect name action at Rules grid
* Compatibility with FPC without cacheable="false"

1.1.0

Released 15.09.2016
+ New related product block position - "Category page"
+ An option to override autorelated products with native related ones
+ Unit tests added
+ Full AJAX support added
* Shopping cart page: Product in block is overlayed on summary section
* Incorrect URL is displayed for product from the ARP block
* Left slider arrow is overlayed on product image
* Clicks should be unique
* Error occurs after compilation
* 404 page appears when "Price(percent value)" attribute is selected at "What to Display" tab
* Blocks with high priority are not shown at Storefront
* Block is not shown at Storefront when condition with "Price(percent value)" attribute is set at "What to Display" tab
* ARP block is not shown at product page if native ARP is enabled
* Top/bottom margins should be added
* "Override Automatic Related Products" option is not displayed after module update from previous version

1.0.3

Released 25.07.2016
+ Added support for php v7 in composer

1.0.2

Released 16.07.2016
* Pagination issues
* Performance issues
* Products added to cart automatically excluded from related products

1.0.1

Released 15.07.2016
* [M2] Gift Card compatibility issue
* https protocol issue

1.0.0

Initial release 12.07.2016