Let customers become your brand ambassadors and bring new people to your store.
Invitations work via direct email, link, or social post
Reward policy is fully customizable by admin
Successful referrals and bonuses visible to customer
Current extension version: 2.2.0 | Compatibility: Open Source 1.4.1.1 - 1.9.3.10; Commerce 1.12.0.0 - 1.14.3.10

30-DAY MONEY BACK

FREE INSTALLATION

30-DAY FREE SUPPORT

LIFETIME RIGHT TO USE
Refer a Friend Gallery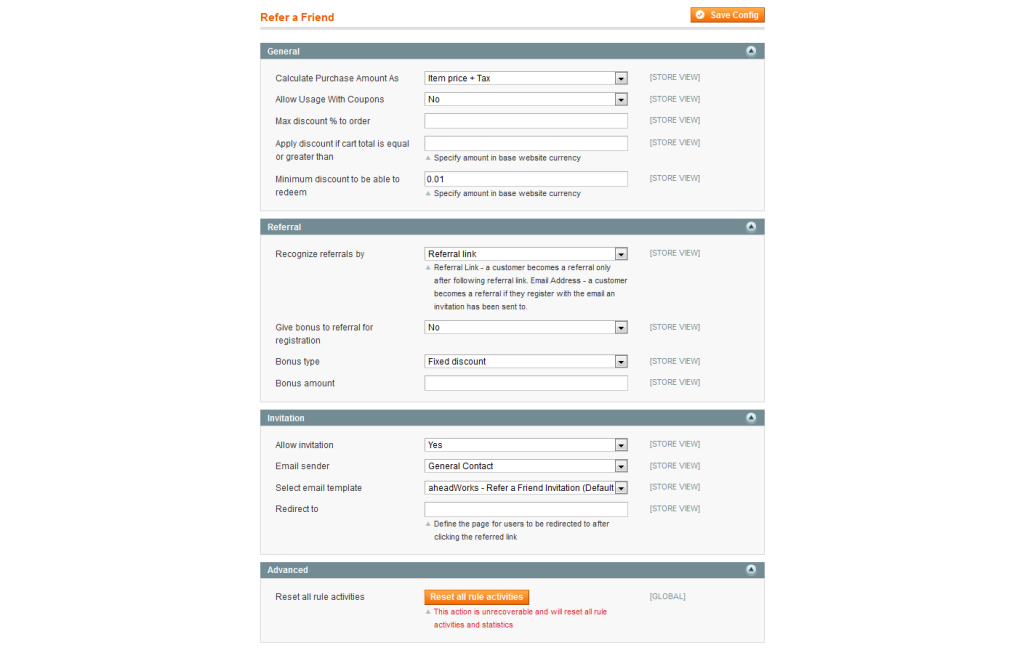 Important note for users of Refer a Friend v.1.*: version 1.X and 2.X are not fully compatible. To find out more details, please read the description.
Overview
Advocacy is the end game of most marketing effort. Whether it be through unique portfolio, great customer service, or engaging content, once you've convinced customers to speak on your behalf you've gained one of the most powerful marketing tools available. Not only do referrals and personal recommendations enjoy a much higher conversion rate, they also attract higher quality customers and increased average order value.
Convincing your customers to become your advocates may take a lot of effort over a long period of time, but it does not have to be the case. What we have for you is an advocacy tool with a built-in loyalty program that rewards customers for inviting people to your store. Our Magento Refer a Friend extension comes with a full range of customization options, allowing you to set up the referral program in Magento to fit your business model and reward the type of behavior that suits you best.
Features
Invitation delivery
There is a number of options available for the customer to refer people to the store:
Using an invite form that sends a customizable message to a specific email;
Sharing an individual broadcast link generated by the store;
Posting to social media directly from customer area;
Landing page for the referral link is provided by the store owner.
Referral tracking
Invites are logged within the customer area, allowing the customer to see how many people have responded and the amount of bonuses earned.
Reward triggers
A customer may receive bonus for one of three things: number of customers attracted, amount they spent, or the number of items they bought. There is also an option to reward those who responded to an invite with a one-off reward upon sign up.
Reward calculation
You decide at what point the bonus is activated (e.g. per each 5 customer sign-ups or each $100 spent, etc.), whether it is going to be a fixed sum or a percentage discount, and how many times a customer will be able to earn the same bonus.
Bonus spending
Earned bonus may or may not be used together with a discount code, it may be limited to a certain percentage of cart total, and it is possible to allow bonuses only with purchases over a certain amount.
Multiple rules
Within this Magento referral extension an unlimited number of rules may create to be used at different times or even simultaneously. In case rules overlap we suggest assigning priority numbers for each rules to decide which goes first. There is also an option to define whether the rules are compounded or limited to the first one engaged.
Admin control
It is possible to edit the amount of bonus earned manually from backend.
2.2.0

+ Customer tax calculation before/after RaF discount
* RAF block is absent in shopping cart if Bundle product is in the cart
* Add strings to CSV file
* Negative grandtotal
* Redundant images in the extension CSS
* Wrong link in the pager insige "Referred Friends" grid
* Unable to apply entire discount for bundle products with fixed price
* Potential vulnerability in the code
* Fatal Error after registration via Broadcast Link
* Link "Back" is absent on customer area

2.1.11

* Fix for magento connect verification

2.1.10

* Mobile: Invited persons block is not displayed at iPhone Theme
* Design for iPhone theme
* MOBILE: "Invite a Friend and Get Discount" button doesn't work

2.1.9

* SUPEE-6788 compatibility issue

2.1.8

* Incorrect work of the "Store sign up" rule type
* Grand Total was calculated incorrectly in Credit Memo
* Customer emails were duplicated in the Referred Friends tab
* Problem with the eCommerce Gamification Suite integration
* Bonuses for registration were applied incorrectly at multiple websites
* Inability to apply a discount for bundle products with dynamic price
* Broadcast link wasn't displayed properly


2.1.7

* Error in Sys.log after "free product" rule triggered
* Target was ignored for "Store sign up" rule
* Hint messages were not left-aligned in popup
* Bonuses were not charged to referrer

2.1.6

+ Recognize referrals by e-mail addresses
* Inability to apply discount if the subtotal was less than discount amount
* Problem with the "Store sign up" rule on Magento CE 1.9.1, Magento EE 1.14.1
* Problem with currency rates conversion

2.1.5

* Discount amount was included into store credit after refund
* Incompatibility with iPhone Theme by aheadWorks

2.1.4

* Incorrect look of the Referred Friends tab
* Problem with the Add Transaction button when the Customers section was updated by AJAX
* Incorrect action links in the Customers section

2.1.3

+ Compatibility with Magento CE 1.8.1
+ Improved guests support
* Incompatibility with Subscriptions and Recurring Payments v.2.x by aheadWorks
* Inability to delete referred friends from the backend
* Incorrect behavior if referred friends registered at checkout
* "Apply discount for referred friends" block was visible for guests
* Discount was not applied to taxes
* Discounts were not displayed in confirmation emails
* Incompatibility with non-default currency
* Problem with bonuses for registration
* No redirection to index page if "Redirect to" was empty

2.1.2

+ Stability and speed improvements

2.1.1

+ Stability and speed improvements

2.1.0

+ "Manage Rules" grid improvements
+ "Save remainder for later usage" option
+ Ability to limit rule triggering for a single referral



2.0.6

+ Stability and speed improvements

2.0.5

+ Stability and speed improvements

2.0.4

+ Stability and speed improvements

2.0.3

+ Brazilian Portuguese (pt_BR) locale support added
* "Fatal error: Maximum function nesting level of '100' reached, aborting!"
* After certain actions actual balance was displayed incorrectly
* Decimal values rounding was incorrect
* Certain actions led to impossibility to apply discount
* Some currencies formatting was incorrect
* Locale csv file update
* Impossibility to apply discount after switching to another currency



2.0.2

* Migration script from Refer a Friend 1.x was added

2.0.1

* Minor bugfixes

2.0.0

+ 3 different rule types: for referral's signups, their number of purchased items and their purchase amount
+ 2 types of bonuses: fixed and percent discounts
+ Possibility to use both fixed and percent disconts at a time
+ Customer can specify an amount of fixed discount which they want to be applied on Cart
+ Possibility to add and subtract bonuses from backend
+ A possibility to set a lifetime percent discount
+ The options to limit bonuses amount which can be applied on checkout
+ An option to set minimum discount, which can be redeemed by customer
+ A possibility to give bonus to referral
+ Broadcast link
+ A possibility to insert 'Invite a friend' button into CMS manually
+ 'Share on social networks' widget
+ Separate information pages for fixed and percent discount
+ Statistics page
+ Rules can be set per store view
+ Multishipping support