Refer a Friend for Magento 2
Promote brand awareness and enrich customer base with custom referral programs.
Advocates get fixed/percent discounts for link sharing
Holding periods for advocate discounts
Link sharing via social networks, messengers, emails
On-site/admin referral program performance stats
Benefit from GDPR compliance! Once a customer deletes a profile, all the referral activity will be erased (right to erasure)
Current extension version: 1.1.5 | Compatibility: CE 2.3.X - 2.4.X EE 2.3.X - 2.4.X

45-DAY MONEY BACK

FREE INSTALLATION

90-DAY FREE SUPPORT

FREE LIFETIME UPDATES
Refer a Friend Gallery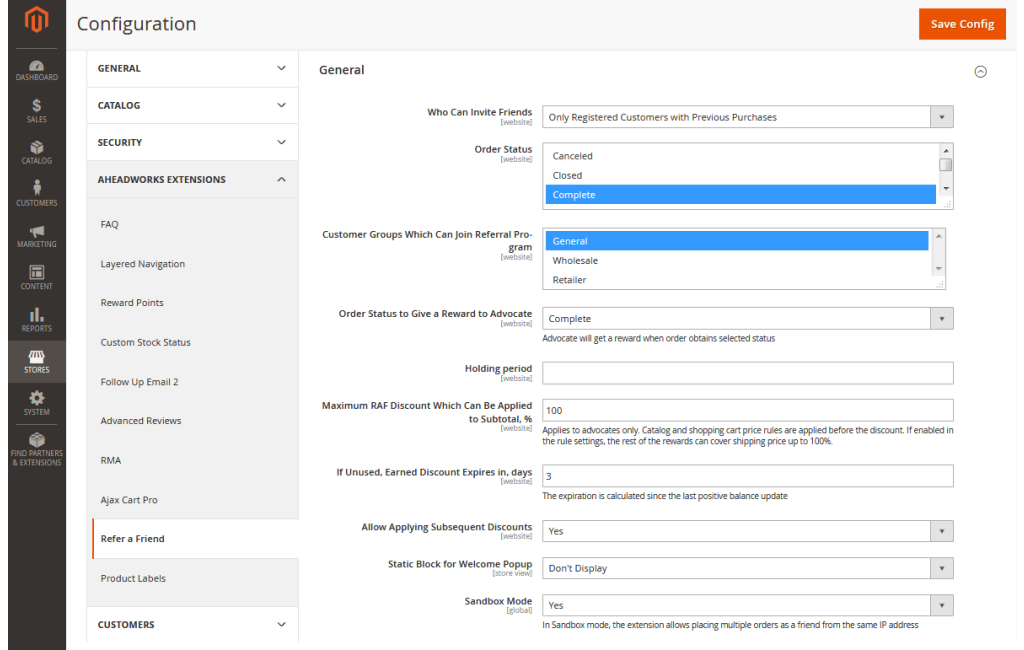 How Magento 2 Refer a Friend works
Run own refer-a-friend programs with this Magento 2 referral extension! Let brand advocates invite friends to purchase products through social sharing buttons or referral links. Track the performance of each advocate. Provide advocates and their friends with fixed or percent (cumulative) discounts as rewards for their activity.
Boost Sales through Referral Programs
Precise rules
Quick advocate management
Intuitive participation
Precise rules
The Magento 2 Refer a Friend extension includes only the main referral program configuration parameters so that you can quickly set up your program and get started!
With this Magento 2 referral extension, you can flexibly manipulate with your affiliate program rules by setting the exact discount values and types (fixed or percent) for advocates and their friends.
Quick advocate management
Instantly access the info on each particular advocate, manually control transactions, and track advocate balance history.
Intuitive participation
Thanks to this Magento 2 referral program extension, your advocates can monitor their balances, share links to your products, enable email alerts - all from a single page!
Magento 2 Refer a Friend Detailed Feature List
Reward Earning and Spending
Straightforward Referral Rules
1.1.5

Released 19.11.2020
* Fixed XSS vulnerability issue: admin comment is not sanitized

1.1.4

Released 08.09.2020
+ Compatibility with Magento 2.4
* Fixed issue when referral link works even with disabled rule

1.1.3

Released 31.01.2020
* Fixed issue when AdBlock affects RaF blocking processor.js on checkout page
* Discount applies for invalid referral link
* Discount is awarded to guest-friend without validation


1.1.2

Released 29.07.2019
* Fix for Magento Marketplace

1.1.1

Released 15.04.2019
* Fixed issue when a reward is not applied on a checkout page automatically
* Whole discount is applied to Subtotal if "Maximum RAF Discount Which Can Be Applied to Subtotal" option is not specified

1.1.0

Relesed 21.03.2019
+ Sandbox mode
+ Option to restrict applying discounts with other coupons
+ Multiselect for Order Status
+ Percent discount for advocate (cumulative)
+ Discount holding period

1.0.1

Released 01.02.2019
+ Magento 2.3 compatibility
+ Web API enahancements
* Typo in GuestQuoteService.php file
* Several email options have been renamed

1.0.0

Released 30.05.2018
* Initial release