Let customers find you easily by marking your physical store on a map.
Location page with all locations in a single list
Location search both by address and radius
Store details available separately for each location
Interactive map via pre-configured google map integration
Current extension version: 1.1.3 | Compatibility: Open Source 1.4.1.1 - 1.9.3.8 Commerce 1.12.0.0 -1.14.3.8

30-DAY MONEY BACK

FREE INSTALLATION

30-DAY FREE SUPPORT

LIFETIME RIGHT TO USE
Store Locator Gallery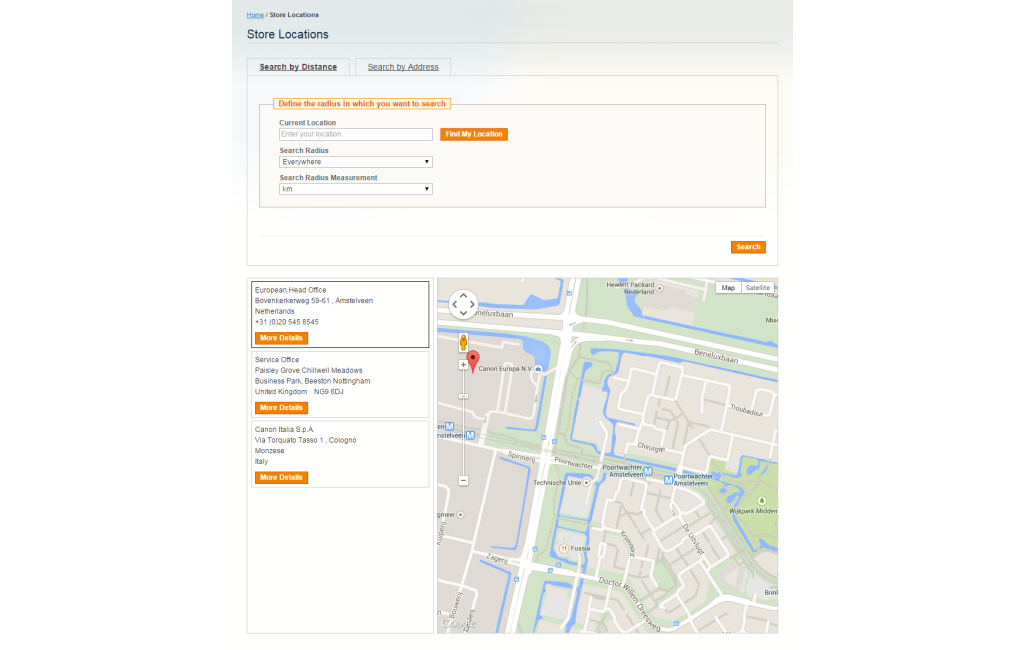 Magento Store Locator Overview
Whether an online business decides to set up physical outlets or a traditional brick-and-mortar store ventures to embrace a wider market and goes online - in both cases, it is vital to establish a clear link between the virtual and the real-world parts of the affair.
The Store Locator extension offers an elegant solution for this. The extension adds a special area to your Magento site, where you can list your offices, be it stores or service centers, etc. Each of the listed locations is displayed on the interactive map (powered by Google Maps), and can be supplied with additional information and the working hours schedule.
Moreover, a customer can find the nearest office with the Store Search functionality. "Find My Location" option can automatically identify the visitor's location and further suggest the stores that are located within certain radius.
Features for Customers:
Convenient single-page Locations List
Embedded Interactive Map
2 modes of Store Search:

Within certain radius from the customer's current location;
By manually-specified address.

Detailed on-screen Store Information:

Full address;
Map position;
Description;
Opening Hours;
Store Image and Custom Map Icon.
Features for Store Admins:
Easy Locations Setup;
Full Google Maps Integration:

Pre-configured integration;
Ability to use Google Maps API Key if your map loads are more than 25K per day;
Map and Satellite views are supported.

Create Working Hours schedule for multiple Locations at once;
Export / import data to / from .csv and .xml files.
1.1.3

Released 29.08.2018
*Fixed issue with search by region

1.1.2

Released 15.02.2016
+ Added compatibility with Magento 1.9.2.3

1.1.1

+ Corrections due to Google Maps API changes
* SUPEE-6788 compatibility issue

1.1.0

+ Allow your visitors to search the store either basing on their current location or by address
+ Import/export store locations via .CSV or .XML files
+ Add working hours for store locations

1.0.4

* Problem with stores switching in the frontend
* Minor bugfix

1.0.3

* Problem with store locations after Google Maps API was changed

1.0.2

+ Stability and speed improvements

1.0.1

+ Stability and speed improvements

1.0.0

Initial release