Makes it possible to sell products at a price lower than the manufacturer allows you to.
Current extension version: 1.2.1 | Compatibility: Open Source 1.4.1.1 - 1.9.3.10; Commerce 1.12.0.0 - 1.14.3.10

30-DAY MONEY BACK

FREE INSTALLATION

30-DAY FREE SUPPORT

LIFETIME RIGHT TO USE
Minimum Advertised Price Gallery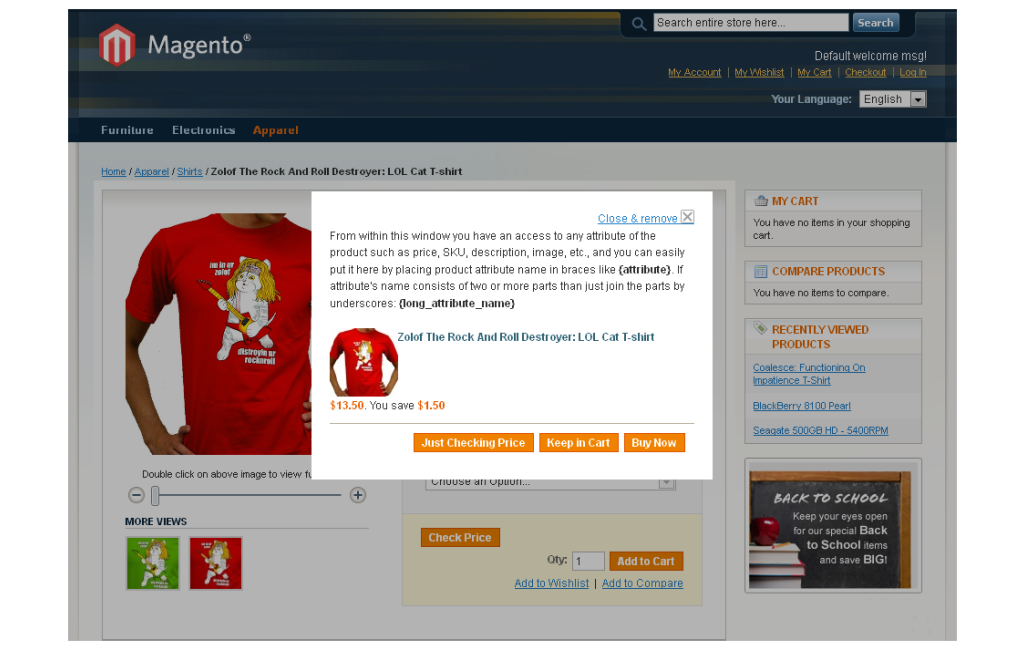 Overview
Manufacturers and suppliers have their own pricing guidelines that you as an online retailer need to adhere to. Often the store price at which you are able to offer a product to your customers is lower than the minimum price that the manufacturer allows you to display onscreen. So how do you communicate this lower price to your customers and sell the product at the price that works best for you?
With the Minimum Advertised Price Magento module, you can now sell your advertised products at the price you want, even if it is considerably lower than the minimum stipulated price. This is an extension that keeps everyone happy: your manufacturer/supplier because you are seen to adhere to their guidelines; your customers, because they get products cheaper; and of course, you happy, as more sales roll in with the lower prices.
How it works
The Minimum Advertised Price Magento extension adds a special "Check Price" button instead of the usual product price. If the price in your store is less than the minimum stipulated price for this product, either no price is displayed or the list price or market price is displayed with a strikethrough just to stress that your price is lower. When a prospective customer clicks the Check Price button, the product is added to the shopping cart, and only then does the actual price you are selling the product at become visible.
Quite simply, the real sale price on your store is not shown on the product page but displayed only after the product is added to the shopping cart.
Not only this, the Minimum Advertised Price module for Magento even allows you to offer some nifty enhancements. For example, when the customer adds such a product to the cart, it won't redirect him to the cart, but will display an AJAX layer enabling him to:
Take the product off the cart (this can be done if the customer just wants to check the price and has not yet made a purchase decision)
Leave it in the cart and continue shopping or
Go to checkout
Features for your customers:
Get the best deal — lower than manufacturer-stipulated prices
Know how much they save: customers see exactly much they save through the "you save" attribute
No compulsion to buy — viewing the lower price does not mean they have to buy it. The product can be taken off the cart after viewing the lower store price
Nice user experience: customizable text, buttons and pictures that can be used by the admin serve to enhance the customer's e-shopping experience
Features for you:
Offer lower prices, get more sales
Adds optional 'Minimum Advertised Price' attribute to the product
Great admin capabilities to maximise impact of this feature
Fast-loading AJAX layer, with an advanced admin interface for layer configuration
Completely configurable & customizable layer text, pictures and buttons
"List Price" and "You save" attributes: show your customers the actual list price and how much they save. Transparency sells!
Configurable independent category/search/product page view
Supports direct HTML embedding
Macro fields containing all attributes of the product
Ability to include any content that Magento CMS can involve
1.2.1

+ Stability and speed improvements

1.2.0

+ Stability and speed improvements

1.1.2

+ Magento Enterprise Edition compatibility

1.1.1

* Stability and speed improvements

1.1.0

+ Stability and speed improvements

1.0.2

* Minor bugfixes

1.0.1

* Configurable product bug fix

1.0.0

Initial release