Product Updates Notifications
Notify button for customers to subscribe to updates
Stock/price changes trigger update notifications
Subscription stats and lists are available from backend
Current extension version: 2.1.1 | Compatibility: Open Source 1.4.1.1 - 1.9.3.10; Commerce 1.12.0.0 - 1.14.3.10

30-DAY MONEY BACK

FREE INSTALLATION

30-DAY FREE SUPPORT

LIFETIME RIGHT TO USE
Product Updates Notifications Gallery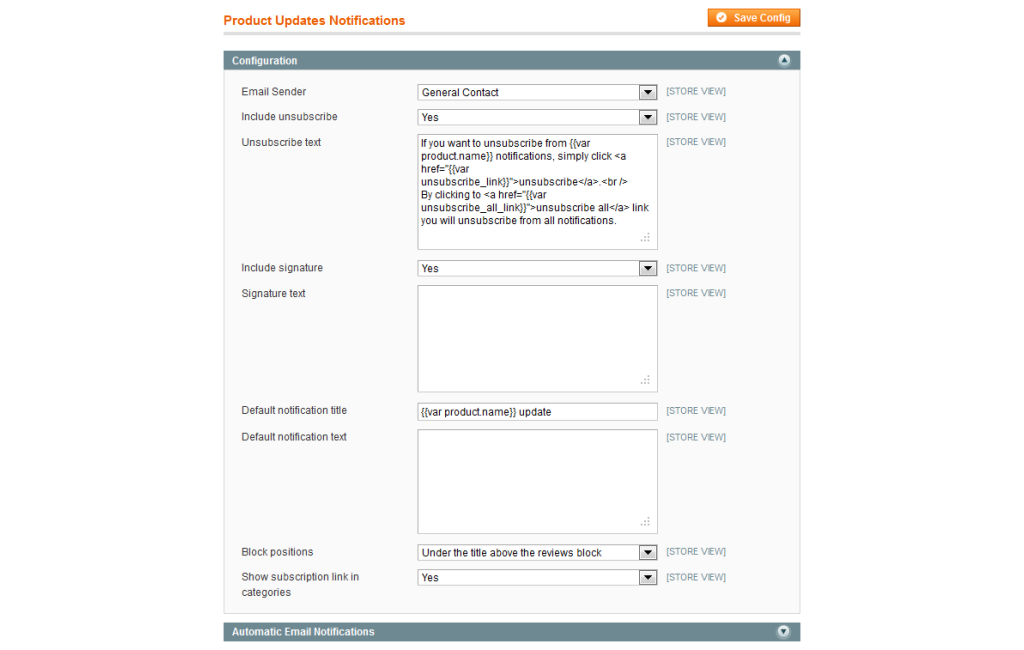 Magento Product Alerts Overview
Your customers are busy and may not have time or inclination to keep visiting your store for updates unless they have a specific need. However, with the Product Updates Notifications Magento module from aheadWorks you can alert your existing and potential customers about new price or stock status of products on your website. What's more, customers opt-in to receive the updates they want, so you know that your notifications are going to a highly receptive audience.
The Product Alerts & Updates Notifications extension has been designed to benefit you as well as your customers! So not only will you be increasing visitor loyalty with greater store recall, but also enhancing their user experience with your store.
Listed below are some of the powerful features and benefits that the Product Updates Notifications module improves your website with:
Features for your customers
Keeps them updated about latest offerings in your store/product basket
User-friendly interface helps visitors subscribe to updates within seconds

Logged-in visitors just need to click "Notify me about updates" link to subscribe
Guests simply have to enter their name and email address to subscribe
Ability to subscribe to product updates from category and/or page

Avoids information overload: visitors have greater control over information they wish to receive

'Unsubscribe' option allows visitors to stop receiving all updates or only of particular products
Magento Stock Notification Features
Automatic notifications about price and\or stock changes
Makes your online store more professional, intelligent and considerate
Helps you manage your subscribers with ease
Maximizes sign-ups for the notifications: the "Notify me about updates" link can be placed where you want it
Allows you to configure notification defaults
Reinforces key marketing messages with the option to create message signatures
Macro fields contain all product attributes
Fast-loading AJAX layer, with subscription form for guests
You can include any content that Magento CMS can involve
Transactional email templates
Subscribers statistics
With Product Alerts & Notifications extension, you can keep your customers informed about your latest offerings is a breeze! Every notification is your virtual salesman that can convert a website 'visitor' into your 'customer'. Let this smart extension keep your online store in the customer's vision – get the Product Updates Notifications Magento module today!
2.1.1

Released 09.07.2018
*Fixes for Magento Marketplace

2.1.0

Released 27.01.2017
* Added NOINDEX to the links
* Cannot to subscribe from Reviews block
* Cannot subscribe to multiple products within one session

2.0.8

* SUPEE-6788 compatibility issue

2.0.7

* Problem with "Notify about product updates" link displaying if block position was "After "Add to cart" above short description"
* Notifications weren't sent manually for child items of configurable products
* Inability to unsubscribe from notifications for child items of configurable products
* Incorrect position of the close icon in a pop-up window (RWD theme)
* Problem with notifications on multiple websites
* Inability to close the "Successfully subscribed" pop-up window after clicking outside of its borders
* Stock update automatic notifications weren't sent for configurable products


2.0.6

+ Compatibility with AJAX Catalog by aheadWorks

2.0.5

* Minor bugfixes

2.0.4

+ Stability and speed improvements

2.0.3

+ Compatibility with SARP by AW

2.0.2

+ Stability and speed improvements

2.0.1

* Notification wasn't submitted from Product Information page in single stores

2.0.0

+ Ability to subscribe to product updates from category page
+ Subscribers statistics
+ Automatic notifications about price changes
+ Automatic notifications about stock changes
+ Transactional email templates
+ Code optimization
* Empty product page after extension disabling
* Multistore support