Mobile technologies manifest a new era of doing things on the go – reading, watching, working, chatting and, of course, shopping. It's near impossible to get lost or disconnected from a real world today: smartphones and tablets simply won't allow that.
A while ago, we asked ourselves to what extent customer shopping experience can be improved and how aheadWorks can contribute to it. By now the answer is clear as well as the solution we come up with –
creating and displaying tablet storefronts with the help of aheadCommerce
.
We assign
aheadCommerce
release just in the midst of busy Christmas time on purpose, since there is no such a strong desire for customers to make quick purchases and for merchants to provide the best customer service than during the pre-Xmas period. Look what miracle we have prepared for you.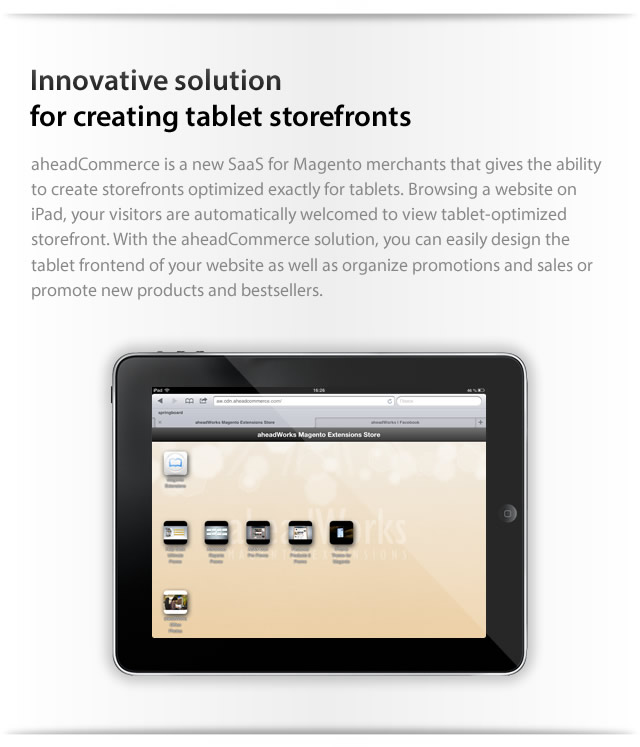 Announcement!
All our readers are encouraged to
create aheadCommerce accounts
and start using the service at full power (it doesn't cost a penny).
To get started with our service, you need to pass an easy one-step registration of your account in the aheadCommerce
Merchant Center
first and then to create a new storefront. Note: it requires no special background and considerable efforts.
Furthermore, every holder of an active account will get
50% discount on the first-year subscription period
after aheadCommerce is switched from beta to a stable version.