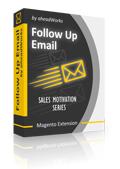 Do you need to be fully aware of customer behavior in your store to react accordingly? Sure, you do! That's why it is a wise decision of yours to install or plan to download the Follow Up Email extension which is a powerful auto-responder and customer relationship tool to keep track of your customers automatically on an ongoing basis.

Your growing expectations towards Follow Up Email motivate us to constantly upgrade this extension until, perhaps, it becomes perfect enough to bring you 100% revenue growth per month ;) We are now one step closer to this goal, updating Follow Up Email to 3.5 version. Its official release is scheduled for December 11, 2012, but I am unable to remain silent and prevent news leak from happening.




New Follow Up Email 3.5 features will include:

Compatibility with native Magento up-sells, cross-sells and related products

Merchants will be able to send emails to customers with up-sells, cross-sells and related products depending on the items ordered.

Compatibility with the Who Bought This Also Bought extension by aheadWorks

Merchants can enclose "Who bought this also bought" message to customer notifications.

Compatibility with the Automatic Related Products 2 extension by aheadWorks

Store owners can attach related products to customer emails. For instance, a user gets the email with the DVD player purchase notification and also sees DVD discs assortment.

And there is something more to come…Just wait till next Tuesday, and I will tell you EVERYTHING left unsaid about the upcoming Follow Up Email 3.5 version.