Countdown Timer for Magento 2
The Countdown extension for Magento 2 adds a countdown functionality to your store.
Dynamic timer with days, hours, minutes, and seconds displayed
One-time timer or recurring countdowns based on days, weeks, months, or years
Ability to schedule promos for discounts, special events, or time-related services
Product and category page linkage to a countdown
URL insert to bind a timer to a specific page in a store
Rich design options for a countdown (including icons, texts, and a field for custom CSS)
Current extension version: 1.0.4 | Compatibility: Open Source 2.4.4 - 2.4.6; Commerce 2.4.4 - 2.4.6

License:
Starting At
Special Price
$119.00
$119.00

30-DAY MONEY BACK

FREE INSTALLATION

30-DAY FREE SUPPORT

LIFETIME RIGHT TO USE
Countdown Timer Gallery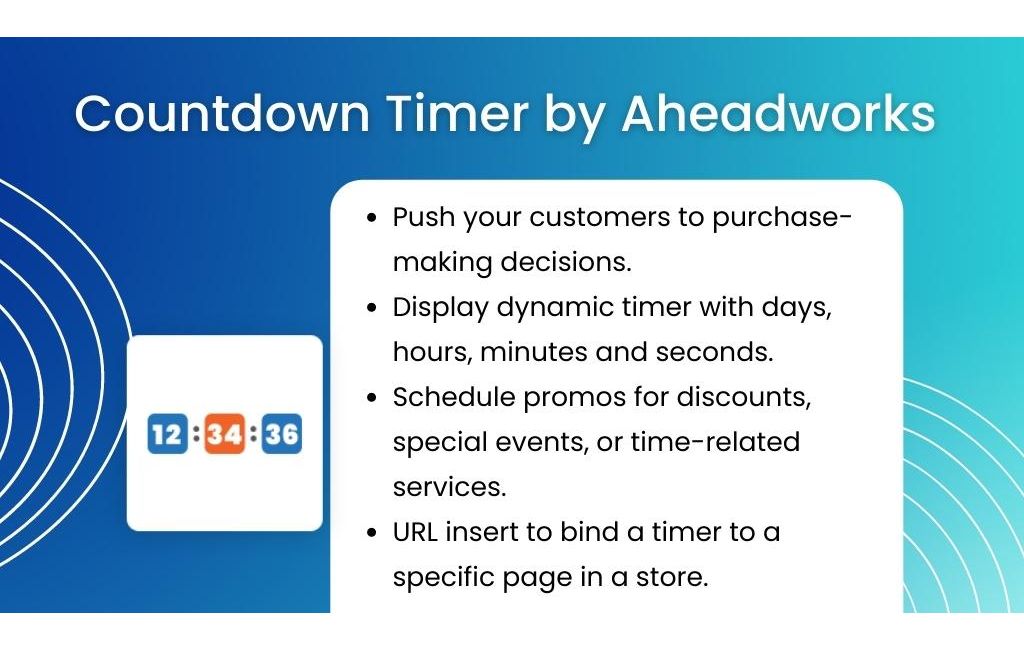 Boost Conversion, Gather Revenue with Magento Countdown
With the Countdown module for Magento 2, you are able to configure an unlimited number of countdowns. First, decide on placement settings. These will run promos on particular pages in the store. Next, activate the countdown by specifying product conditions, and then choose a layout of the block and come up with a text message. Finally, set a behavior for the countdown — one-time and recurring modes are available.
Configure the Magento 2 Countdown Extension in Some Easy Steps
Visualize promos to encourage actions
Turn every occurrence into benefits
Visualize promos to encourage actions
Conduct your customers' intentions, apply various marketing strategies.
Increase the sense of urgency with special time-bound propositions.
Provide time-related services
Engage customers while advertising your services.
Turn every occurrence into benefits
Find triggers which lead your customers to purchase. Set up recurring promos to automate repetitive countdown launch for:
Inform about periodic campaigns running on particular dates and build a loyal customer base
Encourage customers to act timely to participate in special events.
Magento 2 Countdown Timer Extension Features
1.0.4

Released 27.03.2023
+ Compatibility with Magento 2.4.6
* Fixed issue when trying to create a rule for Magento 2.4.6

1.0.3

Released 09.06.2022
+ Compatibility with Magento 2.4.4
* Fixed issue with the Action menu in the grid for Magento 2.4.4
* Fixed issue with the Countdown timer on the product/category page for Magento 2.4.4

1.0.2

Released 14.03.2022
+Declarative schema upgrade
*Fixed error with upgrade

1.0.1

Released 14.02.2022
*Fixed issue with "Recurring" and "Disable Countdown on Week Days" options

1.0.0

Released 23.05.2019
* Initial release