Custom Stock Status for Magento 2
Influence purchasing decisions with appropriate stock status displayed.
Place custom stock statuses on category and product pages, and in a shopping cart
Assign custom statuses to specific product quantity ranges
Design stock statuses with an icon, image, and text
Subscribe customers to back-in-stock notifications
Choose back-in-stock and low-stock alert templates
Current extension version: 1.0.8 | Compatibility: Open Source 2.4.4 - 2.4.6; Commerce 2.4.4 - 2.4.6

License:
Starting At
Special Price
$199.00
$199.00

30-DAY MONEY BACK

FREE INSTALLATION

30-DAY FREE SUPPORT

LIFETIME RIGHT TO USE
Custom Stock Status Gallery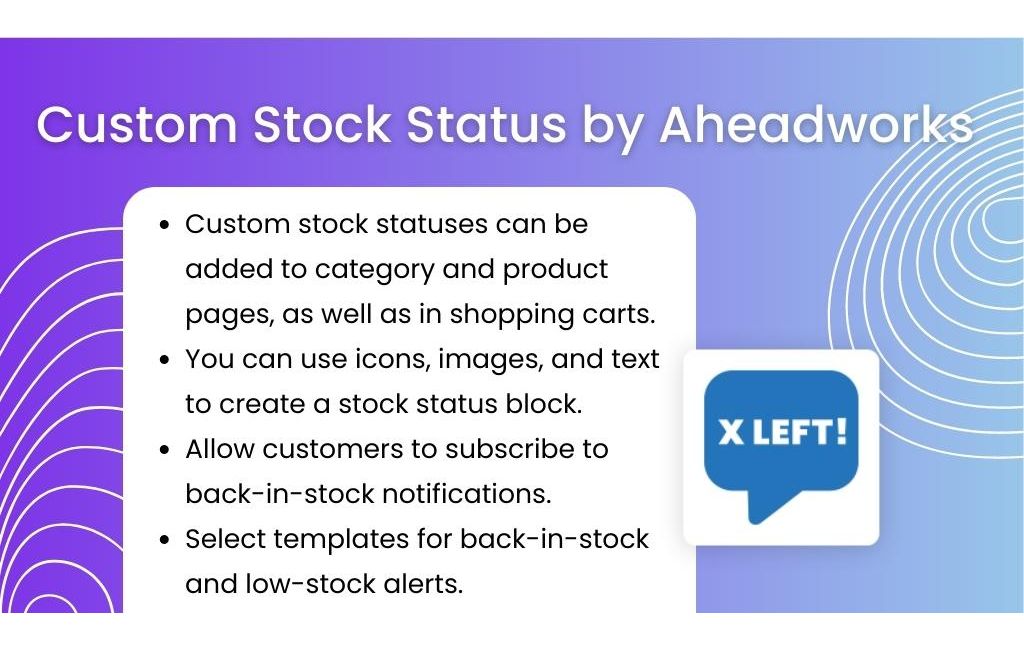 How to conduct customer behavior with Magento 2 Custom Stock Status
Replace native stock statuses with custom ones. Decide where to display and how to display. Define the product groups for stock status activation. Set up product quantity ranges that demand custom stock statuses. Suggest customers subscribe for back-in-stock emails. Encourage to come back to the store with low-stock alerts
Customize and Set Attractive Stock Statuses, Provide Precise Stock Information to Customers
Make relevant offers
Show purchase-boosting content
Re-engage customers
Support restock operations
Make relevant offers
Cover multiple strategies to gain the maximum from both immediate and delayed purchases.
Be precise with your promo
Use conditions to emphasize specific product groups based on quantity ranges, attributes, etc.
Highlight low-stock products among others on a category page.
Show purchase-boosting content
Set one of the predefined display options. Manipulate design elements to affect customer behavior in different ways.
Use text as the main info source
Deliver relevant stock details, e.g. the date when a product will be available again, etc;
Draw particular customer reactions with fancy updates on a product stock;
Amplify the message of a custom status to attract extra attention.
Re-engage customers
Surpass the simple informative role of the Get Product Stock Status extension for Magento 2 and build an effective customer return program.
Gain revenue from abandoned carts
Turn abandoned carts into a complete order by sending low-stock alerts;
Indicate a number of items considered a low stock to set off the abandoned cart alert sending;
Actualize postponed purchases
Notify customers on positive stock status changes of unavailable products.
Support restock operations
Gather statistics on customer interest to refill the stock with the most popular items. Use the subscription and notification grids to stay constantly aware of the most relevant stock info.
Get the grasp of customer demand
Analyze the number of subscriptions to out-of-stock products and plan your promo strategy;
Supply your store in time
Gather the info on a subscription date to deliver precise services;
Track notification statuses to make sure your emails are delivered properly.
Magento 2 Custom Stock Status Extension - Features
1.0.8

Released 12.04.2023
+ Compatibility with Magento 2.4.6
* Fixed issue with displaying the category pages

1.0.7

Released 05.08.2022
* Product isn't restocked though it's available when MSI is set
* Price of bundle/grouped products is 0
* When the only option is out of stock, demand can't be created
* Custom stock status isn't displayed in cart for virtual, downloadable and GC product types
* Fixed possible conflicts with extensions that move scripts to the bottom of the page
* "Email Me When Back in Stock" button is displayed for in-stock products
* Fixed error in console when custom stock status contains apostrostrophe
* Notification requests grid isn't displayed correctly

1.0.6

Released 07.06.2022
+ Compatibility with Magento 2.4.4
* Fixed issue with module installation for Magento 2.4.4

1.0.5

Released 24.03.2022
+Declarative schema upgrade

1.0.4

Released 02.11.2021
+Indexer optimization
*Fixed issue with reindex performance time

1.0.3

Released 21.04.2021
* Fixed issue for Magento Marketplace
* Low Stock Alert isn't sent

1.0.2

Released 24.03.2021
* "Email Me When Back in Stock" button isn't displayed on category page.
* An error appears in logs when product is deleted
* An error appears in logs when user is deleted
* Low stock alert template isn't loaded
* New Product SKU/Name isn't displayed in grids after being changed


1.0.1

Released 28.08.2020
+ Magento 2.4 compatibility

1.0.0

Released 03.06.2019
* Initial release