Digital Media for Magento 2
Drive traffic to your store with a smart solution for selling digital media products. 
Use native Magento 2 downloadable product functionality to configure digital media products 

Provide "only-view" mode of PDF files via convenient online viewer

Organize media files in a customer library

Benefit from full compliance with copyright regulations
Current extension version: 1.0.3 | Compatibility: Open Source 2.4.4 - 2.4.6; Commerce 2.4.4 - 2.4.6


License:
Starting At
Special Price
$99.00
$99.00

30-DAY MONEY BACK

FREE INSTALLATION

30-DAY FREE SUPPORT

LIFETIME RIGHT TO USE
Digital Media Gallery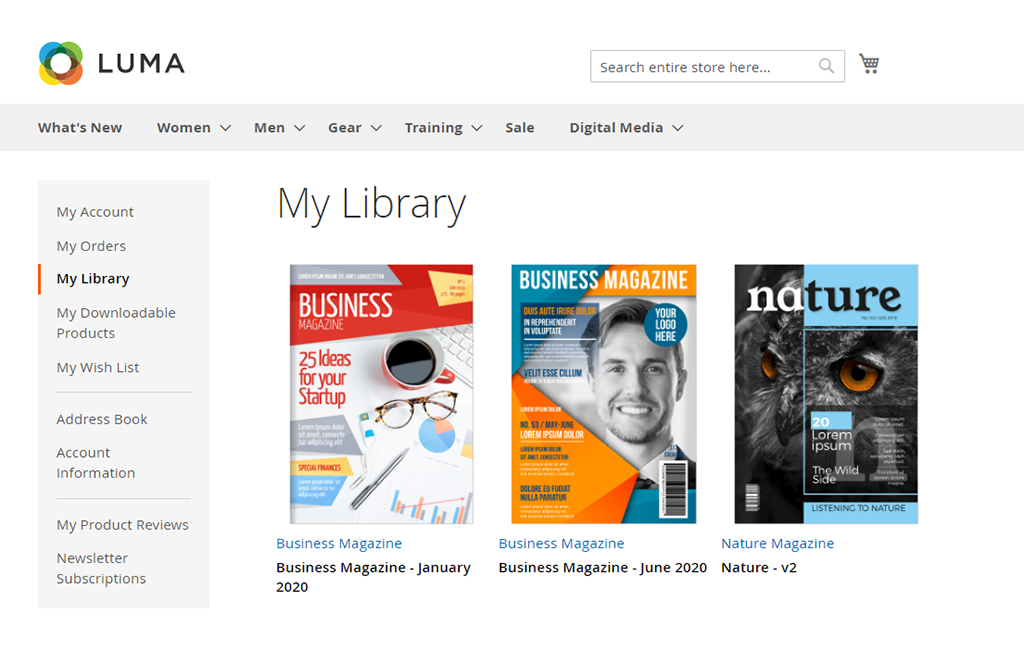 In the area of digital progress more and more people prefer using electronic devices for daily activities. And reading is not an exception. It's much easier, for instance, to read a favorite magazine online from any device anywhere. It's even more convenient to have all the e-magazines and e-books gathered in one place. However, native Magento 2 functionality does not introduce any features that allow you to access digital media in a convenient way and store them in a library format.
Increase customer engagement and attract potential buyers by selling digital media on your store! Install the extension to enable a digital media library in the customer account on the frontend. Configure digital media files as native Magento 2 downloadable products and sell them in a usual fashion. Mind that purchased products can be accessed on the storefront for viewing purposes only, thus increasing the average time spent on your store.
Create Digital Media Library in Customer's Profile
One of the very few extensions on the market, Digital Media for Magento 2 facilitates the sale of digital media products. It helps you start a library or media depository were all purchased by the Customer products are collected into one place in your store. With Digital Media these products are no longer downloadable, but easily accessible for viewing. This will by far help you increase customer traffic, keep visitors engaged within the store, and, of course, will provide for full compliance with copyright requirements.
Digital media product
Customer's library
Media viewer
Digital products grid
Digital media product
Create digital media products as native Magento 2 downloadable products. If the file type is supported by the extension, the product, when purchased by the Customer, will get into My Library. Max. Downloads will presume a maximum number of views.
Customer's library
Customers collect purchased media into a library, where files are represented within a grid. A cover image, product name, and file title define each media product. Clicking on the name of the product opens a viewer in the new window of the browser to view the contents of the file.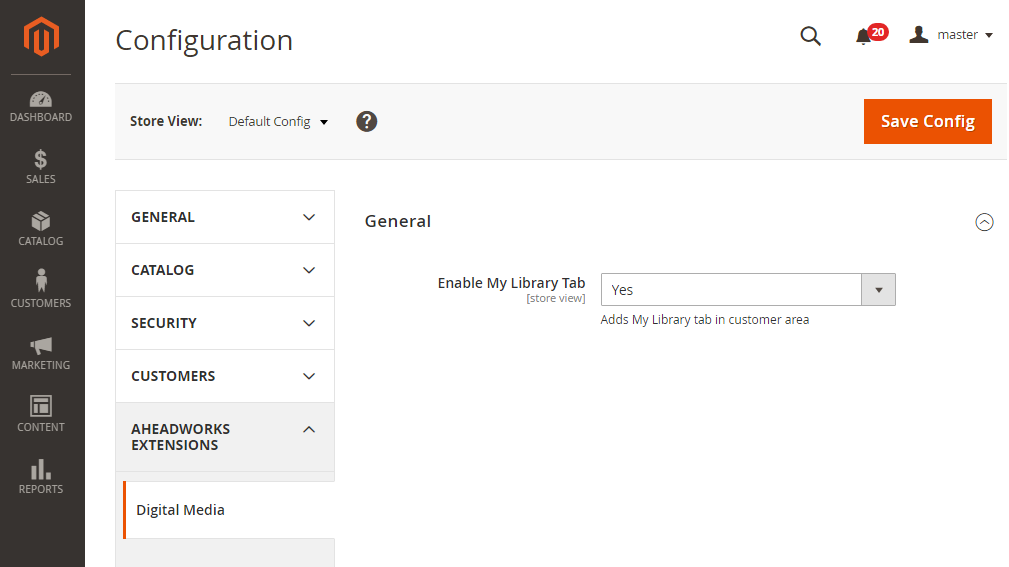 Media viewer
Since digital media products are only for private use, the functionality of the in-built online pdf-viewer has been sensibly reduced to that of navigating along with the file pages only. Printing, downloading, sharing the file, or copying text in it is made not possible.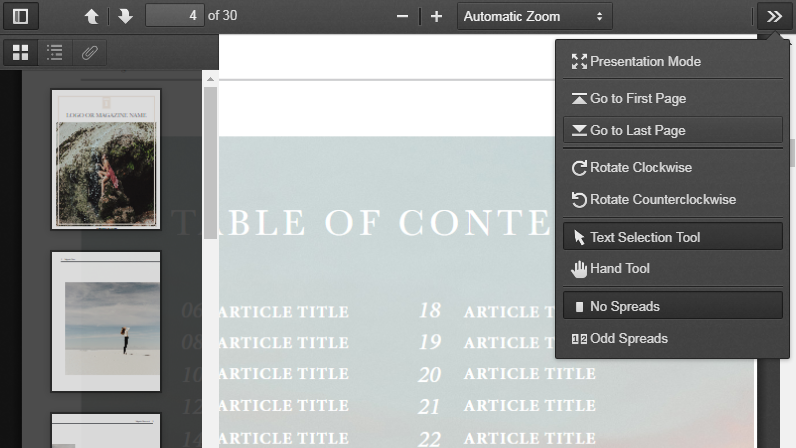 Digital products grid
The My Downloadable products grid will see products, which file-types are supported by the extension, get the download link and icon substituted with the view icon and link. For digital media products, the value of Remaining Downloads will mean the number of remaining views.
Allow customers to only view purchased digital products and do that only on the store, no sharing or downloading.
Enable customers with convenient front-end functionality to easily access purchased media and keep it separate from other downloadable products.
Make use of Web API and GraphQL support to ask the extension for exactly what you need and nothing more and enable powerful developer tools.
PDF products are purchased as usual downloadable products, so the customer experience remains the same.
Keep all PDF files in one appealing grid with cover images to display, product name, and title.
Store admin can enable or disable the 'My Library' tab in the extension configurations.
The View File icon is displayed instead of the Download link and icon in My Downloads.
Allow customers to view files directly in the browser via integrated PDF.js viewer with abridged functionality: printing and text-copying are disabled.
PDF viewer responsiveness
The viewer has an adaptive design for different devices, including smartphones.
Downloadable products of unsupported types behave as usual and are not stored in My Library.
Max. Downloads in the Downloadable Information section on the Product page for digital media, meaning the maximum number of successful attempts to view the file.
Guest users get the active link in the Order Confirmation email and can view the file via PDF-viewer at any time.
1.0.3

Released 27.10.2023
+ Updated links to Readme and Get Support

1.0.2

Released 02.06.2022
Compatibility with Magento 2.4.4

1.0.1

Initial release 04.05.2021