eCommerce Gamification Suite
Use gamification principles to turn visitors from passive observers into assertive buyers and store promoters.
Current extension version: 1.0.3 | Compatibility: Open Source 1.4.1.1 - 1.9.3.8; Commerce 1.12.0.0 - 1.14.3.8

30-DAY MONEY BACK

FREE INSTALLATION

30-DAY FREE SUPPORT

LIFETIME RIGHT TO USE
eCommerce Gamification Suite Gallery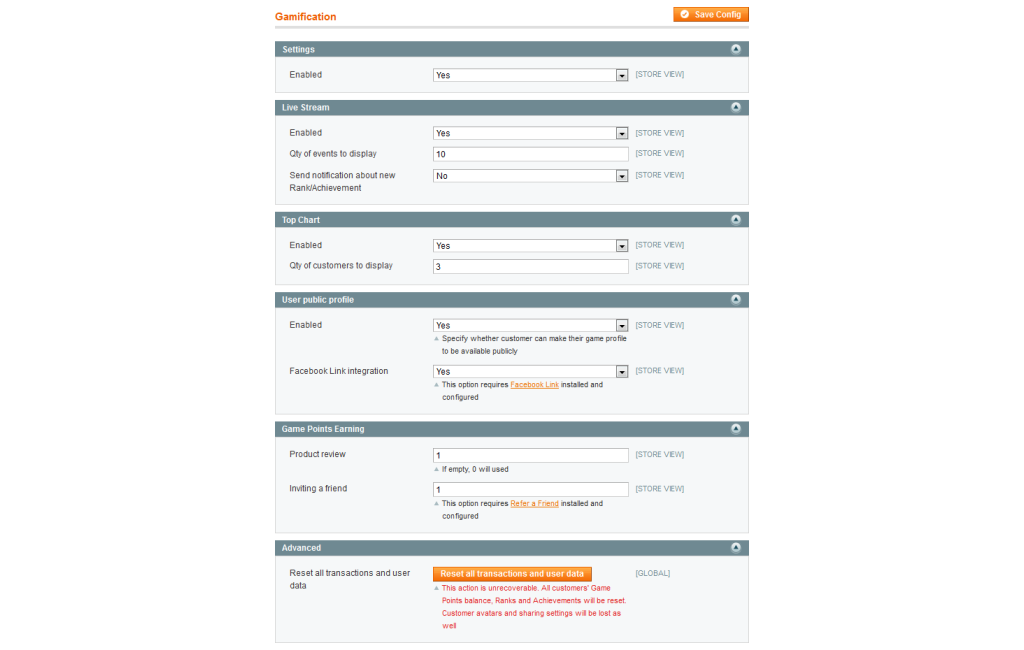 Overview
Only a little while ago the task of a loyalty program was pretty simple - to create a feeling of earning while actually spending. But now that almost every store has mastered it, the purpose of a loyalty program has to be much more than that - to create a sense of personal attachment, to form a habit, or may be even an addiction.
With this in mind we are introducing the eCommerce Gamification Suite, which is designed specifically to make shopping experience as addictive as video games. The mechanics of this extension appeal to some of the most common player types, allowing customers to compete for status and accumulate points and achievements. As a result, it makes your customers feel like they've already got something going at your place and prevents them from seeking an alternative.
The extension assigns ranks based on how many points players earn through purchases and product reviews. But, most importantly, once players reach a new rank, they are automatically moved to a new customer group (based on customization settings, e.g. lifetime spending), creating a gateway to all kinds of tier-based loyalty programs. Once your customers are segmented you may use either native Magento functionality or benefit from add-on features to provide differentiated prices, access rights, benefits, discount rates, and so forth.
Features
Point accumulation by:
in-game points are awarded for various activities
Purchasing items ($1 = 1 point);
Leaving reviews (assign custom point value per review).
Rank management:
rank is an in-game status measured by the number of points
Create any number of ranks and define rank thresholds;
Create rank names that match the tone of your brand;
Automatically move ranked customers to separate customer groups.
Achievement management:
achievement is a one-time badge awarded for specific activities
Create any number of achievements;
Grant achievements for either lifetime spending, single order value, or a number of reviews left;
Create achievement names that match the tone of your brand;
Design custom badges to go with each achievement.
Leaderboard settings:
public display of top players
Frontend display is optional;
Define the number of positions to be displayed.
Live stream settings:
public display of recent in-game activity
Frontend display is optional;
Define the number of events to be displayed.
Profile management:
creating of public/private profile
Admin may choose whether or not allow the creation of public profiles;
A customer may choose his own avatar, nickname, and whether or not the profile will be public;
Admin may choose to change customers' nickname and point balance from backend.
Add-on features
Merge with classic loyalty program It might happen that in-game points are not sufficient for your type of customer. In this case you may use ranks as tiers, effectively segmenting your customers in accordance with how much they have spent. Then use these tiers within our Points & Rewards extension to give loyal customers better rates of earning monetary rewards.
Add exclusive benefits For stores that sell limited editions or "one-of-a-kind" items there is another way to create value for loyal customers. With the help of our Catalog Permissions extension it becomes possible to use tiers for granting loyal customers exclusive access to certain parts of your store.
Promote advocacy Let your customers earn additional points by installing our Refer a Friend extension and awarding points to everyone who invites more visitors. Additionally, our Facebook Link extension will allow your customers to share their achievements via social networks thus generating additional buzz around your store.
1.0.3

* Compatibility issue with Facebook Link by aheadWorks

1.0.2

+ Stability and speed improvements

1.0.1

* Minor bugfixes

1.0.0

Initial release