Enable customers to find the necessary information in a matter of a few clicks
Provide additional information to customers in an organized and user-friendly manner
Decrease the load of your support staff
Make FAQ pages more visually appealing by adding images to the categories and articles
Improve the visibility of your website in search engine results
Free download link
Free installation manual.
Please note: Free version of the FAQ module does not offer Support service. In case customer service is needed, please proceed to purchase the paid FAQ module.
Current extension version: 1.0.1 | Compatibility: Open Source 2.4.4 - 2.4.6 Commerce 2.4.4 - 2.4.6

Online shoppers are commonly inquisitive and need information that can be easily provided. As a result, customer service is often bogged down by queries that can be answered immediately. Furthermore, submitting tickets for clarification becomes tedious for customers and they hesitate to make an online purchase and leave the site.
With an FAQ page that is well-organized and easy to navigate, you can convert potential buyers into customers! By categorizing similar questions, providing intuitive navigation, and adding images for clarity, you can make information easily perceived.
Have Customers' Questions Already Answered
Provide shoppers with the information they need with an SEO-optimized FAQ section! Display Free FAQ pages visibly and searchable on the web using powerful SEO settings. 
Articles by categories
Navigation sidebar
Customizable layout
SEO Opportunities
Articles by categories
To make the FAQ section more user-friendly, divide articles by key topics. This will allow users to find specific information quickly and without having to search through all of them. Additionally, add a search field so that users can easily locate what they need. The sidebar should also include links to all of the article titles and categories in one place for easy access.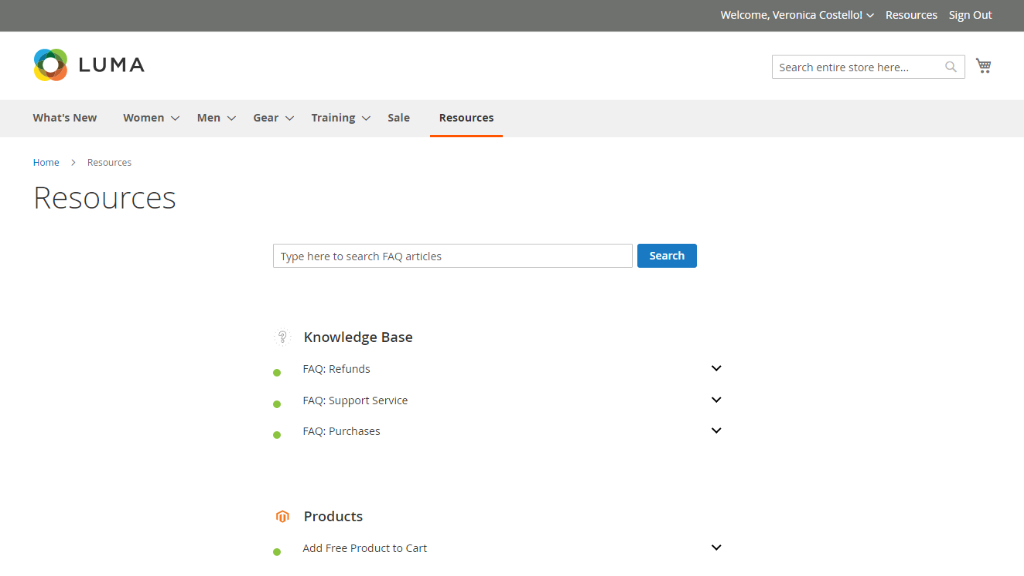 Navigation sidebar
Simple navigation via categories and articles makes the customer experience more user-friendly.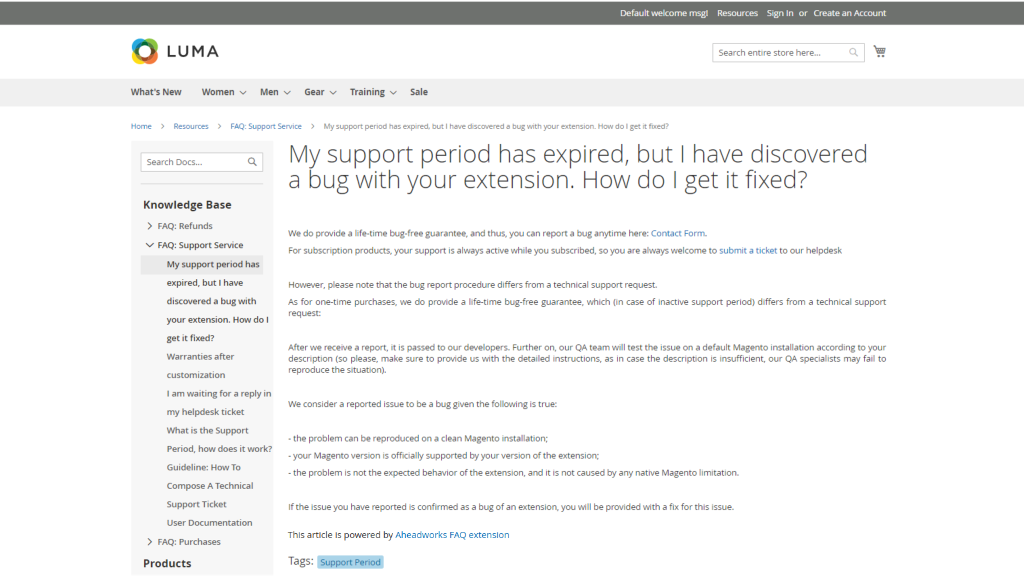 Customizable layout
To customize the look and feel of your FAQ page, you can upload custom icons. You can also adjust the layout by setting up the number of columns and articles per category. Additionally, use the "WYSIWYG" editor to create appealing content for each category.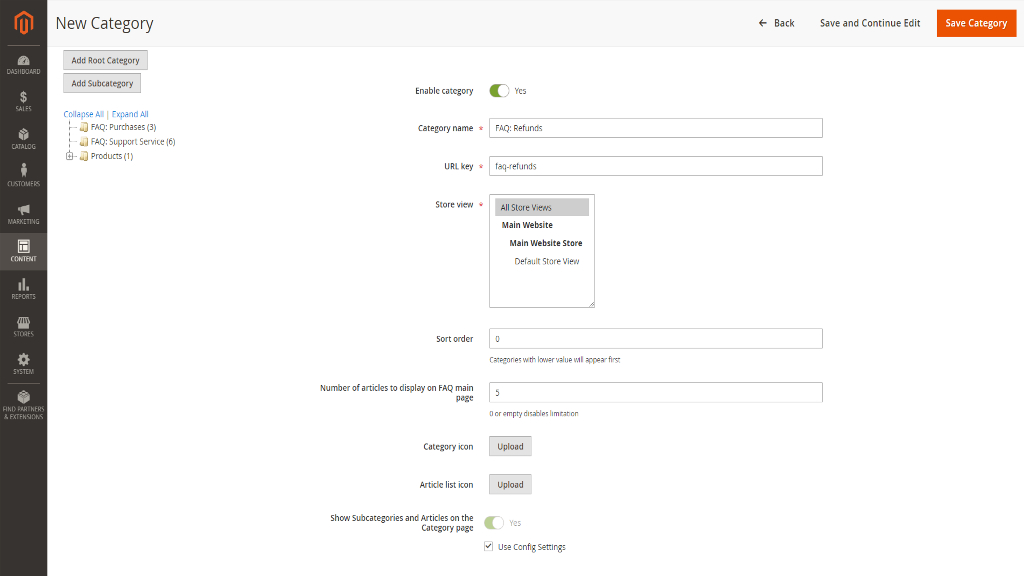 SEO Opportunities
The extension offers custom title prefix, suffix, meta title, page title separator for article pages, and setting meta keywords.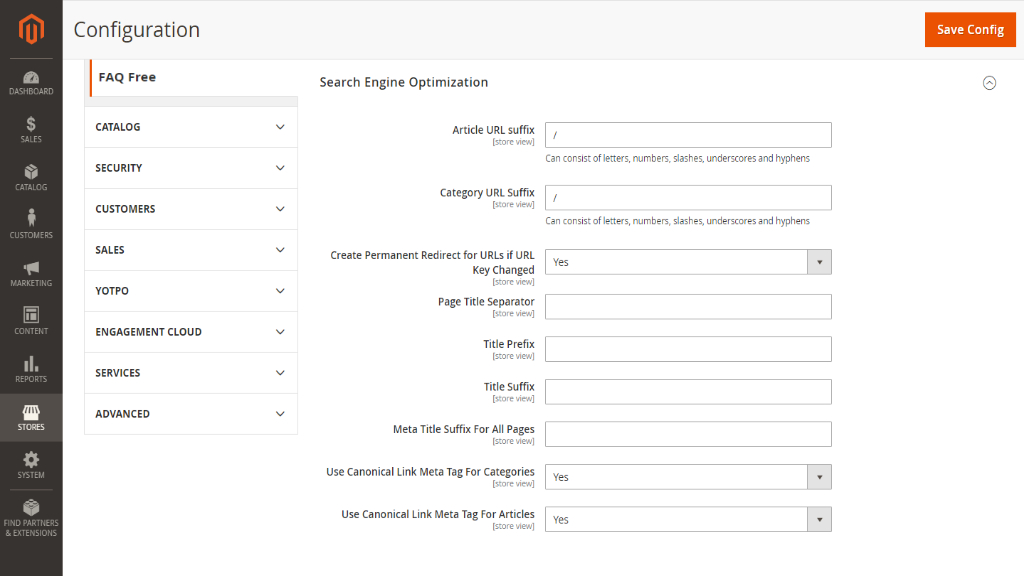 What benefits will I get by upgrading to the paid version of the FAQ module?
Question by: Rita on Feb 1, 2023, 6:53 AM
When you switch to the paid FAQ module, you will get features such as:
— ChatBot
— Helpfulness rating
— Article questions
— Customer Group filter
Answer by: Julia Gorobets (Admin) on Feb 1, 2023, 6:55 AM
How can I access the ChatBot, Helpfulness rating, Article questions functionality?
Question by: James on Feb 1, 2023, 6:47 AM
To access these features, you need to upgrade to the paid FAQ module in addition to the free FAQ in order to save all the data.
Answer by: Julia Gorobets (Admin) on Feb 1, 2023, 6:50 AM