Create newsletter subscription segments
Send different personalized content to different customers
Seamless integration with Mailchimp
Insert subscription widget anywhere on the page
Increase newsletter sign-ups
Current extension version: 2.5.1 | Compatibility: Open Source 1.4.1.1 - 1.9.3.10; Commerce 1.12.0.0 - 1.14.3.10

30-DAY MONEY BACK

FREE INSTALLATION

30-DAY FREE SUPPORT

LIFETIME RIGHT TO USE
Advanced Newsletter Gallery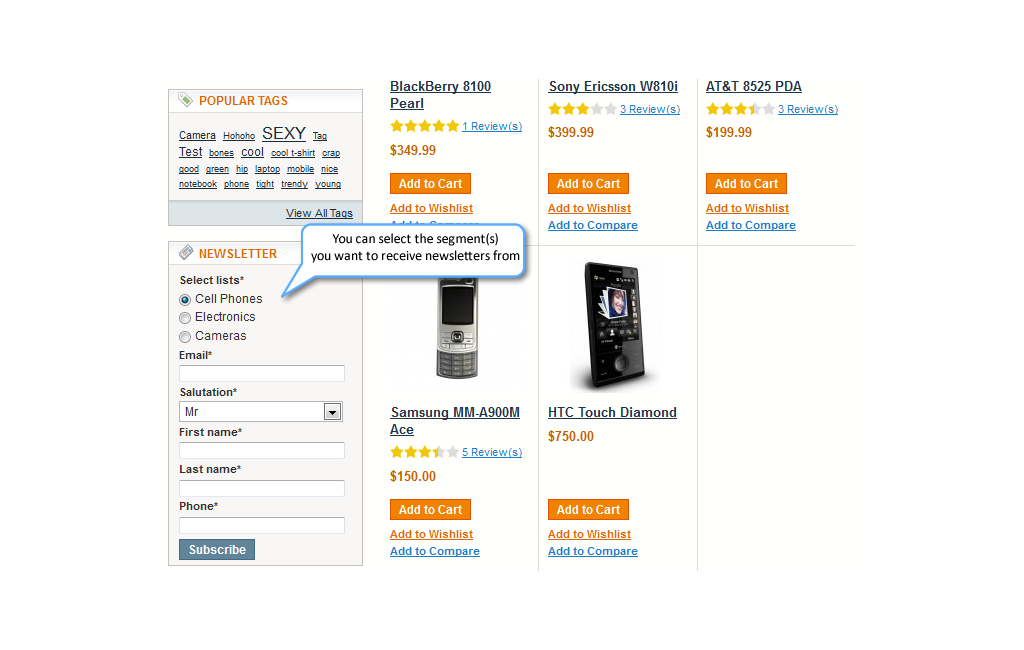 From newsletter sign-ups, mailing list creation and audience segmentation to the eventual mailing of the newsletter, the Magento Newsletter extension gives you everything you need to get the highest ROI from your email marketing. Whether you are looking to convert, retain, cross-sell, or upsell, do it all with this powerful module for Magento.
Features
Set up your emails for each store individually Multistore support gives you more flexible extension configuration
Drive up email delivery and open rates Inclusion of name fields for guests, making your messages look more personal, trustworthy, eye-catching, and less vulnerable to spam filters
Increase your sign-ups
Enriched standard email subscription block: Make the subscription form more attractive with in-block or AJAX layer based subscription form
Make subscription button/form more eye-catching: Insert it via CMS block at any place on the page
Auto-subscription option allows subscribing customers and moving them from one segment to another automatically after changing their order status according to admin-specified rules
Decide how and where your content is delivered:
Segment your mailing lists by subscriber groups
Display/hide segment(s) for particular categories/stores
Disable a particular segment for frontend
Define a default segment for a category/store
Filter customers by segments at the Export Customers page at backend
Deliver content to a highly specific audience* Create newsletter templates that target customers based on:
Customer details (age, gender, address, etc.)
Product details (view and order history, wishlist items, shopping cart items)
Order information (number of orders made, lifetime sales, number of items purchased)
Shopping cart details (grand total, number of different products, subtotal)
*Additional options can be accessed through our Market Segmentation Suite
Get greater control of your mailing list
Insert unsubscribe from newsletter option in Magento email templates, instant, or manageable from the customer area
Manage subscribers from admin panel: delete, subscribe, and unsubscribe
Add and edit subscribers from admin area
Subscribe/unsubscribe as many customers as you need from any segment at a time
Subscribe/unsubscribe customer from any segment at Customer Information page
Export subscribers to CSV/XML
Import subscribers from native Magento newsletter
MailChimp integration with Magento
Two-way MailChimp synchronization – automatic on-the-fly or manual
MailChimp → Magento synchronization with ability to sync list and statuses
Magento → MailChimp synchronization with ability to sync subscribers by status and with\without names
All synchronizations with MailChimp are run by cron
Test the connection with MailChimp
API 3.0 support
Give your subscribers more power with advanced subscriptions management
Segments are displayed in different styles: radio buttons, multi-select, checkboxes
Newsletter segments at Create an Account and My Account page
The Magento Newsletter extension adds subscription button to Checkout page
Users can see the segments they are subscribed to and subscribe/ unsubscribe per segment
Send emails from any SMTP server
Third party SMTP server support means you are no longer dependent on your local server mailing software
Use any free or paid relay
Test SMTP connection
Get more control over emails sent
Send test email
Variables in Magento email templates
Import templates from native Magento newsletter
Give more security to your customers
HTTPS in customer account
Add-on features
In-depth segmentation If segmenting your customers based on their subscription choices is not enough, then you might consider adding personal attributes and shopping patterns to the mix. Combine Advanced Newsletter extension with our Market Segmentation Suite and you will be able to increase the relevance of your newsletters, in turn contributing to their conversion rates.
Strategic placement Make sure your customers take notice of the newsletter subscription field by placing it on the pages they can't miss. Use our One Step Checkout extension to incorporate subscription options into your checkout process or place it on the "order success" page with the help of our Better Thank You Page extension.
Follow-up solution Recycle newsletter segments by incorporating them into your trigger-based marketing. Use Follow Up Email extension in combination with newsletter subscription groups to identify customers that are open to receiving promotional materials.
2.5.1

Released 25.05.2017
* Group filter error on Subscribers page
* 404 error on attempt to go back from "Queue Newsletter" form

2.5.0

+ Mailchimp API v3.0 support
* fixed bug when subscribed unregistered customer tried to place an order
* fixed issue with SUPEE-6788 security patch
* minor bugfixes

2.4.8

* Fix for magento connect verification

2.4.7

* SUPEE-6788 compatibility issue

2.4.6

* Option of subscribing to all segments was named incorrectly

2.4.5

* "Phone" column wasn't updated in the Subscribers grid
* "Type" column in the Subscribers grid wasn't updated after customer registration
* Problem with segments displaying in the frontend
* Guests could subscribe as registered customers if the confirmation email was disabled
* MailChimp errors in AW Log when MailChimp was disabled

2.4.4

* Incorrect segments in the Customer Information tab (Magento EE)
* Problem with a template preview
* "Connection failed" error when "TLS" was used
* Widgets didn't work in Advanced Newsletter templates
* Incorrect segment titles when Market Segmentation Suite rules were applied

2.4.3

* Incorrect records counting in the Subscribers grid
* The pop-up window didn't close after clicking outside its bounds
*The popup appeared after resizing the window
* The newsletter popup wasn't shown in IE9
* Incorrect position of the popup after the window resizing
* Incorrect design on the RWD theme

2.4.2

* Error when a visitor was subscribed to newsletter on several websites
* Error when subscribing a customer to any segment in the backend
* Minor bugfixes

2.4.1

* Problem with customer's subscription list management in the backend
* Problem with filtering subscribers by email

2.4.0

+ "Email doesn't look nice? View it in your browser" variable
+ SSL protocol is supported in SMTP configuration
+ Sort subscribers by group
* Problem with TLS protocol
* Problem with Market Segmentation Suite by aheadWorks integration

2.3.6

* Inability to unsubscribe from a segment displayed in all store views

2.3.5

+ Compatibility with iPhone Theme by aheadWorks
+ Stability and speed improvements
* Newsletter subscription was lost if SagePay was selected
* Minor bugfixes

2.3.4

+ Stability and speed improvements

2.3.3

+ Stability and speed improvements

2.3.2

* Minor bugfixes

2.3.1

* Minor bugfixes

2.3.0

+ "Test Mailchimp Connection" button in MailChimp configuration tab
+ Ability to unsubscribe from specific segment
+ "Number of subscribers" column in Segments Management tab
+ MailChimp grouping was created automatically if list was empty
* Fields data were not saved after editing on Edit Queue page
* Error when resuming queue item
* Advanced Newsletter broke native newsletter preview
* Subscription form was visible if there were no segments available
* There wasn't warning message after disabling MailChimp on synchronization page

2.2.2

* Emails were not sent from queue if there had been certain amount of invalid emails
* Subscription was not possible from homepage if Default Category had been set up to Root
* Duplicated email was sent after every click on unsubscription link
* "Form Configuration" menu option was renamed to "Settings"
* Some categories had incorrect position in "Default Category" and "Display in category" fields



2.2.1

* AJAX Layer in IE 7/8 issues
* Additional settings validation
* Minor bugfixes



2.2.0

* Incompatibility with API keys ended on -us4
* [PE] Incorrect view for multiselect block on Category page
* Incorrect link

2.1.0

+ Subscription on Checkout page
+ 'Test connection' button is added on SMTP Configuration page
+ Additional actions in Newsletter Queue
+ Sync speed with MailChimp is increased (uses MailChimp API v1.3)
+ Magento PE compatibility
* Incompatibility with MailChimp API keys ended on -us4
* Incorrect CSS for Newsletter tab in Customer Area for Magento CE
* Cosmetic fixes in Export Customers grid
* Customer is unsubscribed if the segment code is changed - segment code field is disabled for edit
* Minor bug fixes and code optimization

2.0.4

+ Magento CE 1.6.0.0 compatibility
* Magento 1.6.0.0 CE / 1.11.0.0 EE - fatal error on frontend
* Magento 1.6.0.0 CE / 1.11.0.0 EE - no recipients in email queue
* Impossible to unsubscribe from newsletter by link in some emails

2.0.3

* Minor bugfixes

2.0.2

* ACL in Magento Enterprise
* Different API keys for different stores caused wrong changing of list ID

2.0.1

+ Subscribers are defined as guests and customers while synchronizing from MailChimp
* Access to Advanced Newsletter in backend denied for some users

2.0.0

+ MailChimp -> Magento synchronization with ability to sync list and statuses
+ Magento -> MailChimp synchronization with ability to sync subscribers by status and with\without names
+ All synchronizations with MailChimp are run by cron
+ Ability to disable segment for frontend
+ Ability to subscribe customer to any segment at Customer Information page
+ Ability to send test newsletter
+ Template variables
+ "Select all" link for actions in auto-management rules
+ Export subscribers to CSV/XML
+ Ability to send newsletters according to the Market Segmentation Suite rules
+ Newsletter segments at Create an Account page
+ Newsletter segments at My Account page
+ Importing subscribers and templates from native Magento newsletter
+ Segments column at Export Customers section at backend
+ Magento Enterprise Edition 1.9 compatibility
* Redirect to homepage from https pages
* Incorrect segment deletion
* Sort order is not restored on mass grid actions at Export customers section
* Minor bugfixes